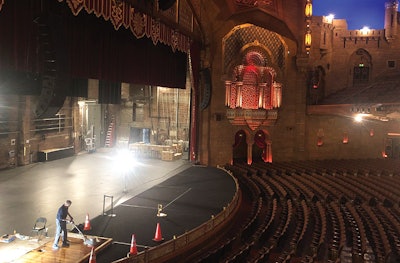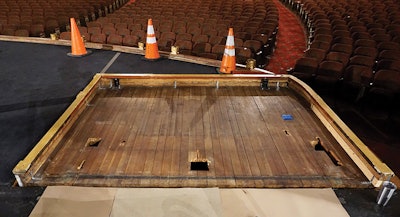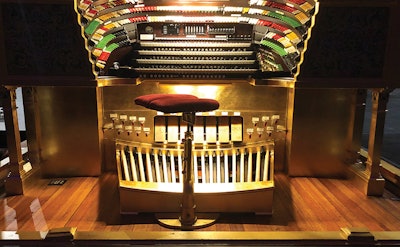 When the preservation team at Atlanta's historic Fox Theatre contacted wood floor pro Michael Purser to see if he would be interested in restoring the platform for the theater's organ, he had an immediate response: "Oh hell yes!" Purser, owner of Atlanta-based Rosebud Company, specializes in restoring historic wood floors, and when it comes to buildings in Atlanta, the Fox Theatre, built in 1929, is the epitome of grandeur. Its pipe organ, Mighty Mo, is original to the theater. "When they introduce Mighty Mo, the walls literally start shaking and you think, 'My God, what is coming?' and slowly and majestically, this organ comes rising out of the orchestra pit," Purser explains. With Mo moved off his 11⁄2-inch-thick longleaf yellow pine platform for the first time in his history, Purser and business partner Jenna Novic used Purser's trademarked Passive Refinishing technique to remove the old coatings (a combination of drying oils and some shellac, Purser believes) while preserving the character of the flooring. Now protected by hardening oil, Mighty Mo is ready for another century of dramatic entrances.—K.M.W.
SUPPLIER: Finish: Pallmann (Magic Oil)
Read a detailed account of this job and see more photos from Michael Purser in the WFB Contractor Blog here.
---
RELATED: Giving the Past a New Future: Tackling Historic Restorations
---