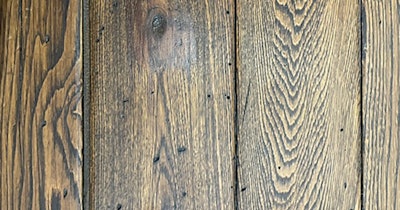 How do I deal with existing old floors that have big bevels?
Michael Dittmer, Bona US technical and training field manager, answers:
If you're going to do a recoat on a floor with big bevels, you really need to make sure you do a good job cleaning the bevels out, because those bevels are like canyons where all the bad stuff—dirt and contaminants—end up in the floor. If you're going to have a finish failure, it's going to happen in those bevels. Typically I'll use a 4-by-4-inch piece of maroon pad with the cleaner that goes with the recoat system I'm using to hand-abrade all the bevels. I do this even if I'm going to be using an auto-scrubber machine, because this way I'm chemically and mechanically abrading those bevels.
If the customer wants a resand but wants to keep the bevels, I hand-scrape before sanding (I learned the hard way that it's hard to always keep the scraper in the bevel, and if you scrape after sanding, you'll need to go back and sand anyway to remove all your little "oops" moments with the scraper). There are scraper blades specifically shaped for the bevels, but I prefer just using a regular 1½-inch scraper on one side of the bevel and then the other. When I do this, I add 10 to 15 percent to the cost of the job.
Most often, customers want the bevels sanded out because they are concerned about dust and dirt getting trapped in the bevels, as well as the floor looking dated. When they ask for this, I show the customer a sample of the floor and explain that they will be diminishing the life of the floor by 40 percent because we'll be eliminating the top ⅛ inch to get rid of the bevels. Sanding to eliminate big bevels is a lot of work—you'll be starting your sanding with the big machine on a 45 and working hard with the edger to remove all those bevels around the perimeter—so that's a case where you probably want to charge at least 30 percent more than you would for a typical resand.
---
RELATED: Recoating Prefinished Wood Floors Doesn't Have to Be a Gamble
---