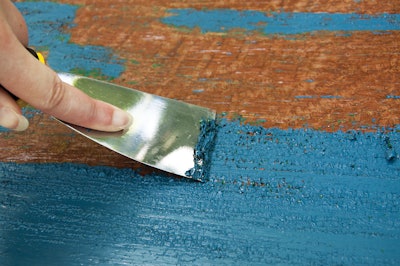 I have a job where the floors are painted. Can I use paint stripper to remove the extra layers and then sand the floors?
Todd Schutte, director of global elearning and claims mitigation at Englewood, Colo.-based Bona US, answers:
There are so many variables regarding paint strippers and the chemicals they usually contain (methylene chloride, calcium hydroxide, limonene and more) that it's usually faster, easier and safer to evaluate and then just sand and refinish (or repaint) the floors. (Caution: Regardless of the age of the top layer of paint, if known, you'll need to check for lead, as sanding lead-based paint is dangerous for you and the owner of the floor. There's no telling what's underneath without testing it. (Click here for more information about lead hazards.)
In addition, while the paint stripper may remove the paint, we don't know what other effects it might have on and in the wood. It might discolor it, pull some tannin or other reactives, or might take a long time (if ever) to evaporate out of the wood, creating adhesion problems with new coats of finish. Or it might damage the structure of the wood surface, leave a contaminating residue, or all the above. Plus, the strong chemicals also pose the possibility of reactivating other things down in the seams and soft grain that we won't be able to remove, which might then hamper recoating efforts if the stripper application leaves a wet, incompatible slurry down there. If the species is open-grained and/or plainsawn, just using a stripper most likely will not get all the color out of the grain. A professional sanding machine is much faster and more effective at resolving issues like these. Plus, even if it works and helps to remove the paint, now you've got a boatload of this gooey slurry to deal with and properly dispose of according to local and national regulations. If possible, sanding it off remains the easiest option.
If no lead is detected in the paint layers, when sanding, you might consider starting with a heavy grit (i.e. 24- or 36-grit) on a buffer or multi-disc machine first to cut up thick layers of the paint into smaller chunks and minimize clogging of your abrasives. You still might need to come back and start with 36-grit paper on your belt/drum sander, but the pre-cutting trick will usually let you jump up to 50-grit on the first big machine cut. Once all the paint is removed, it's business as normal moving through your grit and machine progressions.