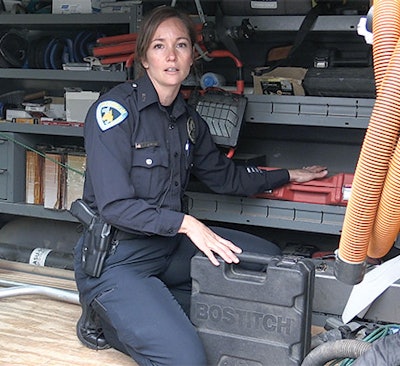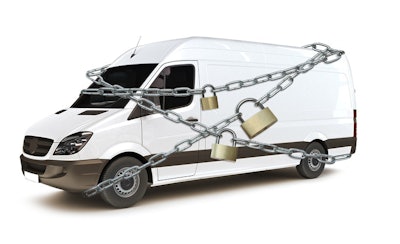 Editor's note: Scroll to the bottom for a video covering the top tips for protecting your wood flooring vehicle from thieves.
It was the week before Christmas 2015. The last thing on anybody's mind was a burglary. But then, early in the morning on December 21, Karen Haldeman, the owner of Galebach's Floor Finishing in Landisville, Pa., received a call from one of her crew members with an odd question.
"They called me from this job and said, 'Where's the sander?'" Haldeman recalls. Apparently the sander wasn't in the truck, which had been parked over the weekend in front of the job site on a busy street in Lancaster, Pa.
Haldeman and her crew racked their brains for 45 minutes, retracing their steps, trying to remember where the sander was last. But then the crew realized it wasn't only the sander that was missing. The edger was gone. So was the vacuum system. Then it became clear: This was no miscommunication; this was theft.
"It's not like we live in a bad city. Lancaster County is not a high-crime area," Haldeman says. "This is where the Amish live. It's laid back. You don't hear this from anyone."
The crew confirmed it was a break-in after taking a closer look at the truck's locks. They found a dent where Haldeman assumes someone had jammed a tool into the door to pop the lock up. She called the police, who took her information and wrote down descriptions of the stolen items. They told her to keep her eyes on Craigslist and eBay, and to keep her ear to the ground for stories of industry professionals getting equipment for cheap. But Haldeman never saw her equipment again.
In the week following the burglary, the company discovered other items—small vacuums, cords, tools inside various toolboxes—had also been stolen. Haldeman calculated the value of the stolen equipment at around $20,000.
Luckily, Haldeman had insurance for the equipment and a list of model numbers for the missing equipment ready to go. Although it took some time for the insurance money to come through, Haldeman was able to shuffle her company's other sets of equipment around from job to job as necessary.
The incident still makes Haldeman uneasy.
"It was very frustrating that somebody could just pull up to your van, jimmy the lock, transfer your equipment to another truck and go away and never get caught," she says.
How can wood flooring professionals avoid theft of their equipment and vehicle? Wood Floor Business asked its local police department for tips. Here are 16 do's and dont's from Crime Prevention and Crime Stoppers Coordinator Officer Emily Samson of the Madison Police Department that will increase your vehicle's security and the chances you'll recoup stolen equipment.
---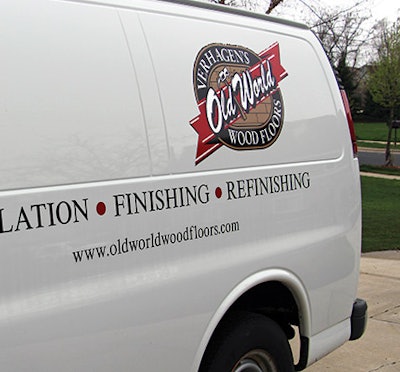 1. Don't worry about the logo.
Although it's common wisdom among some pros that a logo is a magnet for thieves, Samson says the absence of a logo will not necessarily keep a thief away from the vehicle, and it's more important to focus on methods to keep your vehicle safe—logo or no logo.
---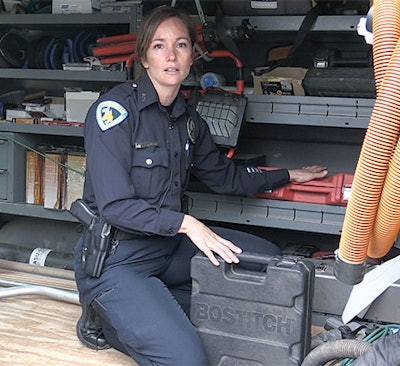 2. Do inventory your equipment.
It's difficult to tell what's been taken if you can't remember what you had in the first place. Between the various tools, cords and other odds and ends, taking inventory of all of your equipment can seem like a mountainous task. But Officer Samson says it's crucial to keep a working list of what comes into and out of your vehicle.
---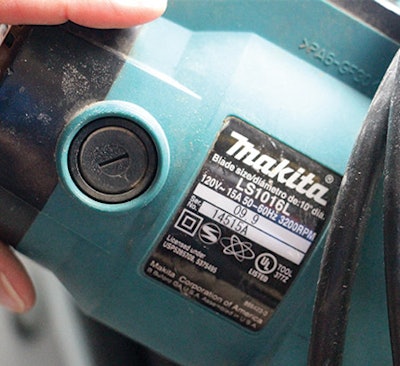 3. Do record each tool's serial number, make & model.
In the event of a theft, you can share the serial numbers with local machine repair shops and other peers in the industry so they'll be on the lookout, as well as with the police, who will record the information and enter it into a national database. Pawn shops enter serial numbers of pawned items into this database, and the police will be notified if the serial number matches a stolen piece of equipment.
---
4. Don't leave equipment paperwork inside toolboxes.
Never keep receipts, proofs of purchase, serial numbers or paperwork associated with the equipment in the case with the equipment. If someone were to break in to your vehicle and steal an equipment case, you need that information for reporting purposes.
---
5. Do engrave a mark.
Samson also recommends contractors engrave an identifying mark somewhere on the piece of equipment so you can claim it as yours if the thief scratches off the serial number. Do not use paint, she says, which is easy to scratch off and fades with time. If you are purchasing used equipment, alert the police if the serial number has been scratched off and you expect any wrongdoing.
---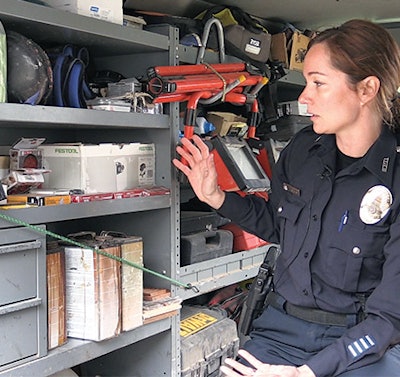 6. Do photograph your shelving.
Contractors don't use every tool every day, so Samson says oftentimes workers won't realize the extent of what's been taken until significantly after the property was stolen. A quick way to gauge what's there and what's not—besides going down your inventory list line-by-line—is to have a photograph of the shelving in your vehicle.
---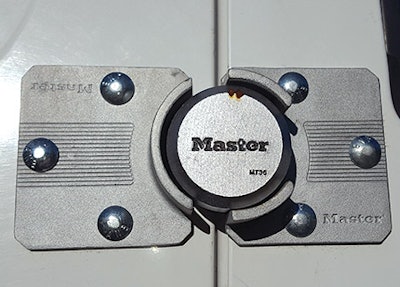 7. Don't rely on the van's locks.
The more locks the better, Samson says. If a thief sees a vehicle with a lot of locks, they won't think it's a vehicle they can get easy, quick access to. Additional locks for your vehicle, such as a puck lock (pictured above), can be purchased for around $50 and installed by a professional in a couple of hours. The locks are only as good as your willingness to use them. It might be tedious, but Samson recommends locking your vehicle every time you come in and out while working at the job site.
---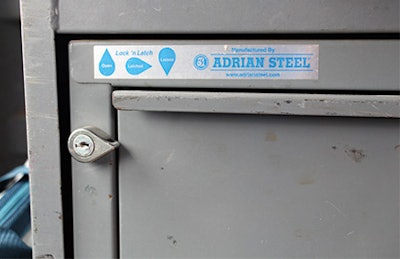 8.Do use locks inside the vehicle.
Some storage solutions feature their own locks and the entire storage compartment can be bolted to the shelves. You can also use a chain lock or cable lock to secure your toolboxes to the shelving in your vehicle. Samson recommends using key locks versus combination locks, as combination locks are easier for thieves to defeat.
---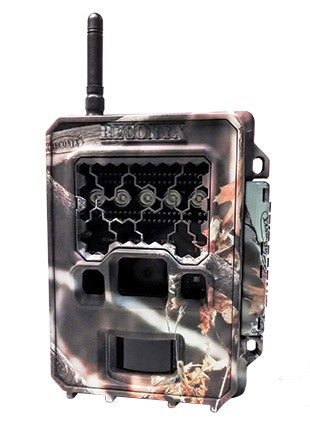 9. Do use a trail cam or other camera.
You might want to mount a camera to the interior of your vehicle; Samson says trail cams would work well. They are relatively inexpensive to purchase. A number of newer trail cameras come with WiFi or cellular network capabilities, so the device can send you updates on your smartphone or computer.
---
10. Do utilize a kill switch.
Some contractors have had the misfortune of thieves taking not only their tools and equipment, but their entire vehicles as well. A kill switch can thwart this type of criminal. A kill switch is a hidden switch connected to the circuitry of your vehicle that stops the flow of power at the battery unless the switch is turned on. Even if the thief manages to break in to the cab of your vehicle, they will not be able to start the engine if you have installed a kill switch, hidden it well and set it in the off position.
---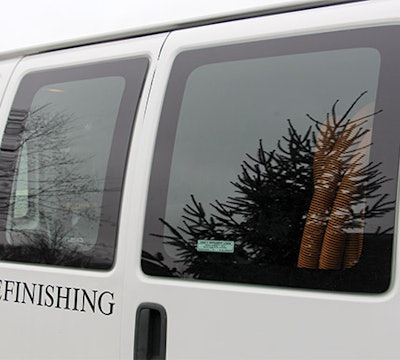 11. Don't have clear windows.
A thief is more likely to break into a vehicle if they can see something inside they want. Purchase vehicles without windows in the cargo area. If your vehicle does have windows, Samson recommends blacking the windows out completely. Another option is to install metal grates on the inside behind the windows, which prevent thieves from entering the vehicle even if they break the window.
---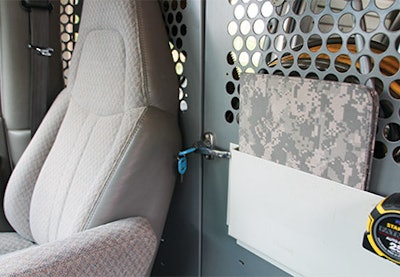 12. Do install a cab barrier.
A barrier between the cab and cargo area is a useful crime deterrent, Samson says. If your vehicle doesn't have cargo area windows, a thief may decide to break in to your van through the cab windows. A barrier will ensure the thief cannot access your equipment in the cargo area.
---
13. Do use vehicle alarm signs.
Even if it's not true, Samson says contractors should consider posting a sign on their vehicles that warn potential intruders of an alarm system or video surveillance system. Sometimes signage alone can deter thieves, she says. You can buy anti-theft stickers online from sites like Amazon for less than $5.
---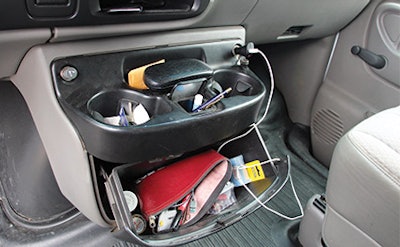 14. Don't keep items in view.
Pay careful consideration to the items in your cab that a thief could see through the front windows. Garage door openers, keys, electronics and forms of identification should never be left in plain sight. Never store tools in the cab.
---
15. Don't park where vulnerable.
Pay attention to where you're parked overnight. As best as possible, park in a well-lit area where people will be likely to pass by. If you can park near a building, orient your vehicle or trailer so the back cargo doors are up against a wall or garage door. That will make it difficult for thieves to open the doors and remove your equipment.
---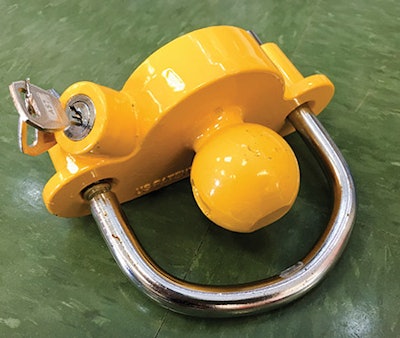 16. Don't forget the trailer.
Many of the tips for vans and trucks are applicable for the inside of a trailer. Other security recommendations are: Park your trailer in a way that would make it difficult for thieves to attach the trailer to the hitch on their vehicle. Consider removing a trailer wheel, using a trailer lock (shown above) or putting a cable lock through the trailer hitch.
Do Ensure You're Insured
Equipment burglary can set a contractor back sometimes tens of thousands of dollars, and that can put a business in serious jeopardy. Contractors can protect themselves with Inland Marine—Contractors' Equipment insurance, which applies to a contractor's tools and equipment that move from home to job site or from job site to job site.
Such insurance can consist of either scheduled or blanket coverage. Scheduled coverage applies to tools that exceed a certain dollar value and must be individually identified and described in the policy. Blanket coverage provides a certain dollar amount to cover multiple lower-valued tools and equipment.
Although the insurance will cover the theft of tools and equipment from a vehicle, some policies will not cover property that has gone missing for unexplained reasons. There must be physical evidence that shows what happened to the insured property—a broken window or a bent lock, for example.
The insurance will vary based on your individual policy and insurance company. It may or may not cover employees' tools; tools you loan, lease or rent; or dishonest acts, like theft by an employee.
---
RELATED: 2017 Wood Floor Business Truck and Van Contest Winners
---