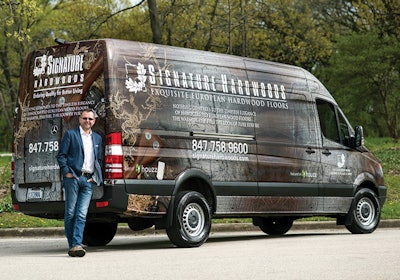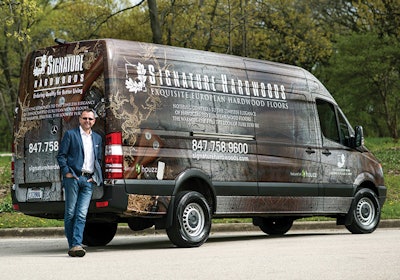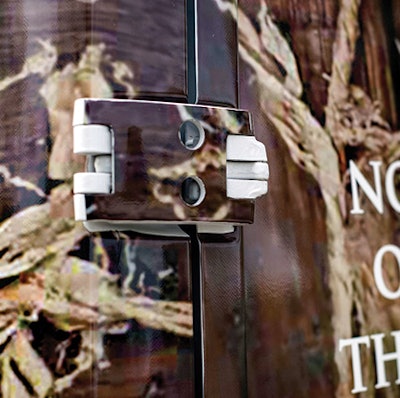 Best Exterior Graphics
Signature Innovations LLC
Elk Grove Village, Ill.
Signature Innovations LLC doesn't do "little."
Co-owner Tom Koczur established the company 15 years ago as a destination for wide-plank and long-length products in the Chicagoland area. The design for the company's vans was no different—Koczur went big.
This 2013 Mercedes Sprinter features a full-body wrap, which means the image and lettering were printed on a single sheet of plastic and hand-cut to fit every nook and cranny of the vehicle without any overlapping. And that's literally every nook and cranny: The wrap goes underneath the van, around door edges, between the headlight glass and the car body. The wrap even covers the four hinges on the back doors.
Koczur said it wasn't easy to find a company willing to install a single-sheet full-body wrap. The first few he approached told him no. Finally, one agreed. The search—and the added expense—was worth it.
"The first day we took it out, I was at a gas station and people were just looking and staring at it," Koczur says. "A couple people approached. It was quite fun."
The image on the wrap is of 5-inch-wide, hand-scraped French oak. It was taken as part of an advertising campaign years ago, and Koczur thought it would be perfect for the van because it represents the core of his business, which installs flooring with a European aesthetic. Koczur came to the United States from Poland, and he brought many of the styles and techniques with him, from the species of wood to the finish. His company also hand-scrapes every plank they install, which is why the scraper and wood shavings are featured prominently.
Since the original image was nowhere near the size of a Sprinter, Koczur hired a graphic designer to blow up the image and mold it to the shape of the van. The process took about three months. Koczur says he didn't want to rush it—the wrap was going to be on the van for a long time, so it made sense to take the time to do it right. To protect the wrap from fading, he had it covered with several layers of protective UV coating.
It's been three years since Koczur had the wrap installed, and it looks the same today as it looked when he first took it out on the road, he says.
"It is a great advertisement. You drive around everywhere you go—every job you take your vehicle," he says. "Make it an investment. Hire a pro to help you. It will be money well-spent."
Tom's Tips for a Vehicle Wrap
Protect it. Make sure you cover the wrap with a durable coating that protects against UV rays. Less is more. Only put one picture of your best job, even if you have more. Additional photos will overwhelm the viewer.
Think about readability. The name of the company is the largest item on the van. The phone number and website are distinct from the company's motto/tagline.
Consider text color. Koczur says he believes people's brains record lighter colors on a dark background faster than the other way around.
Information on all sides. Put your company's information on all three sides of your vehicle. (Editor's note: We've even seen information on the top of vehicles that have areas with lots of overpasses.) Take your time with the design. Have a design company mock up five to seven designs and show them around, put them on Facebook, etc., to get opinions before choosing one.
Don't hire wrap installers to design your wrap. Wrap companies, Koczur says, want to make the biggest buck for the least amount of work, so they'll convince you to use one of their pre-made templates. He hired a design firm that wasn't associated with a wrap shop.
---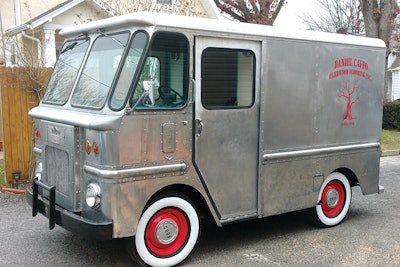 Most Unique Vehicle
Daniel Caffo Hardwood Flooring
Woodlyn, Pa.
To say that the Daniel Caffo Hardwood Flooring van is attention-getting is putting it lightly.
"I didn't put my phone number on the side because I didn't want too many phone calls," owner Daniel Caffo says after explaining how, as soon as he stops anywhere, a crowd forms and everybody asks questions. "They still need to do a little work to get a hold of me. People ask for cards constantly." Caffo uses the van, a Grumman Olsenette step van from 1964, for running back and forth to suppliers for flooring material—he says the cargo area fits 7½-foot-long bundles of flooring like a glove—and finish. He also takes the van on estimates.
Caffo bought it off of Craigslist a couple years ago. He knew he wanted a step van but didn't expect to find one so unique or old. Vans like this were once the go-to vehicle for deliveries of all sorts, and this one was used by a bread company, Caffo says. The van exterior needed a little love and care to get it road-ready. Caffo cleaned and polished the aluminum and painted the tire walls white. It's now a classic hot-rod style, he says, and its age helps him tell customers about the longevity of his company, which was started by his grandfather in 1926.
The van, despite its age, runs well, he says, sometimes too well. The seller he bought it from installed a newer V8 motor in it. "When I bought it, the ad said it would go faster than you will want to go," Caffo says. "And it's true."
---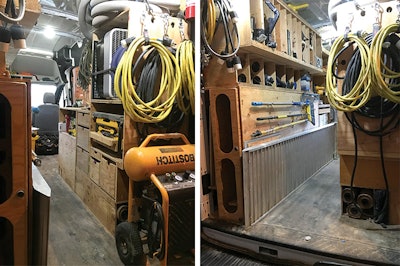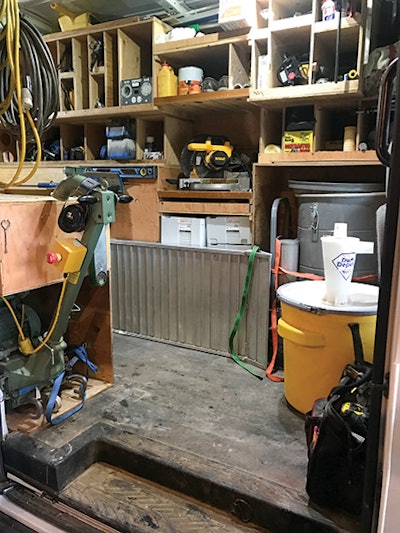 Most Organized Interior
PTL Hardwood Floors LLC
Yelm, Wash.
Most workshops aren't as organized as the work van of PTL Hardwood's Joshua Crossman.
The interior of his Ford Transit van is outfitted with stacks of drawers, cubbyholes and compartments, all made from plywood. Looped cords hang from hooks, fans are side-by-side and bungee-corded in place, brooms and applicator handles are secured horizontally with clips. There is no "dead space" inside but for the 26-inch-wide aisle in the center that allows Crossman to get what he needs.
"Every tool has its own home," Crossman says. "I could tell somebody, 'Hey, hop in the van and get this, it's located here or there.'"
Crossman says he didn't start by mocking up a diagram. He let the types and shapes of his tools dictate the construction as he went along. The system is made with ½-inch-thick plywood that is secured with brackets to the side of the van and also bolted to the floor. Every cubby has a small lip, so its contents don't slip out. The drawers rely on plywood-to-plywood friction to stay closed. In all, it took him about a week and $300 to complete.
His attention to detail has been rewarding in more ways than one. He says tools get broken or go missing less often, and it takes him less time to find tools when he needs them. Most importantly, customers notice.
"I'll go on a job site and people will say, 'Whoa, I've never seen a work van so organized before,'" he says. "It shows that you care a little more. They think, 'If he keeps his work truck like that, he's going to take care of my house.'"
---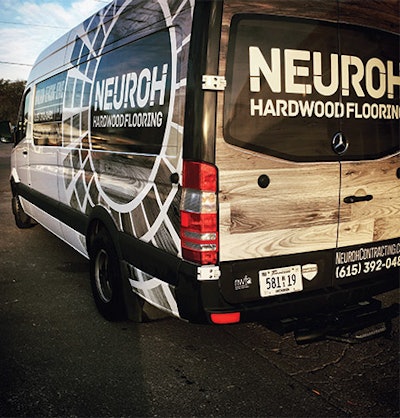 Honorable Mention—Best Exterior Graphics
Neuroh Hardwood Flooring
Williamsport, Tenn.
For his Mercedes Sprinter, Neuroh Hardwood Flooring Owner Kyle Neuroh says he aimed for a design that was eye-catching but simple, and one that would give potential customers something to remember with only a brief glance. The size of the vehicle alone—nearly 23 feet long and 9 feet high—makes it a moving billboard, and most customers are impressed when they see it coming, he says.
---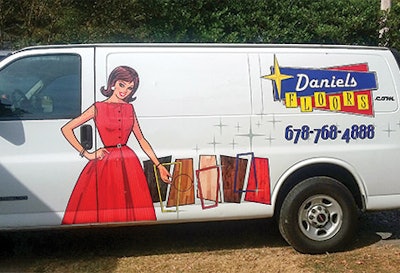 Best Mad-Men-Era Design
Daniels Floors
Roswell, Ga.
Laura Anzures, managing partner at Daniels Floors, had three vans wrapped with this retro, 1950's theme. She says the approach stands out among other flooring vans that display photos of flooring projects. The van has even made it onto local news broadcasts. In one case, the Daniels Floors van could be seen clearly behind Jeb Bush, whose campaign speech was being aired on television.
---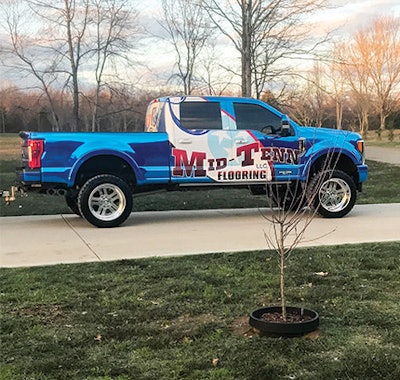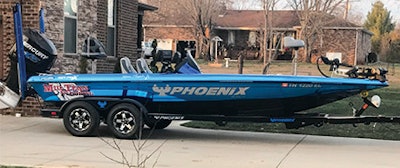 Most Shiny
Mid-Tenn Flooring
Smyrna, Tenn.
Hassan Moghadom, the owner of Mid-Tenn Flooring, loves bass fishing so much he wanted his work truck to match his royal blue fishing boat. But he took a liking to the shiny flashiness of chrome colors and fell in love with blue chrome. He wrapped his truck in the shiny stuff without a moment's hesitation. Then, however, it didn't match the fishing boat. What to do? He wrapped his fishing boat in blue chrome, too, and added the Mid-Tenn logo, to boot.
---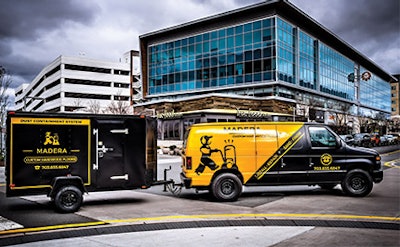 Best Matching Vehicle and Trailer
Madera Floors
Falls Church, Va.
If simple is good, minimal is better. Javier Flores, who co-owns Madera Floors with his wife Mari, wanted a bold van and trailer design that featured only the bare necessities. There's the company name, logo, telephone number, a simple eye-catching design and not much else. "When you're driving, people only see big simple things," he says. So he instructed designer Krishna Jeyakumar at KME Digital to underwhelm with info, but overwhelm with style. Within the first week of driving with the new design, he received two leads from people who sought him out specifically because of the look of the van and trailer.
---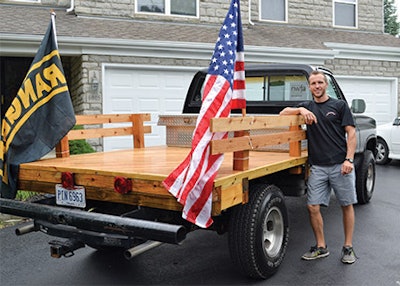 Best Modification
Patrick Flooring LLC
Hilliard, Ohio
Matt Patrick of Patrick Flooring LLC wanted to buy a work truck made the year he was born—1985. When buying trucks that old, you can't be picky, and the one he found was rough. The truck bed was trashed, he says, so he started planning a new truck bed—one with hardwood flooring. He built a joist system on the truck's frame with 4-by-4's and 2-by-6's, then covered it with a plywood subfloor and 3-inch-wide white oak. Patrick applied moisture-resistant paint to the underside and seven coats of marine spar varnish to the top. "It's held up pretty well considering it stays outside year-round in Ohio," he says.
---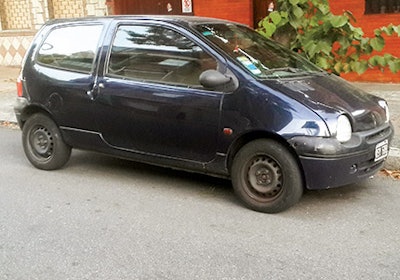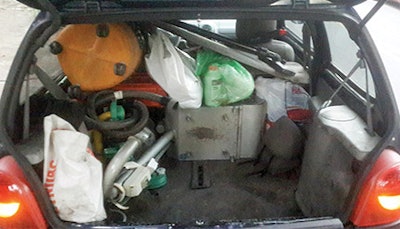 Tightest Fit
Hidrolaqueados AGE
Ciudad de Buenos Aires, Argentina
Ruben Luis Godas bought his company's 2001 Renault Twingo back in April 2014. He says the Twingo has a whopping 1.0 liter engine that produces an unstoppable 76 horsepower. En route to the job site, his father usually drives while another coworker sits in the front passenger seat, leaving Godas—"the contortionist," he says—to sit in the back with all the equipment, including a floor sander, edger, vacuum, Fein multimaster, DeWalt toolbox, 5-liter containers of finish, floor pads and the buffer. Well, the buffer requires a second trip, says Godas.
---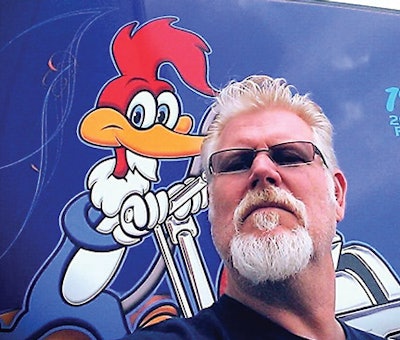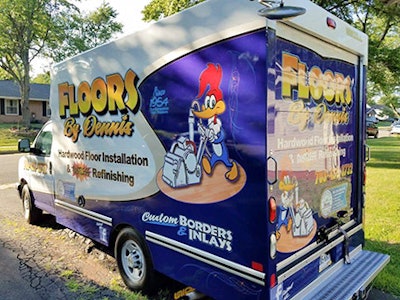 Best Self-Designed
Floors by Dennis
Sterling, Va.
Forty years ago, Dennis Cudd, owner of Floors by Dennis, says he had red hair, and as a floor installer, he's always "pecking" on wood. Thus, he could think of no better mascot for his company than Woody Woodpecker. The only difference is today, Dennis' hair isn't so red, so the Woody on his truck—which he sketched himself—has a white goatee.
---
WFB Editor Kim Wahlgren and Associate Editor Andrew Averill announced the preceding results in a video you can watch below.
---
Ready for next year's contest already? Enter the 2018 Truck and Van Contest here.
---
RELATED: How to Protect Your Wood Floor Vehicle Against a Break-In