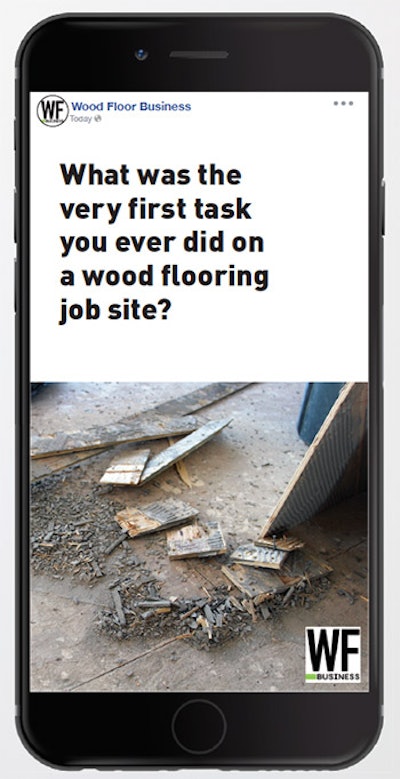 Here are our favorite responses shared by our readers on the WFB Facebook and Instagram pages.
---
Lars Frohnsdorf The subfloor had gotten loose over the years. The boss had me go on my hands and knees and pound down every single nail in the subfloor. It was 1,100 feet. I had been a cook before that; I could barely move my arms after.
---
markmurphy1984 Swept—all summer long.
---
Joel Barkelew Edged a gym floor. Made it around and asked, "What next?" Was told to put five-grit on and do it again! LMAO.
---

Jake Endicott Edged, all day every day, for several months.
---
Danny Shane McNulty Sat on the buffer while my father buffed.
---
Steven Fiscus Pulled staples for eight hours. My first day was very close to being my last day.
---

jdflooringsolutions Edged a gym floor—at night. I couldn't move for two days after.
---
Micah Loberg Humped in 6,000 square feet with no help.
---
Hardwood Floors Rich Chiseled out the corners left from my edging. LOL!
---
Gregory Brown Held the cord and emptied dust bags for 50 cents an hour. I was 9 years old.
---
Creativehardwoodfloorsmn Helped carry in tools. My uncle told me to grab the router and stapler out of the truck and carry them in. I had to wait for him to come back to show me what a router and stapler were.
---
baystatefloors Installed wood flooring using only cut nails.
---
Linda Gonzalez I was 5. I held the chalk line still as my dad marked out a space for a rose medallion. Then I moved up to filling nail holes with putty before he sanded.
---
John Joshua Cutting around an island with a toe kick saw! I can tell you I will never forget that house or how dangerous a toe kick saw is!
---
Dave Byrnes Cut cut nails that were too long for the system thickness ... thousands of them!
---
Jim Sours I moved 1,500 feet of Brazilian cherry from one side of the house to the other while the lead and older crew swept and put down paper. I don't think they touched a single bundle. The next day my hands didn't have any gripping strength.
---





Silva0779 The guy gave me crowbar with a hammer to take out a glue-down floor on a foyer. After three hours I had taken out three boards.
---
RELATED: Talk Back: What's the Best Employee Excuse You've Heard?
---