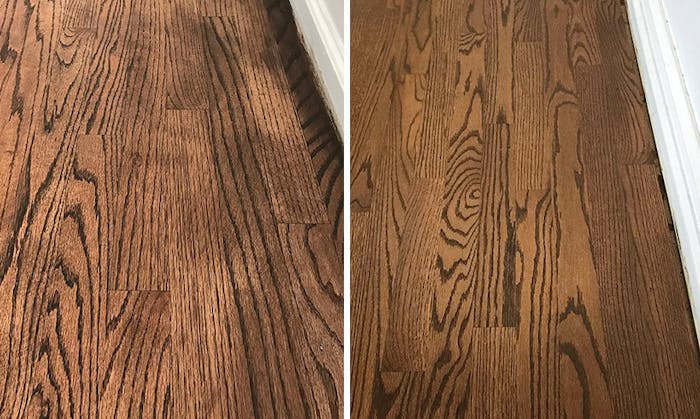 Approximately 10 percent of my business is fixing jobs other contractors did a hack job on, like the photo at left (at right is our 'after' photo).
In our wood flooring business, we install, sand or refinish hundreds of jobs during any given year, and this year alone, at the time this article is being put together in September, 26 of our jobs have been emergency fix-it jobs where we've had to completely refinish a floor because another contractor failed to deliver as promised (and I'm going to see another one later today). The majority of those jobs were done by companies hired through a lead-generation service. I'm finding lead generation is putting bad contractors in the face of good clients, leaving those clients in a bad situation and tarnishing the reputation of the wood flooring industry in general.
We don't use lead generation services in our company today, but when my wife and I relocated with our business to Delaware, we tried using it as a way to get in front of clients in an area where we had no word of mouth or referrals, which had been most of our business previously. We signed up to get leads from a lead generation site, and I decided to sign up for a $16,000 advertising program with another popular service provider site. Besides promoting you on their site, it promoted your company on the web and social media with retargeting.
An "F" review ended up on our company from a customer I had never heard of, and it was the worst review I've ever read in my life.
Unfortunately, it turned into a nightmare. An "F" review ended up on our company from a customer I had never heard of, and it was the worst review I've ever read in my life. The advertising contract was that if your rating went below a D, you forfeited your advertising contract and were liable to pay the whole amount. I only had two reviews at the time, so the F review dropped me below their threshold. I found out this was happening because my credit card alerted me that I had this random monstrous charge.
On that site, you can see customers' first and last names, so I did what anyone would do: I went on Facebook, found the customer and contacted her. She responded that she had no idea who I was and had left the review for this other guy. In the end, it took about 90 days to straighten out, all while interest hit my credit card and there was this terrible review out there saying that my workers looked like criminals, among other terrible things.
Today I'm involved in a class action lawsuit; there is a large number of companies that had this exact same thing happen to them. The lawyers discovered there was a "reputation manager" on the site. For a couple hundred dollars a month their computer program would automatically remove bad reviews from your company, and it appears it then stuck those terrible reviews to other companies instead. The full details still aren't exactly clear.
---
RELATED: An Interesting Thing Happened When I Raised My Prices
---
As I mentioned, we were also getting leads from a lead generation site. We used it for about 6 months and had some success with it, but I quickly realized success was coming at a cost: I had to compete with these lower end guys. They were at bottom dollar, doing bottom dollar work, and that's just not what we do. So after only 6 months we scrapped it and pursued traditional marketing.
Today we have a higher marketing budget and all the overhead that comes with running a legitimate business, and most of our work is referral-based. In our area, the guys I see chasing the lead gen work don't have that. It's interesting if you think about the business model: They can afford a few dollars three times a week to get the leads but can't afford legitimate advertising, so they need to keep paying the lead gen company to get leads. To get the jobs, they need to be super-low-margin, so to afford that they have to do quick work, which comes at a cost. It creates a vicious cycle, and the customers keep getting burned. Only then do they start looking for higher quality contractors and find us (typically through NWFA, Bona or other certified program websites).
As I mentioned, after I finish this article, I'm heading to another job where we need to clean up somebody else's work. In addition to doing bad work, the contractors left stain in the customer's sink and on every doorknob. Even the ceiling has stain on it somehow! The client has also been displaced from their home for four weeks while the contractor tried to sand the floor three different times. We also did a job earlier this year where the contractor left a cardboard box with sawdust and stain rags sitting in the customer's garage (fortunately it didn't ignite).
These kinds of contractors are putting the reputation of our industry, and sometimes customers' safety, in jeopardy. Lead gen companies are putting more and more lower end contractors with little to no training or real experience in front of clients. Lead gen places bad contractors as the face of the industry. Change my mind.