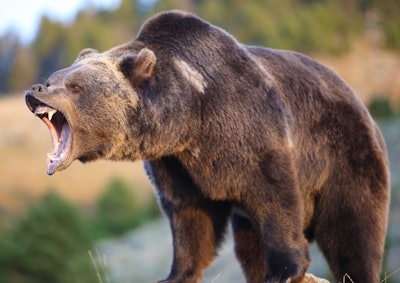 This is a perfect story of how you cannot trust customers. You may be getting along great, but they can turn on you in an instant, and if you slacked in any tiny detail, they can cause very much trouble for you.
Here's my most memorable story about this. Three years ago I went out to a flood estimate. I did not get the job (and have no details other than no one got the job, either). However, that customer was so impressed with me he gave me five-star review even though no work was performed.
Speed this up to just a few months ago, and the customer calls me and says, "Remember me?" After I queried my calendar for his cell number, I remembered. He said, "We just moved into a new home and we want you to put flooring in it. We trust everything about you, so come on over and give us a measure and discuss flooring options."
We ended up flooring the second level, and a discontinued color of flooring was selected. When we were about halfway finished, the lady of the house stated she wanted the same flooring downstairs and on the staircase so everything would match. We planned to have that part of the work done in a few months after they recovered monetarily from the upstairs install I was about to finish for them. I quickly informed them that not much was left in inventory, so one choice to consider was to buy the materials quickly so there would be no chance of missing out.
That is exactly what they did, and I secured the quantity from the vendor and delivered the materials required for the downstairs and the staircase about one week later. I was paid in full upon delivery and considered this family a wonderful experience to look back on.
Everything was great. I liked this family and considered them friends—in a professional sense. I never ate dinner with them, but you know what I mean. I was on a first-name basis with them, as they were with me.
So 10 days ago I got this text message: "We are ready for the downstairs, but we want to add more molding, so please come and measure again." A start date was placed on the calendar, and a day to measure was proposed.
Then … radio silence.
The time of the estimate wasn't set, so I called and texted multiple times to see what time would be good.
No answer.
After many, many attempts, I was thinking something was wrong. "Are they OK?" was my overbearing concern. So, I decided to drive over the day before the start date and knock on the door and see what happened.
The lady opened the door and had this odd look as she realized it was me. Then the door opened a little more, and the man and I met eyes, and he charged right at me through the front door yelling in his loudest voice, "How dare you come here?! Get out!! Get out off my property!!" He repeated this three times and followed me almost to the curb. You must realize: This man is a solid foot taller than me; he reminded me a grizzly bear.
I wasn't scared, but I was quite a bit rattled. My whole day ended up being ruined, and the thought that I lost a job was the smallest concern. I had only known this family's good side, but the "bad side" was formidable, to say the least. I don't live the life where I have angry people shout at me like this, so I probably had a "deer in the headlights" look on my face when he charged me! I left and went home. It was Sunday, and I lost the will to go to church, and I just sulked once home.
I got this text from the lady about 30 minutes later: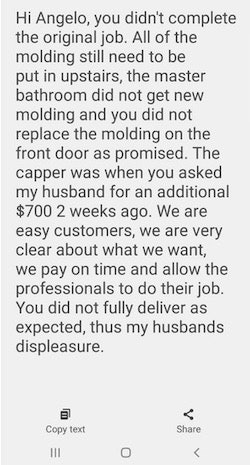 Here's where this story comes together. I was at first astonished at these accusations. I quickly went to my PC and called up the job folder, and inside was everything about the previous install. One of the folders was "job pics," where they were all in timeline order from start to finish.
I documented everything I could, even tiny things (that apparently now had become very important).
I had documented the molding install in every room. I was merely thinking of showcasing the work or using the pics as examples for future estimates. Just forward-thinking stuff, not legal-proof stuff.
The extra $700 was a guess on the extra molding they asked me to measure that I never did measure.
I went over the previous contract, and nowhere did it mention molding in the master bath (I already knew that). The homeowners had previously said, "We will not do the master bath until we 'do' the master bath." They had just moved in and had plans for upgrading many parts of the home over time, one thing before the other—just like all of us plan for our own homes.
Pertaining to the molding on the front door: On the last day of the upper install, we finished after the sun had set, and it was black outside. The homeowners paid me and said, "Go home, when we have you come back for the downstairs you can replace the molding on the door. It's late and you've worked hard. It's the weekend, go have fun!"
So, none of this makes sense, but if they want to take me to court for taking payment for molding and never installing, I say bring it—I have pics. Thank goodness I have pics and a signed contract that is so detailed it is boring to read.
The lessons here? In summary:
1) Take pics, document everything. Even tiny details that you may not place a value on.
2) Save text messages off your cell phone. I use Backuptrans for Android and store them on my PC in the customer's file. This app saves the conversation like a text message conversation so a judge can grasp not only the words but the "context" behind the words. This is very important.
3) Save voice messages off your phone. I play back my voice mails using the speaker phone on my cell phone and use the PC's voice recorder to record and archive them to the customer's file.
4) All documentation that supports the fact that the proper install and/or refinish guidelines were followed is essential.
5) All signed documents go in the customer file
6) All material invoices go in the file
7) All this data is then backed up to a second and third backup media. If it's ONLY on your computer, you have NO backup.
This is my scenario I perform for every contract regardless if they like me or not. Regardless if it's a small job or not.
Regardless, regardless, regardless.
If my fancy customer wants to "play" I am ready, indeed—I was always ready.
Looking back, I was hurt at the turn of events. I feel a sense of loss and hope only the best for my customer. I have no clear idea on why they turned on me, and most likely I'll never know. I was successful in filling up my lost week with more work, and the phone rang all day for other opportunities, as well.
Looking back to the upstairs install period, I am surprised that I felt relaxed at this customer's home the whole time during the contract. How it ended came out of the blue, but thankfully I was armored up before it exploded. Many fall—or can fall—because when the day goes off the rails, they may have thought, "This can never happen, everything has been good with no red flags at all."
Don't bet on it. Pretend every job is the future lawsuit, and keep your head on a swivel. We make friendships with some customers, but sometimes there are circumstances you do not expect. Customers are NOT your friends, they are the means to earn our living only.
See all of Angelo DeSanto's popular blog posts and magazine articles here.