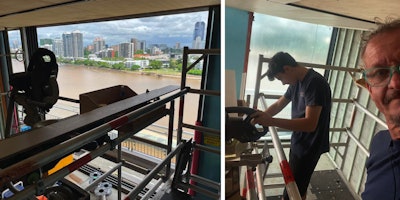 Let's talk about "The Rules." Everyone knows about The Rules … they're everywhere. We have rules made by our parents, our teachers, those in power. There are rules in religion, and there are rules in nature. There are also rules in physics and math … I could go on. We choose to either follow the rules or to break them, although some rules can't be broken (I personally don't have the ability to break the law of gravity).
Anyway, I am into wood floors. I work in a business that has employees, and I am, in fact, an employee of that business. We have rules that you can choose to follow or you can choose to not, but if you don't, then we all know what happens next, and pretty soon you don't need to worry about that job no more! There are also rules when it comes to all aspects of installing and finishing a wood floor, if you don't follow those rules, you could also end up with a failure, and they can be very expensive.
I'm not writing this to talk about following rules. What I want to talk about is the "Spirit of the Rules." If you've never heard this phrase, let me explain what I understand through a simple example: Here at Scribed Flooring, we have a rule that we place a doormat at the entry to our job and that when we walk in, we rub our feet on that mat. Following that rule, you look like a careful and conscientious tradie who is looking after the clients' floor. Even this week, a builder commented that he had never seen a contractor of any kind ever bringing a door mat to a job … ever! Well, aren't we fantastic?! Maybe, but if we were to live by the Spirit of the Rules, we would also make sure we didn't bring residue onto the floor from our shoes (or, in fact, in any way). We would also check our feet if were a messy worksite—I personally clean out the bedrooms and bathrooms before starting to ensure another contractor doesn't walk grit back onto the floor from inside the house. And I will bring a spare pair of shoes to walk out to the van. In fact, I go as far as stepping over the dry diesel stains that you see on the driveways of petrol stations on the weekends just in case I happen to step onto one of my floors in the same shoes. This is living the Spirit of the Rule, and it makes a difference … a BIG difference, and this is what we do.
Installing a floor by following The Rules could mean you will allow the proper expansion for a wood floor, you will install it in the prescribed manner with the correct nailing schedule or adhesive application, you will allow the proper acclimation of the wood and you will follow all instructions supplied for the finished floor. You have done everything right according to The Rules, but what if there is a home cut into the side of a hill? What if there are signs of moisture sitting near the home, but it's been a dry week? If you are the kinda guy or gal who strictly follows The Rules, then you could be potentially installing a problem, even though you are following all The Rules. The resulting problem may not be your legal responsibility (or it may be), but it's still a problem, and you need to pause and make some decisions about moving forward in the best possible way—following the Spirit of the Rules.
Cairo and I have always been very passionate about what we do and strive for excellence to the best of our abilities. We disregard the easy path or immediate income (we do try to charge for who we are and what we know we will do ahead of time), but once the job starts, we always take the best path, not the easiest or most profitable. The question is always, "What would it be if it were our home?" If anyone wants to see this in pictures, look on social media for the Portuguese pros Joao and Suzy at Fino Oficio. He is always complaining, but he and Suzy will make sure every board is caressed, held and cuddled prior to being lovingly and forever installed into someone's floor. Amazing!
Finding staff who are willing to subscribe to the Spirit of the Rules is difficult, and it's amazing to see people whine about how they followed all the rules and don't understand why they got reprimanded when they believed they "done nothing wrong." It's difficult at the time, but they do us a favor when they quit, because they can never grasp what it is to strive to do everything right.
We will never change or apologize for our passion, or for following the Spirit of the Rules.