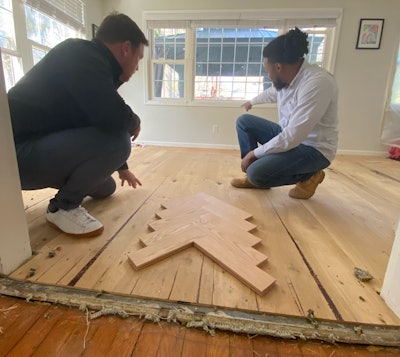 Hardwood floor refinishing is a niche trade. As a child or adolescent, no one had dreams of becoming a hardwood floor refinisher or installer—unless your father or a family member you looked up to did floors for a living. Based on my experience of being in the trade for the last eight years, it seems like a pretty significant amount of the hardwood floors workforce got their start that way. If that Is how you got your start in the trade, odds are your father instilled a passion for the trade in you at a young age. We have friends and acquaintances all over the country who grew up doing floors with their father, and their father did floors with their father, and so on. Some of the most prominent and well-respected people in this trade have generations of family members who were in the business. Personally, I think that shows great leadership by having younger generations follow in your footsteps.
While that seems to be a common denominator, it's not necessarily a sustainable business model. We can't all breed employees, and in this day and age, fewer people are getting into labor-intensive careers. If your parent was in a physically intense job, you've witnessed how taxing it can be on your body—it's the nature of the business and is to be expected. But how do we inspire new people to get into such a niche trade, knowing what it can eventually do to their bodies? Let's face it, wood flooring is a difficult trade, and finding the next generation is significantly more difficult.
According to the U.S. Bureau of Labor Statistics, there are an estimated 4,340 floor sanders and finishers in the United States (as of May 2021). You don't have to be a genius to realize how low that number is in comparison to other industries. Although the trade of hardwood flooring may never become as desirable as the medical field, I'm pretty sure we can at least double our workforce. But, how? We must have great leaders to inspire the next generation.
I'm extremely biased on this opinion, but my husband, Craig Tosland, is an incredible leader, and his passion for wood floors is contagious. He is not a business mastermind and is probably not the most skilled floor refinisher in the world, but he absolutely loves this trade. With a quick glance at a wood flooring Facebook group, you will see posts upon posts of companies struggling to find and keep good help. What makes our company successful while those with similar skills continue to struggle? Simply put, they don't have a Craig. A great leader wants to not only teach new skills, but they want to elevate people to reach new heights in their careers. Life is a process of the old teaching the new, and the new taking over for the old. No one wants to stay in their current position forever; we all want to keep evolving as people and keep elevating our life. With the average floor refinisher being between 41–50 years old, we need the help of great leaders and we need it fast if our businesses are going to be sustainable.
In order to be successful in any business, we need to evolve. Treating people like you may have been treated "back in your day" is a recipe for failure. When Craig first started, his employer treated him and the other guys like garbage, and not only that but he wasn't allowed to touch a Hummel for two years. He felt lucky to have a job, so he stayed in a bad company for years. Times have changed: It seems unskilled jobs are plentiful, and everyone is hiring and increasing their wages. We need to ensure that we become an industry that is desirable. Part of that is cultivating a positive work environment where people want to be, and where people are treated with respect, regardless of whether they are a beginner or a master in the trade.
---
RELATED: How We Hire and Keep a Motivated Workforce
---
There is so much focus on finding the best sealer, the most scratch resistant two-component finish or the best sanding process. Not enough effort is put into finding the best way to attract and retain people. It's difficult to focus on things like that when, as an owner, you're still doing the physical labor. If you want to grow your business and make sure you're not sanding floors into your 50s, you need to think bigger picture. Craig sacrificed his body, his mind, and his family life for the first three years to make our dreams for our company a reality. However, you don't move on from having one or two crews by simply working yourself to the bone every single day. A successful leader leads by example. If you want a positive environment, you need to be the positive one. If you want your team to have a good work ethic, you need to show them what that looks like. If you want to focus on enhancing the skills of your workforce, you need to enhance your own skills and then take the time to train your team. If you don't have the basics of how to treat your team down, you're going to be on a never-ending hamster wheel of hiring and training new guys every few months. If you treat employees like they are less than, or make them feel like they should be thanking you for the opportunity to work for you, you're going to continue to lose the help that could have been your future saving grace. As a business owner, you are not entitled to have employees. It is your job to become the leader that makes them want to stay and learn from you.
I've been a business owner long enough to know that our employees are the heart of our company. They are the reason why we are successful. Without them, we're just two business owners with nothing to show. We need to grow into the types of companies that we would LOVE to be an employee of. Think about what you would have loved to have as an employee. What kind of environment would you want, what kind of perks/benefits would you really appreciate, how do you actually want to be treated? Having the best skills or using the best products means nothing without having the employees with the best attitudes. How do you get them? You create them. Show them your love of flooring, treat them with respect, show them that there is a future in flooring, and that it is amazing. Show them how to take pride in their work. Encourage them like they are your son or daughter. We're all family businesses. A family business doesn't necessarily mean that you all hang out and have cookouts together all the time—as a business owner, it is not your responsibility to make your employees love you. However, it is your responsibility to make your employees feel appreciated and valued. Everyone wants to leave a legacy and feel proud of what they accomplished, and we need to help the new generation take pride in what they do..
Maya Angelou once said, "People will forget what you said, people will forget what you did, but people will never forget how you made them feel." You can have a company with the best health insurance benefits, highest IRA contributions, and highest paying wages. None of that matters if the environment is toxic. In our niche market, a great leader is a necessity for survival and growth, and great leadership cultivates more great leadership. With our aging trade, we need to cultivate great leaders to take our place.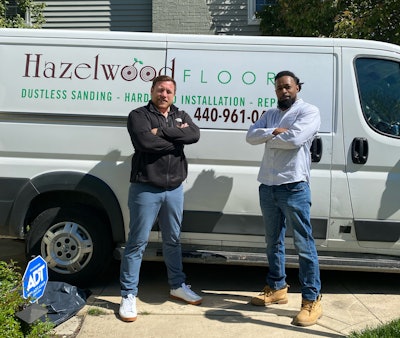 At our company, it has always been our dream to be able to have a sustainable business with limited ownership involvement in the day-to-day operations. Having our business run like a well-oiled machine is paramount to us in our future endeavors. This would not be possible without having another great leader take Craig's place, and we have been incredibly fortunate for the opportunity for Craig to step down as CEO of our company and for Durand Scott to be promoted to CEO.
It takes a great leader to recognize and nurture another great leader. In my humble opinion, it should be the goal of every business owner to want to hire someone better to take over for you (once you're ready to step aside, of course). Durand has been in this trade for over 16 years and worked at a number of other refinishing companies over the course of his career and has been with us almost three years. It wasn't his refinishing experience that got our attention, it was his attitude and his mindset. He started with us as a foreman in order to learn our techniques and get a better understanding of how our business works, but we hired him with the intention to have him take over as our operations manager. It took us only two months to decide he was ready to lead our team, and one year later he was promoted to COO. He continued to meet every goal we threw at him. We wanted to grow to four crews, then five, then six, and now his goal is seven by the end of the summer, with eight and nine happening within the next year. There are so many other goals we have had that he has met every single time.
Durand possesses the intangibles that every leader needs in order to be successful: self-confidence, the ability to hold themselves accountable, always striving to become better, the ability to manage/defuse conflict, problem solving skills, and the ability to not let fear rule his decisions. If you want your business to reach the next level, you need to either become the leader your company needs—or hire and inspire the right one who will help you get there.