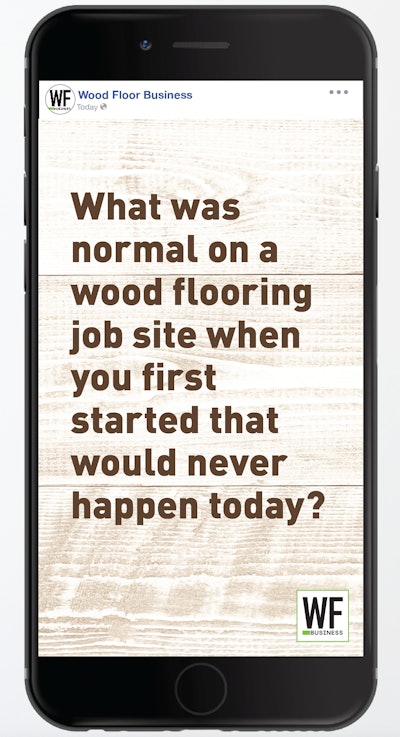 michael.james74
Sticking raw wires in 220 outlets.
---
Ron Schuetz
Hand-scraping under radiators.
---
Harvey Penner
Answering the phone at the customer's house because that's how the shop contacted you. It was normal.
---
Chris Kritzer
Back in the day the first thing that got set up was the stereo—louder than the machines.
---
Cottonwoodfinishesllc
SWEEPING up the dust from the buffer.
---
Mark Hanes
Printed Yahoo maps. And you'd still get lost trying to find the jobs. This is how the wrong house gets sanded.
---
Shane Jones
Smoking inside other people's homes.
---
Harvey Penner
Sending estimates by mail, waiting for a mail reply, this could take a month or more. Now it's THIS SECOND!
---
tonyrod231
Hand-nailing rips with case-hardened nails, and edger bags with holes in them dusting the house up.
---
RELATED: Talk Back: What's The Dumbest Thing You've Ever Said to A Customer?
---
kelleyswoodfloors
Customers actually wanting some squeaks and creaks in the floor, because it's actual wood and that's what wood does. You know, it still thinks it's a tree.
---
Jim Kramer
I used to be the paper cutter. I'd have to cut the paper for the drums and the edgers before I could even run a broom. We also used to not be available during working hours. We checked messages and faxes and made phone calls after we returned to the shop. I really miss that, LOL.
---
walnutgrovehardwood
Top-nailing the opening and closing rows. Especially the last three rows.
---
Tony Horsman
Driving to find a payphone if you needed to call the shop.
---
Mark Crooks
Sealing the area in plastic.
---
robjohnson9663
Hard plating with a 16" single-sided 80 grit paper with a 4" hole bolted on to a steel buffer plate with a 1/2" felt backing pad glued to the plate. Removin' some chattah! Lol.
---
david.shafer512
A clean subfloor. Now it's under an inch of drywall mud.
---
Bradford Lawson
Undercutting door jambs by hand. What a waste of time!
---
Chris Allred
Lambswool coating pads.
---
Steven Triplett Jr.
Beer in the lunch box.
---
Alfredo Graham
Cleaning glue off the floor with paint thinner.
---
Brendon Newell
Staining by hand with rags. Hand-sanding all edges to blend the drum/edger.
---
Derek Fenderson
Installing non-nested bundles and using a chisel before the multitool.
---
RELATED: What Do Wood Floor Pros Say That Only Other Pros Would Understand?
---