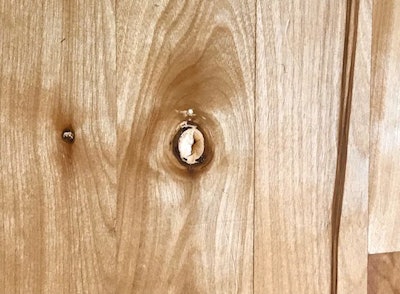 I looked at a newly installed wood floor where the homeowner was upset with the color of the filled knots (the rest of the install/sanding was well within standards). The customer loved the look and grade of the No. 2 common solid strip birch. But, the floor had some open knots up to the size of a dime, and the customer thought the filled knots looked like a cheap floor from a discount center.
When the homeowner approached the flooring contractor with the concern, the conversation went like this:
Contractor: You're the one who selected the grade.
Customer: Yes, but I figured you would fill the knots with a matching filler.
Contractor: We did trowel-fill the entire floor with color-matching birch/maple wood filler. You got what you paid for.
It's not uncommon for flooring contractors to become defensive when their workmanship is challenged. And when those defenses go up, the customer does the same … and then resorts to the internet for more answers. The last thing the contractor needs is a homeowner researching on the internet, then getting on websites and telling a one-sided story of how the company handled their claim.
---
RELATED: Can You Sue the Poster of a Nasty Online Review?
---
I will admit the light color filler in the dark knots did detract from the quality of the material and workmanship. And for those reading this article, you must admit it does look cheaply done. So, what would have been the correct way to handle this from the beginning? In most cases, this floor was selected because of the lower grade and cost, which makes it attractive to the client. But were the open knots brought to their attention, and did they discuss if they would be filled or not filled? This floor would have looked sharp if the knots were spot-filled with walnut filler (darker is better than lighter) instead. Of course, now comes in the extra labor to achieve such a look and, in this case, it wasn't in the bid.
So how should it have been handled from the beginning? Ideally the contractor would have an online portfolio of quality photos, and, while bidding, could show the client photos of the three options—filled birch knots, filled walnut knots, or the open knot look—and provide a bid for all three.
We must keep in mind that, as flooring pros, we may see things differently than our clients, so one way to avoid inspections is to spell out those details. Putting effort into creating a quality online portfolio is one way to help prevent problems before they happen.