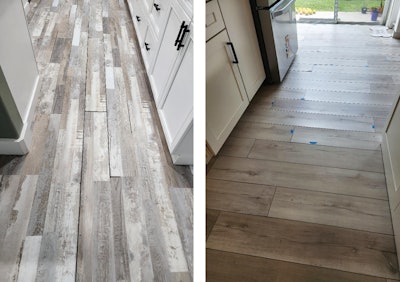 I have been in the flooring business my entire adult life. Early on, as a union apprentice, the training included all types of floor coverings, some with names we no longer use or seldom encounter, such as battleship linoleum, vinyl asbestos tile, asphalt tile, Axminster, Wilton wool carpet, and more. To be honest, I have always been a geek when it comes to how things are made and with what. This led to a long career as a journeyman installer who, in the 1980s, decided to focus on wood flooring but continued to keep up with the changes in all types of floor coverings. At some point, folks in my orbit began calling me for technical advice and to look at flooring issues. I turned my contracting company over to my son in the mid-'90s and went into sales/training and inspections. To make a long story palatable, now that I'm in my late 70s, all I do are inspections and consulting. I was getting a lot of calls for flooring issues other than wood, so I signed up for courses and certifications for resilient flooring and ceramic tile, and this, of course, led to a lot of studies related to these products. Many of you won't be surprised that calls, texts and emails about vinyl flooring issues began coming in like a tsunami. This "revolutionary" product is advertised in large print as waterproof, extremely durable, stable and so easy to install that any handyperson can do it. Let's delve into the fine print and how some of these products work in the real world.
Durability: When it comes to luxury vinyl, this depends on many factors, including the amount of wear layer and the thickness of the product (i.e., 5 mm, 13 mm, etc.), how flat the floor is and the type of traffic it has. If the subfloor is not flat to spec, a lot of bad things happen, including heavier wear on the high spots. In reality, in far too many instances, the wear layer that covers the photograph of wood or tile is about as thick as one's fingernail.
Waterproof: Not so much. Read the installation instructions and you will find they mean waterproof from the top down, not the bottom up. This is a false flag, as gaps in the built-in vapor barrier exist. Consider also that some of their "barriers" are rubber, some are plastic, and many are cork. Cork is the bark of an oak that grows in Portugal and is far from waterproof. One can perform simple tests to prove that even the best-constructed products are not waterproof. Take two like pieces of LVP, click them tightly together, and lay them down on paper such as paper towels or newspaper. Pour water on the seam and let it sit until the water is gone. Look under the planks, and you will see that some water has seeped through the profile to the paper at the gap between the "barrier." So, why wouldn't moisture make its way via the same route from a concrete slab? Another easy test: Get four or five sample planks and lay them on a flat surface after ensuring they started with no cupping or other issues. Wait a week (or less), and you will find the planks have cupped. Why? Could the ambient relative humidity in a typical (non-desert) home affect these waterproof products? I have looked at too many cupping issues where there is absolutely nothing wrong with the installation, the in-use environment, or any other moisture problem to cause this cupping. Let me know if you find another reason. Many manufacturers have recently changed their specifications to include a physical vapor barrier, such as 6-mil plastic sheeting, and testing any on-grade concrete subfloors for moisture. I wonder why?
Log in to view the full article