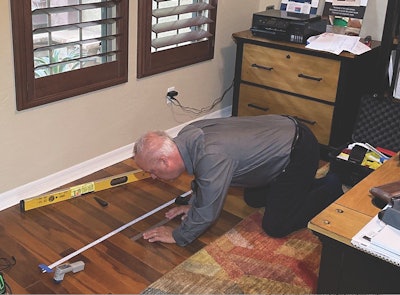 In my career as an inspector, I've done about 17,000 inspections, so when it comes to wood flooring problems, I've just about seen it all. Here are some things to know if you end up in an inspection.
1) If possible, be present at the inspection. Unless the customer does not want the contractor or retailer present, I suggest being there to answer questions from the inspector. Inspectors hope that the information provided to them is honest and accurate, but it is up to the inspector to do observations, tests, measuring, and analysis to determine the actual cause. The answers you provide will be part of the claim history in the inspection report. Most inspectors are pretty good at separating fact from fiction, so it is important to make sure your answers are as accurate and honest as possible.
2) Upon completion, the inspector can provide the report or information to only the commissioning party. If the homeowner commissioned the inspection, the inspector is obligated to share information with only the commissioning party unless given permission by the commissioning party. The final inspection is the property of the commissioning party. If that is the contractor, it belongs to the contractor; if it is the manufacturer, it belongs to the manufacturer, etc. Other parties can get copies only with permission from the commissioning party.
3) Inspectors are supposed to be unbiased. The inspector's job is to find the truth, not the results the commissioning party hopes for.
4) Inspection findings do not dictate what happens next. It's up to the commissioning party what they want to do with the results of the inspection, whether that be compensation, claim denial, going to court, etc. If an inspection finds you at fault and you disagree, you can hire your own unbiased third-party inspector.
5) Inspectors rely heavily on installation guidelines. One of the biggest things an inspector does is review the manufacturer's installation guidelines, care and maintenance guidelines, warranties, and any applicable industry standards. If you didn't follow those, you are giving a manufacturer an easy reason for a denial. To protect yourself, read the instructions or applicable guidelines for every single product. Just because you read a guideline two years ago on a similar product doesn't mean this one will be the same. Following instructions is the best way to protect yourself.