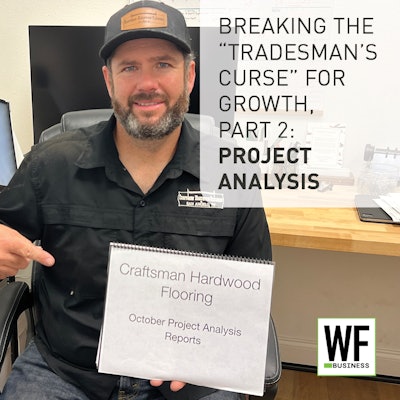 Continuing our series with a roadmap for how to "break the tradesman's curse" to grow your business (see the article from the October/November 2023 issue here and Part 1: Standard Operating Procedures) …
Every great business needs a solid foundation that can support long-term success, and knowing your numbers is a huge pillar for success. Your team and colleagues will be enamored by your ability to spout off the project profitably numbers from your monthly reports. They will be so impressed as you guide your team to greater profits and personal success!
You will want to keep this vision of grandeur in your head, because a great project analysis breakdown isn't always easy to do if it's not your forte. Don't worry, we will walk you through the process step by step.
For many years, I would work hard, was efficient with my process, produce the best quality I could, then hoped my bank account would grow. I know I was not the only one who ran my business like that. It's not the right way to do things, but I was a craftsman by trade, not a business person. Even in the beginning when we had a couple employees, it became apparent that this is not a good foundation for a company! I began my journey to learn the business side of our industry mostly out of necessity as I tried to grow the business. Does this sound familiar? So many of us started our companies this way.
Things really began to change when I decided to first get a warehouse, then the showroom, and then hired a full-time salesperson. I was getting serious about the business side, but I still didn't have that solid foundation to build on. Our first year jumping head-first into retail was a struggle. Our revenue doubled … and our profits were lower than ever!
We hired a professional bookkeeper and CFO coach. The first order of business was to know our numbers. We had a bookkeeper who could produce a great profit and loss statement, but we needed to know which projects were producing great profit and which ones weren't. We needed to know which products we should focus on selling. We needed to know what crews were producing the best for us and which ones needed improvement. There were so many unknown factors we needed to understand.
The answer was to start tracking our project numbers. Here is how we break down the numbers for each project to see all the information we need for our project analysis. Do the numbers make you happy, or do they look scary?
Step 1:

Project information

Document the project information, Including completion and paid date.
Step 2:

Revenue

Document the product sale and services sale numbers, add them together and get the total revenue numbers.
Step 3:

Cost of goods sold

Document product cost and service cost numbers, add them together and get the COGS numbers. (These are project-specific costs, like flooring for "product cost" and field technician wages for "service cost".) Don't add costs that aren't project-specific, like rent or equipment here, because those can be accounted for in overhead costs.
Step 4:

Gross profit

Document product sale minus product cost, then do the same for service sale and cost. This will give you product and service gross profit numbers. Add those together to get total gross profit numbers.
Step 5:

Gross profit margin

Use a profit margin calculator and use your numbers to calculate these three things:

1 - Product profit margin
2 - Service profit margin
3 - Overall gross profit margin

Example: Divide gross profit by revenue and then divide by 100 to get the gross profit margin. Do the same to get product and service gross profit numbers.

Congratulations! You now have your gross profit and gross profit margin numbers per project. Use these numbers to create a strategy for estimates and proposals on upcoming projects. Raise the prices on the type of projects that aren't as profitable, and go after more of the projects that bring more profit!

You'll also want to look over your profit and loss statements to see what the overhead and net profit numbers are by percentage to make sure the gross profit project numbers and margin numbers are in line with what will produce your target net profit numbers. I highly recommend to hire a professional bookkeeper to help you sort these numbers out. You got this! Go out there and create a winning strategy for your team with the numbers to back you up!

If you need a spreadsheet that does all the math for you and gives you the profit margin breakdowns, contact me—we can get you set up and on track! Here is what ours look like now: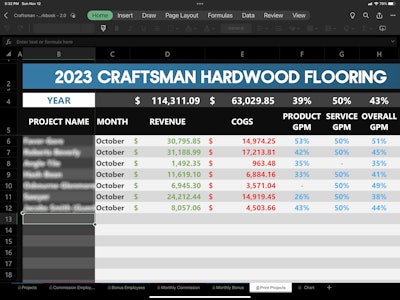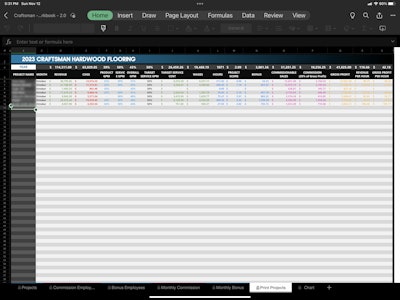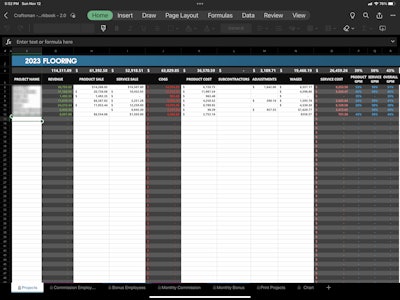 Stay tuned for our next blog post in this series, Quality Standards. How do you create them and how do you create a team culture that upholds them?
See the article introducing this series from the October/November 2023 issue here and Part 1: Standard Operating Procedures.