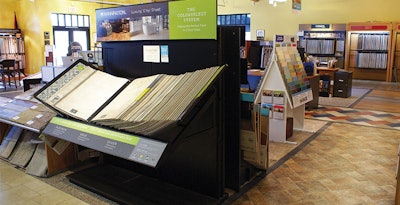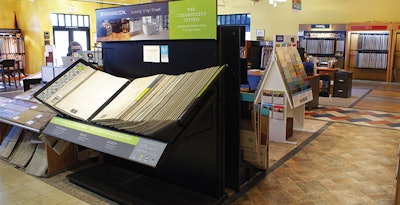 Classique Floors + Tile
Location: Portland, Ore.
Employees: 15
Showroom size: 4,500 square feet
Annual Revenue: $4 million
Judith Huck wants to emphasize to her customers that her store, Classique Floors + Tile in Portland, Ore., is local. To give it that feeling, the longtime Portlandian imbued the store's operations and marketing with her personality, and it comes across in subtle and not-so-subtle ways, like an electric car for estimates and the company's efforts to become a B Corporation. Since buying the store from her parents in 1998, she's reported yearly revenue increases of 15 percent and received accolades from the World Floor Covering Association and the Portland District Office of the U.S. Small Business Administration. Huck spoke with WFB's Andrew Averill about her operation.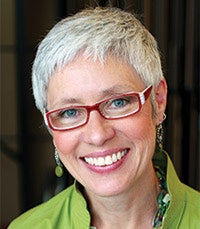 After you bought the store, how did you grow your revenue?
We got visibly involved in our community. We joined the local chamber of commerce. We advertised in local newspapers. We tried to get the word out that we existed. With a small business, that's half the battle—getting that top-of-mind awareness so when they're in the market for your product, you'll get a chance. It's a lot of networking.
When does that pay off?
It's not an instant return, and I can understand that—I need to build trust in someone I'm going to refer. I need to know I can count on them. I have to see them several times a month at these meetings and see them participate. And then I can start referring customers to them. It's an investment of time. I ask all my sales people to do that now, to find an organization that they have an interest in, stick with it and participate in it. Get involved. It will pay off.
So your website looks very you.
We want people to know we're local and that we're here for them. Our goal in business is for them to be delighted when we're finished with their project. We're not a national chain; I am the owner. The website has my face on it. It has photos of the staff and the store. It's very localized. We talk about the weather in Oregon and how that impacts your floor.
You also have electric cars, correct?
We have a Nissan Leaf with a Classique Floors + Tile wrap, and I drive a Tesla, and one of our salespeople drives a Chevy Bolt. We have two electric car chargers in our parking lot here. I think it has attracted people to our business because Portland is a very green-minded city. It's truly important to me and my company to be as sustainable as we can be. We're working on our B Corp. status right now, actually.
What's a B Corp.?
It's a Benefit Corporation. The owner of Patagonia—he made Patagonia a B Corp.; that's the type of company that becomes a B Corp. It's a third-party organization that checks our company out to see if we impact and serve more than just the shareholders. A B Corp. means we care about the community, our employees, customers and the environment. We still have a few months to go to be done with the application process.
Your website features many testimonials, how did you get them?
Good reviews are gold. We ask. We send out surveys. We ask if we can post their responses in our marketing. We ask customers if they would please go on to Google or Facebook and leave a review for us. Those are the two we ask for, because Yelp will hide reviews.
How did you design your website?
A local marketing company did it for us. I looked for a company that understood how important it is to look at a website from a customer's point of view. We can't just say we have this and this and this—that doesn't help the customer. We need to turn it around and look at it from their point of view. How can we help them? What can we provide to make it easier for them? People don't buy flooring often. It's a large expense; it can be intimidating.
How do you make it less intimidating?
We try to make it a positive experience. It can be overwhelming. We try to help narrow down the products from the hundreds we offer by asking questions and interviewing the customer and sitting with them at the TV screen. We just try to find out what their lifestyle is, so we're working with them to find a great end result for them. After it's installed, they'll still love it.
How do you use the TV?
We have a large-screen TV in the showroom, and we'll sit with customers next to it and talk to them about creating a Houzz profile or a Pinterest page for themselves to collect photos, inspiration, colors, projects, rooms, whatever they have a passion or interest in. Then we can see what images they've captured, and that's very valuable.
How is a customer's Houzz or Pinterest page valuable to you?
We're able to find out what they love so we can work with that in helping them create that beautiful master bathroom or that fireplace area. We've been doing that for a couple years. It's supplementary. If they're not someone who is comfortable with the internet, we can walk them through images online and find out what they love. I really like Houzz.
How has the business of retailing changed?
Well, software had a big impact. We use JobRunner by Pacific Solutions. It tracks details for us so we can stay on top of purchase orders when a product is coming in and if an installer has been paid. We can use it to download pricing data, so pricing always stays up to date. The internet has made a huge difference. We can get information easily about products we're looking at and see if other people have had problems with a product line so we don't have to learn the hard way.
Do you still advertise in newspapers?
We don't at all. For us it was just too expensive. We do direct mail to our customers. We do a limited amount of radio advertising. We do email advertising and Facebook advertising. But we also do some advertising in small local publications, like inside a nearby retirement community's newsletter. There's no perfect advertising vehicle, at least that we've found. We're still looking for it.
Do you know a retailer WFB should speak with for a future issue of the magazine? Email us or message us on Facebook.