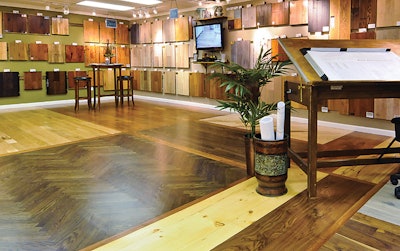 It is said that when people go to a restaurant, they tend to eat with their eyes first and their stomach second. If it looks appetizing, then it's probably going to taste amazing, right?
The point is to appeal to the senses—as many as possible—and the idea holds true for wood floor retail. Most retailers tend to focus their attention on what the customer sees first. They know if the store does not immediately "wow" the customer or live up to expectations, the customer will walk away. It's also important to consider what your customers smell and hear first when they enter your store. These senses come together when creating a store experience that excites customers, retains them and makes them want to spend more money!
When you own a store, it's easy to get too comfortable with your surroundings and lose sight of the customer experience. Because of that, it is extremely important for retailers to take a look at their store by walking through it and observing everything from the customer's point of view. Step outside of your box, so to speak, and look at your store from the perspective of two different customers:
The new customer: Pretend you've never seen this store before and don't have much knowledge of the industry. What catches your eye? Where do you get lost? How could things be improved?
The repeat customer: This customer already knows the lay of the land and comes in for the usual wood floor care supplies or to look at options for additional flooring. Does the store look the same with every visit? Is there anything new and exciting to catch the eye?
While doing these walkthroughs, think about the changes you can make to serve both those customers better. Some changes may seem obvious, but often it's the subtle changes that make all the difference.
Here are some ways to provide an effective retail store experience to maximize profits from every square inch of retail space.
1. Make your first impression in the parking lot
It all starts when the customer pulls into the parking lot. The parking lot should be lined, clean and free of any clutter, with plenty of spaces up front. This is the customer's very first impression of the store, and many will decide if they want to venture inside simply by the way it looks on the exterior. The entrance should be visible and/or marked, and windows should have displays with promotions and/or graphics to set the stage and prepare the customer for what they should expect.
2. Greet your customers with a pleasing fragrance
As customers walk into the store, they should be greeted with a pleasing fragrance. I am a huge advocate for pleasant-smelling stores. Studies indicate that we are 100 times more likely to remember what we smell vs. what we see, hear and touch—it's that important! In addition, 75 percent of the emotions we generate daily are due to what we smell, which is all the more reason to invest in a refreshing scent machine.
3. Use space to make customers feel welcome
Your goal for those first few steps is to make a customer feel welcome in your store. To help, the space around the entrance should offer at least 6 feet of space to avoid feeling crammed. This is important because if the customer doesn't feel welcome, he or she may turn around and walk out.
4. Ensure your interior delivers what your exterior promises
Consider if your store's exterior is consistent with the appearance of the interior. If you create expectations from promotional banners and/or window displays that aren't met, you could lose your credibility as a retailer and leave the customer disappointed. For example, if you're holding a springtime sale and promoting it outside with balloons and signs, the store needs to reflect that also—it shouldn't look like the same store your customers are familiar with.
5. Consider foot traffic when positioning products
New products and high-margin items should be located on the right side of the store where customers' eyes and feet tend to gravitate.
The items located on endcaps should be high-margin, sellable products that are relevant to all wood floor owners—not closeouts or discontinued items, but products that make you the most money.
For example, grocery stores use endcaps to promote high-profit seasonal items—it's no coincidence that canned pumpkin, cinnamon coffees and pie-making supplies make their way to the endcaps in the fall. Grocers know customers are coming in for these items during those times, so they make sure they are on display, especially the brands of these items that make them the most money. It may not be the brand the customer came in for, but it is easier to grab the product off the endcap than search for it in the store.
Merchandise displays should attract and interest customers rather than overwhelm and confuse them. Each display should have a focal point or a theme to catch the customer's eye and draw them in. The goal is to attract attention to the product; therefore, these displays should be kept simple and clean. Neat, even rows are often the best and most logical display strategy. Similar products should be grouped together in a logical fashion while the number of brands displayed should be kept to a minimum.
Clutter tends to convey disorganization, cheap products and poor management. A retailer should opt for a visually wider selection of products versus a deeply-packed section.
6. Keep the customer moving around the store
The longer customers stay in the store, the more they buy, so it's important to position items in ways that keep customers moving around the store. One way to do this is to place the necessary, everyday maintenance products toward the back. Retailers should not be afraid to duplicate their retail display efforts in different areas of the store, either. (Just remember, keep the inventory light in the secondary locations, as the display does not have to be duplicated in full scale. Simply provide a sample of the product in these secondary locations and point the consumer to the main location for more selection.)
Also, move products around to keep the store looking fresh. If a regular customer comes in and buys the same item from the same spot every month, they may not even see the other products that are offered. This doesn't mean the store needs a complete overhaul on a regular basis, but it is a good idea to rotate merchandise, change displays and freshen up any signage on a regular basis to make the customer feel as though there is always something new for them to see and experience.
These are just a few ways of keeping your store looking impressive to your customers. A great layout, along with excellent customer service and knowledgeable staff, are what makes an average store a successful one.
See more from Ted Lawrence:
Increase Sales By Using the Psychology of Pricing