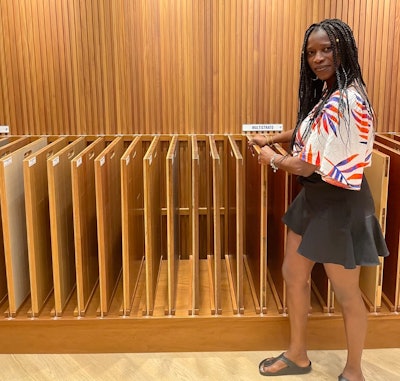 Unlike some retail flooring professionals, I didn't start out with any close connections to flooring or the industry. Born in Senegal and later growing up in France, however, I have always been inspired by diversity and different cultures and felt naturally drawn toward design. As I grew into a young woman, I refused to stay with the familiar and the safe. I loved my life in France, but I always wondered: What else awaits me? This mentality has pushed me to take risks that have helped me build a successful wood floor retail business in the U.S. and incorporate a global-lens approach. Here's my story of how taking risks and drawing inspiration from my own background helped me stand out among the crowd.
Developing a reputation in the industry
I started my American dream as an au pair but eventually followed my fascination with color, texture and shape by deciding to pursue a career in graphic design. Three years later, after completing my graphic design degree, I began an internship at the San Francisco Design Center, where I was first introduced to the business of hardwood flooring through Golden State Flooring. I thought I would be designing—instead, I was learning about wood species, Janka hardness and more. When my internship ended, I was fortunate to find a very fulfilling job with another hardwood floor company in Emeryville, Calif. There, under the mentorship of a wonderful group of seasoned professionals, I learned the tricks of the trade. Perhaps most importantly, along the way I had also developed a reputation of someone who is trustworthy, reliable, gets the job done and, above all, someone who is always attentive to my clients' needs. To me, helping clients select the flooring is really the best part, and the fun part, and why I was drawn to the retail flooring segment of the industry.
Pushing myself out of my comfort zone
Creating my own hardwood flooring and a design studio flooring library had long been a secret dream of mine, but after having a second child in 2010, I felt hesitant to take the plunge. Maybe it was too risky to leave the guarantees and comfort of a good paying job?
I spent many months wondering if I was cut out for being an entrepreneur. Can a woman born in Senegal and raised in France really succeed in this industry almost exclusively dominated by men? Will I be able to find a place of my own? The challenge was daunting. But my will to succeed and to not back down finally prevailed. After my maternity leave, I went for it at last: I replaced the comfort of a big desk in an established firm with ... the worn leather seat of my Mazda 3. I logged hundreds of miles per week in the Bay Area, driving in search of my new prospective clients. I held onto my American dream with all my might. And slowly but surely, I began to establish a foothold, and, after a lot of hard work, my business took off.
Leaning on my own experiences for design
When I was still working for another company, I went through a phase of loving patina. It was my favorite style of hardwood flooring. But when I would place an order, sometimes it would take more than eight weeks to show up. I was getting frustrated and finally I said, "Why don't we make it our own?" I learned the process of creating custom flooring and later developed my first line, "The Warm Colors of Africa," inspired by all the colors we have in Gorée Island in my picturesque home country of Senegal. My next collection, "Normandie," was inspired by some of the mothers in my life. Bringing in colors and styles that are personal and unique to you can help spark your creativity and make you stand out in a crowded field.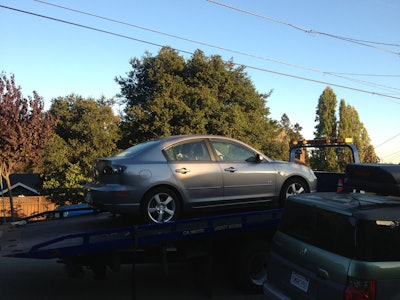 Establishing a trustworthy sounding board
Being a solopreneur can be difficult. I think that when you're on your own, you always tend to kind of lay back and get comfortable. In order to keep myself moving forward and accountable, I joined Business Networking International, a networking group for small business owners like me. Because it is a small networking group, I'm motivated to always do my best. People come together one morning a week and we talk about our successes and failures and run ideas by one another. I've always been the kind of person to follow my own path, but I believe every business owner should establish a sound board of some sort to make sure they're always improving.
Setting big goals for the future
I am proud of what I have achieved so far, but I also know that my adventure is far from over. My goal is to continue to bring together my experiences, my background, and my appetite to learn more about wood, with my desire to travel to different markets and visit manufacturers worldwide. I want to make this adventure a global one, recognizing borders but reaching across them, too, so that I can keep evolving and ultimately make more customers happy. Taking big leaps and learning from my past experiences has created a great roadmap toward achieving this so far.