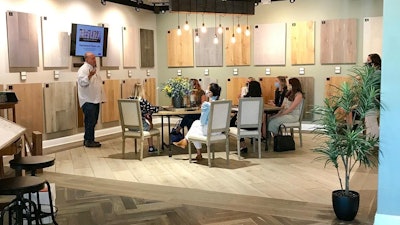 It's a mixed story of pain and joy. In 2006, I was chief operating officer at a resort real estate company, and I just didn't enjoy it. My background was in tech consulting, and I'd had a couple experiences working with people who didn't demonstrate a lot of ethics. I decided I wanted to work for myself. Before I had three kids, I was known to disappear for hours at a time in the garage and do a lot of woodworking. So, I found a wood flooring company for sale. And what attracted me to it was, unlike consulting, at least I could make something tangible—something beautiful and lasting.
I acquired the assets of an existing, established company. The company was ailing and was definitely a fixer-upper, but I thought that, using my background in technology, we could build something different. Starting any new business venture can be intimidating, but right away there was a challenge we hadn't anticipated: a recession. I think I signed the bank paperwork about an hour and a half before the housing crisis hit in 2007—and the economy fell off a cliff.
I spent the next few years navigating the business through the recession, along with my CPA wife, who every day looked at me and said, "What have we done?" Here's how we not only survived the recession, but in the process also laid the groundwork to become one of the leaders in our market.
Log in to view the full article