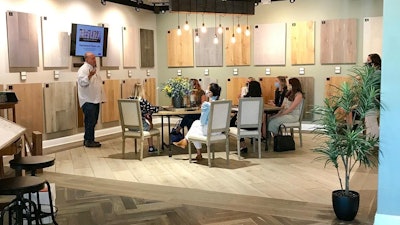 It's a mixed story of pain and joy. In 2006, I was chief operating officer at a resort real estate company, and I just didn't enjoy it. My background was in tech consulting, and I'd had a couple experiences working with people who didn't demonstrate a lot of ethics. I decided I wanted to work for myself. Before I had three kids, I was known to disappear for hours at a time in the garage and do a lot of woodworking. So, I found a wood flooring company for sale. And what attracted me to it was, unlike consulting, at least I could make something tangible—something beautiful and lasting.
I acquired the assets of an existing, established company. The company was ailing and was definitely a fixer-upper, but I thought that, using my background in technology, we could build something different. Starting any new business venture can be intimidating, but right away there was a challenge we hadn't anticipated: a recession. I think I signed the bank paperwork about an hour and a half before the housing crisis hit in 2007—and the economy fell off a cliff.
I spent the next few years navigating the business through the recession, along with my CPA wife, who every day looked at me and said, "What have we done?" Here's how we not only survived the recession, but in the process also laid the groundwork to become one of the leaders in our market.
We adjusted our project sizes
When we bought the business, it was a small showroom, and there was an awful lot of running around doing small projects. We had 12 or 13 workers in the field at the time, but one crew could be on two or three jobs in a day in some cases. Right away, the goal became to get bigger jobs where people could be on site for a week. In doing that, we gradually moved our average project size from about $2,000 to about $18,000-$19,000 today. It brought more stability in difficult times—there is less wear and tear on the machines and spending time driving between jobs. And when you're selling a lot of smaller transactions, it's very price-sensitive, but when you get to a certain threshold of larger projects, it's much more about trust than it is being the low-price guy. And that's more comfortable for me and where I'd rather be.
We made education a priority—and a draw
My first few weeks on the job, I was the new guy. I knew about wood but knew much less about wood floors. So I talked to one of our senior project managers with 20-plus years of experience and I asked, "If you're a homeowner and you're looking for the best finish for dogs and kids, what would you pick?" He gave me an answer. Then I walked into the next office and asked another project manager with a similar résumé the same question—and I got a different answer. When it happened again with a third manager, I said, "OK, if the three of you can't come together on what is the best product, how does a consumer do this?" We decided to launch a Wood Flooring 101 course, something we taught in the showroom on Thursday nights once a month. We drew a lot of designers and custom builders and some residential clients. We had food service with it, and it was a nice evening that helped us further establish our expertise in the community.
We also rededicated our entire showroom to education, adding vignettes around the room to teach people about our products. We regularly hear clients tell us they learned more in our showroom in 15 minutes than they did spending hours in other places in town. Along with our in-person education, we launched Wood Floors 101, a free online option for clients available at woodfloors101.teachable.com. When you're competing in a tough economy, we found education can really set you apart. It's our focus, and we think that's essential for something as complicated as wood flooring.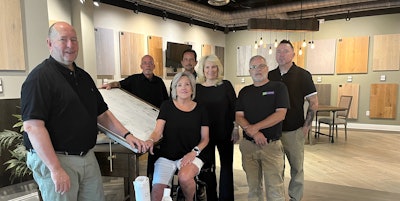 We focused on employee retention
Stability is important, and as we all know, training new employees can take considerable time and money. So you have to identify, hire, develop and retain the best people you can. And I find that it's not just compensation: You've got to care for them. You have to be good stewards of them. You have to be interested in helping them achieve their goals. My employees are at the top of the pay scale in the Colorado market; they're buying first homes, they're putting kids through college. Construction can be hard because you're not always given the respect and consideration that you deserve. So if you do provide that, your employees won't want to work somewhere else. I have an amazing team, and I have lost only two employees since taking over the company 15 years ago.
We stayed consistent
It can be tempting to stray from the course when something big like a recession hits. But one of the keys to our success was that we had a plan in the beginning and we stuck to it. We have tried to be consistent with providing a great experience and a great product and our education, and when we do those things, one thing feeds the other. It's all about being focused and executing over and over again. At the same time, we were continually fine-tuning our processes and technology. This helped us to reduce our annual warranty expense to 2/1000th of our annual revenue, and that's pretty rare. That doesn't mean it's easy—there were certainly three or four years of pacing the floor at 3 a.m. But eventually we saw it through and made it to where we needed to be. It just took a lot longer than we anticipated.