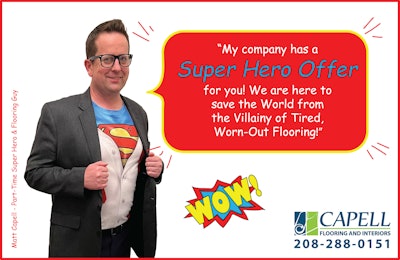 The average homeowner replaces their flooring or refinishes their hardwood every seven to 12 years. In that span, it's easy for people to forget where they purchased their flooring. To be successful, I have found you have to build a process that keeps you in contact with clients over the years so they remember you. It's a balancing act—you want to stay in contact, but you don't want to annoy people. Here's how our process works.
We start with a handwritten card
When somebody comes into our store to explore flooring options, we mail them a handwritten card along with a magnet and a gift card to get free ice cream from a local shop. Everybody in our store signs the card. People like that, because how often do you get handwritten notes in the mail anymore? Once someone moves forward with their job, we send out three emails that walk them through the installation process. We call these emails our "Ducks in a Row" series, as they include all the pertinent information they need to know about the process, along with a bit of wit and charm. We also have texting set up on our landline, so we send out reminders of measure appointments and introduce clients to the installers for their floor. We borrowed this idea from the medical field (along with giving out business cards where we can write down appointments). Once a job is completed, we follow up with a call and text to make sure things went well so we can solve something before it becomes an issue, if needed.
People love getting gift bags
We have a gift bag we deliver upon project completion. It includes a Redbox rental, popcorn, candy and flooring cleaner. We call it their "Movie Night In" to enjoy their new floors from our store. We also give free refills on the floor cleaner, so people can come in whenever they run out of cleaner to get their bottles topped off by us. They remember us because of this small gesture. We also ensure they have a care and maintenance guide for their flooring. We then give them a survey with a self-addressed envelope that they can fill out to provide us with feedback. This is followed by a series of three more emails asking for feedback and reviews upon completion. Lately we've been experimenting with doing this through text, which seems to have a better response rate than email.
We prioritize email, but not for sales
We stay in contact with people with what we call our "E-Neighborhood Advisor email" that we send on Saturday mornings. Most companies use email lists to promote sales—but we do not. Instead, these emails are filled with fun articles, household tips and games where you can win prizes like free area rugs or a flat-screen TV. Last year we offered free Boise State football tickets, and that was highly effective in adding to our database. The goal is to engage our readers and cultivate relationships, and I personally respond to every email we get from the newsletter.
We aim to have fun with marketing
We feel our online reviews and presence are a big part of our overall success. We like to have fun with our marketing. Here are a few successful sales funnels we have done:
Superhero Offer: Under the umbrella of saving the world from "the villainy of tired, worn-out flooring," this program lists three "super" reasons clients should work with us and offers clients "Super Hero Bucks" for every $1,500 of flooring they purchase that can go toward other purchases at our store.
Christmas Special: The first 17 clients who visit our store before Dec. 20 after this special begins get a certificate to Crumbl Cookies, Dutch Bros. or Reed's Dairy Ice Cream.
Referrals Program: We have a referrals program where customers who refer us can earn gift cards to their favorite restaurants or stores in town. It doesn't cost us much, but for a lot of people who would refer us anyway, this just gives them a small nudge to open their mouths in our benefit.
Thanksgiving Special: Every five food items donated to the Meridian Idaho Food Bank at our store get clients a discount on a flooring purchase of $997 or more.
Our employees become friends with our clients because of the contact and steps we take not only at the beginning of the sales process but years afterward. The creativity you can put into flooring is endless, and the same goes for the creativity you can put into marketing. And when both go right, you can make people smile. If the customer enjoys the experience, and it is unique in a good way, we find it easier to ask for online reviews and that helps grow our presence here locally, too.