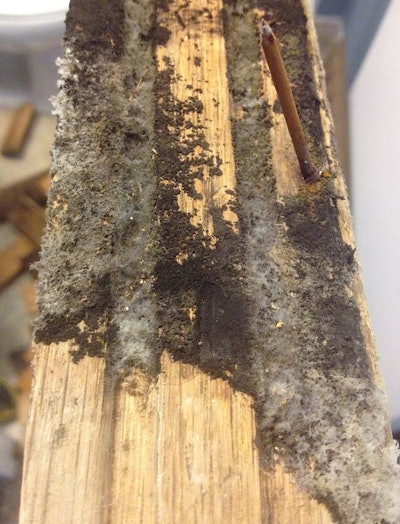 Senior VP of Healthcare & Environmental Services Jeff Huddleston at Anaheim, Calif.-based ATI Restoration answers:
The effects of mold and the "danger" component vary. It's important to pay attention to color and consistency. Some molds, like Stachybotrys chartarum, commonly referred to as black mold, have a greenish-black hue. Toxic mold can also have a grayish, soot-like texture, or a slimy, wet surface. Mold can exacerbate existing lung conditions and allergies and possibly cause symptoms in otherwise healthy people such as a burning sensation in the throat and lungs, chest pain, persistent coughing, fever, rashes or migraines. However, the most common sign that you aren't dealing with ordinary mold is a musty odor.
By OSHA standards, if a supervisor on a project suspects any mold, they should stand down and report their concerns to their manager or homeowner immediately. It is the responsibility of the person in charge of that job site (adjuster, homeowner or GC) to retain the services of a third-party industrial hygienist to test samples and determine the type of mold. Based on findings, the remediation is determined. The EPA suggests that if the moldy area is less than about 10 square feet (less than roughly a 3-by-3-foot patch), the job can likely be handled without hiring a professional cleaning or remediation service. No one with symptoms or a higher likelihood of mold-related illness (allergies, respiratory conditions or those who are immunocompromised) should participate in mold removal. Employers could be liable for putting crews in a dangerous situation. Furthermore, workers who decontaminate the structure are required to wear personal protective equipment.
A mold remediation service is required if the mold covers more than 10 square feet. Once established, if not addressed, mold can spread quickly, so it's important to act quickly.
---
RELATED: Limit Your Liability: Avoid Moisture-Related Claims on Wood Floors
---