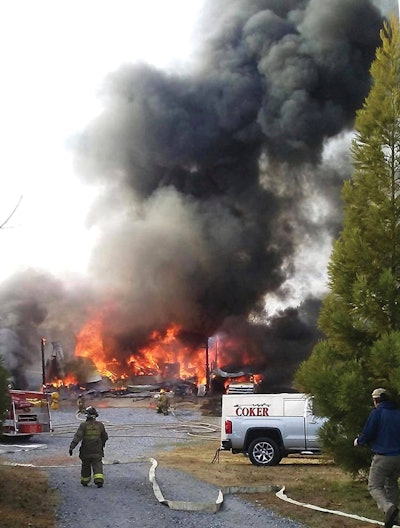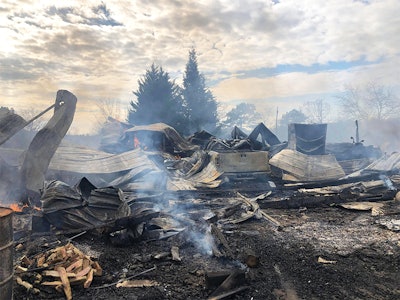 On the morning of Dec. 8, 2019, I got the kind of phone call that sends you into panic mode: There was smoke coming from my building that housed everything for my wood flooring business.
I raced to the shop, a 40-by-80-foot building I had built to store everything from wood flooring supplies to family heirlooms, in maybe 10 minutes. By then a fire had already taken over the front of the building. There was no way I could save anything from the building, but I had my sanding trailer parked next to it. My wife was screaming at me to get away from the fire, but I went into panic mode and managed to get that trailer away from the building.
It took 25 to 30 minutes for the fire department to get there, and by that time the whole front half of the building was in flames. A total of six fire trucks came out to try to put the fire out, but it was so hot there was nothing they could do. The flames were 200 feet tall, and the fire could be seen for miles.
The building and everything in it and parked next to it (except for my sanding trailer) was a total loss. It had all my equipment and tools for my wood flooring business, five vehicles and a forklift. Inside the building there was probably $80,000 worth of wood flooring—when I had a builder using the same wood for five houses or more, I would buy it in bulk, and I had everything from reclaimed oak to reclaimed heart pine on hand. At the end of the year I usually stock up on supplies, so I had just bought a pallet of finish, a pallet of felt paper, and probably 25 boxes of staples. I had it set up like a mini Home Depot, so when my guys arrived in the morning, all the material they needed was on hand at the shop.
In addition to all those company supplies, my family had things stored in the warehouse. I was redoing the little shop at my house and had temporarily moved all my tools from there into my big shop. My wife had her baby crib from when she was born in the shop—and it was all gone.
Losing all of that was hard, but another shock came when our insurance company told us it wouldn't be covered. Because I had built the shop just as a big storage facility for everything from personal to work items, I had it covered under my homeowners insurance. Because the fire was so big, a picture of it had been in the newspaper. My trailer I had saved that says "Coker Custom Floors" was in the photo with the fire behind it. I think the insurance company saw that photo, and they said because it was a company facility, I should have had commercial insurance on it.
---
RELATED: When Disaster Strikes: Dealing With Wood Floor Vehicle and Equipment Insurance Claims
---
I figure the losses from the fire, including the building, are probably from $350,000 to $400,000 altogether. The insurance company sent me a check for $2,500. I asked them what that covered, and they told me it was to cover my stains and finishes. That doesn't make any sense, but there was no explanation. I was in the process of working with a lawyer to try to fight it, and then COVID hit, dragging everything out. I recently found out we won't be able to get anything else covered.
Fortunately I had saved my sanding trailer, and I had enough savings to replace my installation trailer. I feel like everything I've worked for for the last 20 years was just stripped from me, but luckily I've got a good client base and I'm still able to work and get a lot of work; it's just going to take some time to rebuild my business.
I haven't started rebuilding my building yet. With the pandemic, I didn't know if I wanted to take that chance and go in debt $100,000, so right now I'm basically working from my house. That's been a struggle because we've been doing this for so long and were used to having everything at the shop—we never wasted time having to go to the hardware store before we would go to the job. It's all a work in progress.
I'm trying to stay positive about it because things could have been worse: Somebody could have been hurt really badly. In a way, I'm glad the fire had gotten bad by the time I got there, because I know I would have gone in that shop to try to save as much as I could, and I could have been engulfed in that fire.
What haunts me is that I would really like to know what started it. The fire burned so hot that the investigator couldn't determine the cause, although an electrical short seems most likely. We were always real vigilant about keeping things like stain rags that could combust out of the building, so I don't think it was caused by any wood flooring materials.
My advice for fellow wood flooring pros is to be aware of exactly what your insurance covers and read the fine print. I didn't think something like this could happen to me, and I tried my best to prevent it, but it happened anyway. I know how devastating this is, and I'd hate to see someone else go through the same things I'm going through.
---
RELATED: How Our Business Survived a Massive Disaster
---