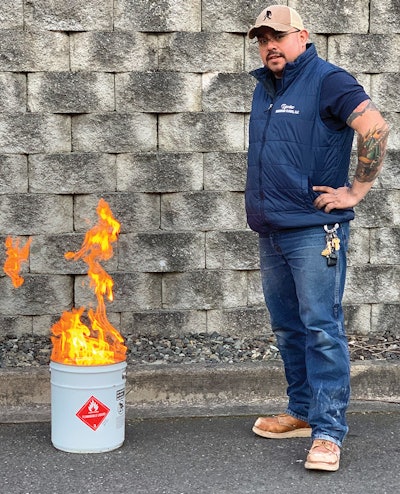 Today, in my own business, I'm paranoid about safety when it comes to fire. One of the first things I go over when employees are hired is fire ignition and how things on the job site can burn, and I'll fire a guy in a heartbeat if he is smoking anywhere near the van. Any time there are bags of sawdust, I'll hose them down, regardless of whether it's just sawdust or it has stain in it, and I don't care how heavy it makes the bags. The reason I'm so careful about fire is because of something that happened early in my wood flooring career, back in Perry, Ga., in 2004.
Back then, my wife and I had moved to Georgia, and I got a job at a wood floor company working 70 to 80 hours a week, making $9 an hour. Before long I was leading a crew, and I got a call one Friday night from the business owner. He told me we had a final coat that had to be done right away because the homeowners were returning on Monday. I called my helper, we drove to the boss's house to get the van, and we got to the job, in a pretty remote spot in the woods, around 11 p.m.
By about 1 a.m., we were almost done with the final coat of moisture-cure on the entire first floor of this high-end home. Everything was going great; it was looking beautiful. I was in the final 4 or 5 feet to back out the front door, and I saw my helper standing outside. I yelled at him to hold the door. He held it with one hand, smoking a cigarette in the other, when this gust of wind came from nowhere. Little bits of ash from the cigarette landed on the floor. The entire floor lit up like a wave, just like the movie "Backdraft."
There was nothing we could do. We had a fire extinguisher, but that would have been useless. By the time the fire department got there, the entire house was engulfed in flames. They didn't even attempt to put it out—they just made sure nothing else around it caught on fire while it burned down.
The homeowners lost everything, including irreplaceable things like family photos. Even though it was an accident, I had been in charge, and I felt it was my fault. I also realized how much worse it could have been: There could have been people or pets in the house, we could have started a forest fire, and, if I had been only a few feet further into the home, I could have been severely burned.
---
RELATED: Spontaneous Combustion: a Threat That Can Be Prevented
---
The company owner was an ex-Marine, and gave us a good morale speech … it had a lot of F bombs and scared the shit out of me. In his rage, he thought we did it on purpose because we were upset to be working that late. He told me we would probably end up with jail time, and that I'd have to pay for the entire thing out of my paycheck (I was like, "Dude, I only make $9 an hour!"). In the end his insurance paid over $1 million. An investigator interviewed me and my helper separately a week after the fire to be sure our stories matched and that it wasn't intentional. Our boss stopped making anyone work after 5 p.m. and banned smoking on all jobs after that, but the smoking rule only lasted about a month (he was a smoker, too, and habits are hard to break).
I just didn't know what to say or what to do. "Sorry" or "It won't happen again" wouldn't cut it. It made me realize how volatile our products were, and how even in a couple seconds something really bad can happen. When you burn somebody's property, it just doesn't sit well, and I was to the point where I was like, "Maybe this is not my forte; maybe I should do something else."
So, I did. Not long after that, my wife got stationed in Texas, and I ended up doing tile and laminate for spec homes. After three years, we moved to Colorado, and I started doing sand-and-finish jobs again. We were using waterborne finishes, which didn't worry me, but we used a lot of stain, and I had bad anxiety to the point where I couldn't sleep some nights. Even though it was just stain—nothing as flammable as moisture-cure finish—I would lie awake and wonder if we turned pilot lights off. On site, I would run around the jobs like a little dog, going room to room making sure there was nothing that could ignite, even the nightlights in the kids' bedrooms.
Today, I think I'm still traumatized about what happened. Sometimes, as wood flooring pros, we get so used to the routine of getting in and out of the job that we forget what can happen in a matter of seconds. Today, in my business, I try to make sure my employees never forget.