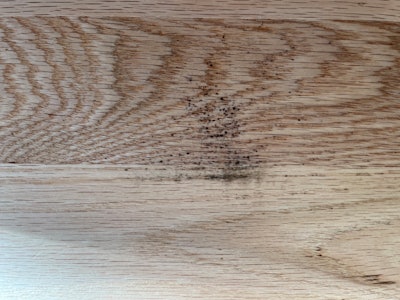 This one's a doozy, so let's get to it …
I got the call about red oak 3 1/4 select & better installed, sanded, finished … with black spots! Gotta be mold, right? The builder, floor contractor, distributor were all pointing fingers. No one could remove the "mold," and no one knew where it was coming from. Must be "bad wood!" You all know the drill.
I volunteered to drive to Central Massachusetts and inspect this floor on a Saturday solely out of curiosity and to take on the challenge. The phrase "No one knows what this is" doesn't sit well with me (WFB readers know that by now).
The homeowner, considered by her contractors to be "difficult," came off to me exactly as such. She pitbulled me before I could unpack my equipment. We chatted until we were communicating comfortably with more reason and less emotion. I could understand she did not ask for floors like these. However, I knew this was not mold just from looking at the first photos I had been sent via text.
Let's settle this right now for the mold folks: Mold does NOT want to live on a dry, urethane-coated, foodless surface. Common black mold (Stacybotrys) needs 60%+ relative humidity, a temperature of 40–100 degrees Fahrenheit, oxygen, and food (organic material to consume). It HATES dryness!
To review, mold needs:
Moisture

The right temperature

Oxygen

A food source.
Yes, mold can be serious; yes, it affects some people far more seriously than others; and, yes, there is no "good" mold in your home—mold of any type is not good. However, it doesn't like well-acclimated clean, dry hardwood flooring. Keep that in mind for future reference; we have a lot to talk about in Part 2.
When you have black spots on a hardwood floor that clearly are not growing and spreading, if you can't simply wipe the floor clean, it's not mold. You have other issues, and they are likely not very serious.
This floor had black stains throughout. Here are some photos: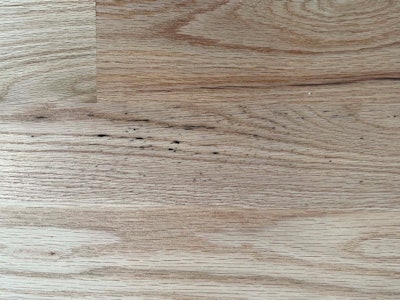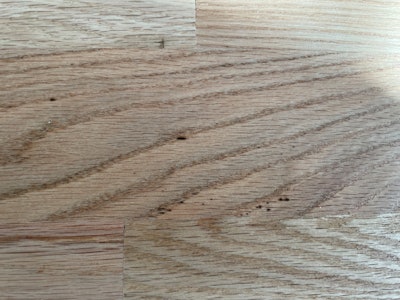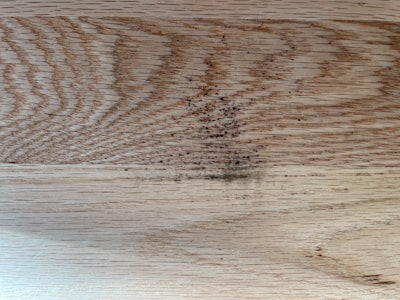 Upon inspection, I found the hardwood flooring contractor was not at fault, but neither was the builder, or homeowner. The floors could be repaired; I gave them a "recipe." The floor was repaired. So, wood floor pros, what caused these spots?
I can tell you this … I wasn't exactly certain myself until I returned home and went over the photos. I knew what it was, how to repair it, how to get everyone off the hook and get their lives back. But, what exactly was it that caused this?
Some facts about this case for your consideration:
The black stains were not mold; they were not visible to the flooring contractor until after the floor was coated.

The stains did not continue to spread.

The spots were not from manufacturing or in the wood.

The spots were not everywhere in every room, but they were prominent in the open-concept kitchen/living room/dining room.

Nothing showed up in the entry, foyer, halls, bedrooms.

The pantry and basement stairs DID have spots. They were simple yellow pine utility basement stairs NOT finished by the flooring contractor!
Confusing? Go back to the black spot Wood Floor Business articles I've done. Hang in there for a super in-depth lab analysis of what the heck happened here in Part 2 of this post. It was NUTS … and a "My Cousin Vinny" tire mark photo moment for me, for sure.
The game is afoot, or afloor, fellow floor pros! Leave your ideas in the comments.
P.S.
If you're interested in learning more about mold, I suggest clicking on these resources:
What Causes Mold in Your Home?
The Truth About Toxic Black Mold: It's Probably Not What You Think