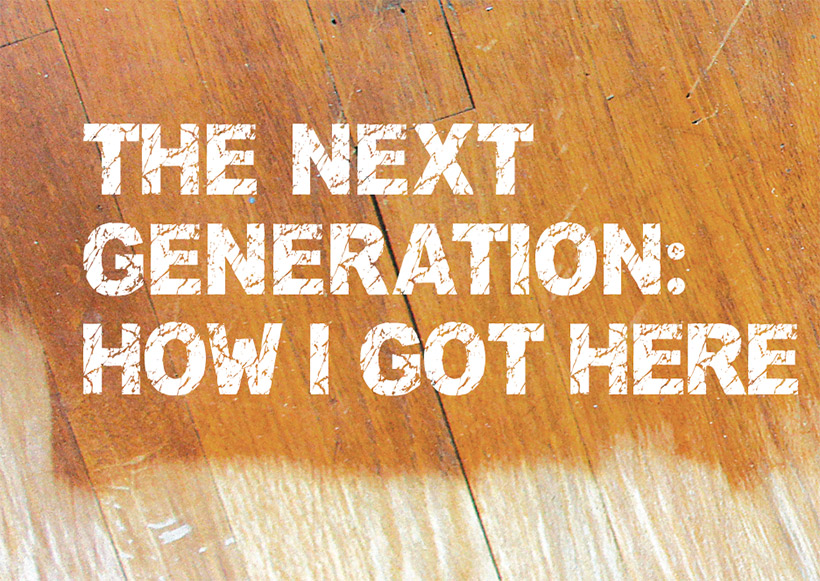 Broadleaf Hardwoods Owner Ethan Abrudeanu chats with his first mentor in the industry, Peter Maris.
Chicago-based Broadleaf Hardwoods Owner Ethan Abrudeanu has just spent his Monday morning looking over a sanding job completed over the weekend by a new hire. It's one of several new hires he's had to make in just the past few months.
Like most hardwood flooring contractors today, Abrudeanu feels the brunt of the labor shortage on a daily basis; the new generation, he says, has a tendency to want "instant gratification," and to buck the hard work required to succeed in a demanding trade.
Unlike most hardwood flooring contractors today, however, when Abrudeanu talks about the next generation of wood flooring professionals, he says "we."
He's 24 years old. He'll be 25 in May.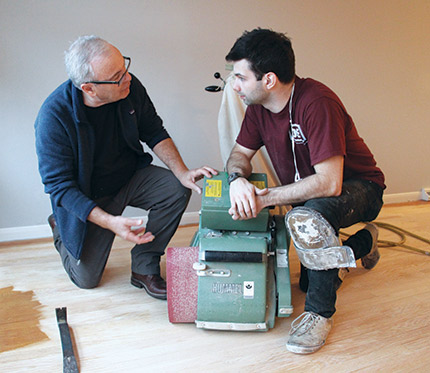 'Honestly, he kind of never gave up on me,' Abrudeanu says of Maris.
'A survival switch'
For many, hardwood flooring isn't an obvious career choice, and many younger pros don't realize they've taken the path less traveled until they're, well, sanding it. Growing up, Abrudeanu says his parents' and grandparents' dreams for him involved doctorates or the bar exam. After graduating high school in 2012, he followed those aspirations to Loyola University Chicago. But two years later, Abrudeanu says he'd fallen in with the wrong crowd, and several bad decisions culminated in a DUI in the summer of 2014.
Devastated and in need of a job to pay off his debts, 20-year-old Abrudeanu turned to the Romanian community he'd grown up in and asked for a job from a man his family knew from church: Peter Maris of Maris Flooring.
"I had no idea what I was getting myself into," Abrudeanu chuckles. He distinctly recalls the first time Maris handed him a scraper and told him to scrape under a cabinet—and thinking it looked easy. "Two hours later, I was like … I need a new job," he says. Abrudeanu couldn't see himself doing the work for more than six months, but he kept coming back.
"It was kind of a survival switch," Abrudeanu recalls. "It was like, alright, now you've got to do something."
But his motivation also stemmed from the trust and encouragement given to him by Maris, who was in the twilight of his wood flooring career when he took on Abrudeanu in 2014 and has since retired. On opposite sides of the spectrum, the two men quickly developed a love/hate relationship, Abrudeanu says.
"I was very immature going through it all," Abrudeanu says. "Honestly, he kind of never gave up on me."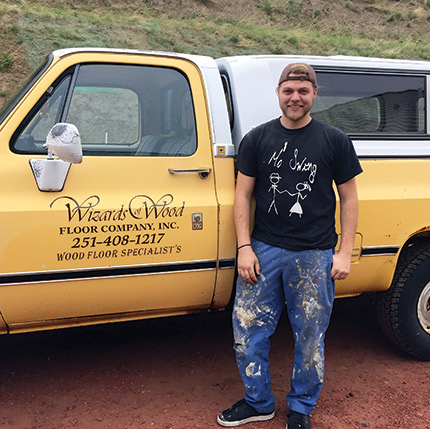 Joseph Irby, 27, founded Wizards of Wood in Mobile, Ala., at the age of 24.
Starting out with a mentor
Having a mentor has been an important factor for other young pros starting out in the industry. Often it's a family member. From the time he was 16, Joseph Irby, 27, who founded Mobile, Ala.-based Wizards of Wood three years ago, spent his summers doing wood flooring with his two uncles, Daniel and Paul Irby, experienced pros with separate companies who continue to be a source of support for him.
Irby started working construction jobs at the age of 14; it led him to working with his uncles in Wyoming, where he fell in love with the artistry of wood flooring. He recalls their persistence.
"They both were pretty strict. Both hardasses, really," he laughs, speaking via Bluetooth while simultaneously crawling in a crawlspace on a job. "It really instills work ethic in you." He says the care they put into instilling knowledge of the craft in him is a big reason he started his own company at a young age.
"To have someone that's really good at what they do look at you and say that you can do it, too, and that they're confident in you ... it's huge," says Irby. "I wouldn't be doing this if it weren't for them."
Rick St. Pierre, 19, who works at Somerset, Mass.-based Patriot Floor Surfacing, had a similar experience with his maternal grandfather. A fourth-generation wood floor pro, St. Pierre started working with his grandfather at 13. "After that, it was only natural that I started into it," St. Pierre says.
Greg Marion, 22, who now works at Webberville, Mich.-based Floor Crafters, had several mentors while starting in the industry and says one of the most impactful was Brian Wylie.
"He taught me a lot about install, and the importance of a positive work environment, and how much that can help productivity," Marion says. Wylie was a patient instructor who understood that there are different styles of learning, Marion says. Wylie was also responsible for introducing and recommending Marion to his current employer at Floor Crafters.
'A rebuilding phase'
Maris threw Abrudeanu into the deep water early on.
"In a way, I was blessed and cursed because everything kind of fell on top of me," Abrudeanu recalls. "He handed me a drum sander and was like, 'Here, you take over.' It was terrifying ... I put a buffer through a wall a few times."
But as Abrudeanu's responsibility grew, so did his skill, and he began to see the work as more than something he'd eventually have to escape from.
"Once I started to get the hang of it, and definitely once I started to get a taste of the money ... I could see myself doing it [as a career]," he recalls.
After what he'd been through the previous summer, Abrudeanu also began to find pride in himself again. "It was sort of a rebuilding phase ... Being able to say, 'Hey, I work in a trade' ... It felt good to say that," he says.
After a year working for Maris, Abrudeanu decided it was time to part ways, and he entered into the "cutthroat" hardwood flooring market of Chicago, eventually climbing his way to a lead position at a high-end hardwood flooring company and then managing a crew in Phoenix; it was there he began to think about going out on his own.
Overcoming family reluctance
Abrudeanu's family remained on the fence about what was becoming more than just a job for him.
"They wanted me to not break my back," Abrudeanu says.
So he was surprised at their response when he told them he was considering starting his own company at the age of 23. "They said to go for it," he recalls. "For me, it was a big shock, because they'd never been in favor of me doing this."
Jon Simons, 32, owner of Titan Sports Systems in Calgary, Alberta, also had to convince his family that wood flooring was the right career choice for him. With both of his parents in the medical field, Simons says he was always nudged toward university life while growing up, and he enrolled in a university after high school. In the summers between classes, he began working as a carpenter, building houses and working his way up to a foreman position before eventually installing the wood flooring in the homes.
"Then I realized I liked it more than university," he says. He considered pursuing flooring full time, and his father-in-law, Brendon Farrell, who had done sports flooring, encouraged him to pursue it. "I guess it was him saying, 'Do what you want to do' that got me started," Simons says.
Farrell came out of retirement to help get Simons' young business get off the ground, and he advised Simons early on to focus on commercial business, including sports flooring, which Simons continues to specialize in today.
Perhaps ironically, universities did end up playing a major role in Simons' career—Titan Sports has gained a reputation as one of the top gym floor installers and refinishers in its area. "The universities are kind of what we pride ourselves on," Simons says.
Rick St. Pierre, 19, started working at Patriot Floor Surfacing in high school, and was hired full-time after graduating.
Hard work: a deterrent and benefit
Many younger wood flooring pros see the amount of work required in the trade as the largest deterrent for their generation— the physical toll is a challenge they had to come to terms with, too.
"People think the only way to make money nowadays is to go to college, and that's just not true," says St. Pierre, who thinks the trades should be considered more readily as a career choice. "Maybe it's a little more hard work, but at the end of the day you'll feel better about yourself, and you'll have a good job because now you have a skill."
St. Pierre, referred to as a "unicorn" by his employer due to his combination of youth and work ethic, says the hard hands-on work is actually one of the draws of the trade for him. "It's a sense of accomplishment and pride in my work," he says. "It's not something that's just being handed to me."
Travis Fritzel, 21, who founded Fort Collins, Colo.-based Perennial Hardwood when he was 19, agrees that many young people simply aren't interested in doing the labor. "To me, I enjoy physical work, which is not something everyone can say," Fritzel says. He worked in three industries by the time he was 18 and started picking up wood flooring jobs posted on Craigslist to help pay for college. The work was an instant click, as Fritzel says he gets easily bored. "I think my lifestyle kind of matched doing hardwood floors," he says.
Fritzel pursued a double major until last year, when he left school to focus on his growing business. In 2018, with five people on payroll including himself and his fiancé, Fritzel didn't have a week off until December. His schedule will likely be similar this year; as of December 2018, he's booked out until March.
Greg Marion started working in the industry at the age of 18. At 22, he's now running a crew at Floor Crafters.
Money to be made
Aside from a passion for the craft and the rewarding feeling that comes from hard-earned success, there's another good reason young pros find themselves doing wood flooring—there's good money to be made.
St. Pierre was aware of the good living one could make in the industry, with the added benefit of not being burdened with the hefty student debt that often accompanies a college degree.
Marion also stuck with it long enough to find the financial payoff. His first project was a 4,000-square-foot hickory installation. "It was just me and one other guy at the time, and it was probably seven and a half hours it took us to stain the entire floor on our hands and knees," he recalls. By the time Marion made it to the exhausting end, the grueling project had left an impression. "I look back on that job quite a bit," he says. "When I have a tough job coming up, I'm like, well, that first job was a lot harder, and I was getting paid quite a bit less to be there at that time."
Marion says he now makes good money in the industry, and also sees security in the future of the work. "Trade work isn't going anywhere; it's always going to be necessary," he says. "What's going to happen is we're going to run so short of workers that work is going to overflow."
The amount of wood flooring work available is what kept Warminster, Pa.-based Marvin Lott and Son Hardwood Floors Foreman David Mitchell, 31, in the industry right out of high school. It was 2008 and the Great Recession had just hit, and Mitchell had a son on the way. "It kept me working," Mitchell says of his first job with Marvin Lott and Son.
"It is back-breaking work, tedious work," notes Mitchell. "But if you stick with it, it can pay off in the end."
'Looking to compete at a higher level'
Abrudeanu came back to Chicago not long after starting his company and was able to find a steady flow of projects quickly. "The fact that there's so much work makes it easy to kind of find your way," he says.
Since starting Broadleaf, he's picked up more than just technical skills; he's also gained perspective on the craft from more experienced pros; a pivotal friendship has been with Toby Merrill, a former wood floor contractor who now works for DuraSeal and is based in the Chicago area. "He's really opened my perspective as to what being a hardwood floor guy truly means," Abrudeanu says. "Now I'm looking to compete at a higher level, a level that's primarily dominated by people who've been in business longer than I've been alive."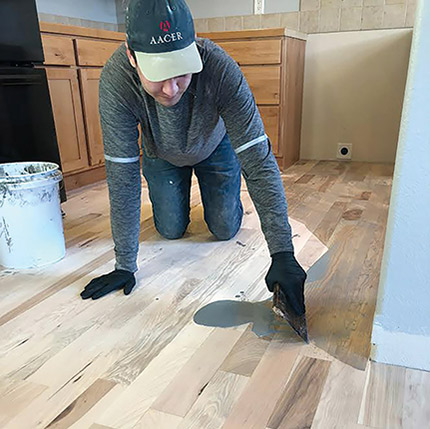 Travis Fritzel began refinishing floors at the age of 18 to pay for college. He now owns and operates Perennial Hardwood full-time.
Challenges of youth
Aside from having fewer years of experience, Abrudeanu says earning trust from new clients can require extra effort, adding that when he doesn't have his beard, he looks "like a child."
Fritzel agrees that being young means he has to work harder to earn a client's trust, so he makes sure he knows as much as possible about his products and takes extra effort to educate the customer. "I had to really purposefully go into 'quality first' on everything; not price," he says. It was tougher when he was 19 and just starting out, he says, but now most of his clients are referrals.
Being young creates extra hurdles when dealing with employees, too. "People not wanting to listen to me because of my age was a big one," Fritzel says. "Old dogs wouldn't learn new tricks. It took me a while to find the right fit."
Irby says some suppliers he's dealt with have had a tendency to talk down to him because of his age. "It seems they just expect me to be another one of those companies that fades away," Irby says. "But I just sweep all those negative comments under the rug."
Simons also says it can be hard to be taken seriously at times, but he doesn't let it faze him. "Just try to get your work to speak for itself," he says. "That's our goal here."
What they bring to the table
Young pros starting out in the industry know they have a lot to learn—but they don't view that as a barrier. In fact, many see it as a positive trait that separates them from an older generation—a generation they view as sometimes slow to change, which can be a deterrent to young people entering the industry.
"I always try to think of a better way to do something," St. Pierre says. "Just because I know a certain way of doing something doesn't mean there's not a better way or route that I can learn from somebody else. The goal is you've got to constantly be ready to adapt and change with the times."
Simons says his company's commitment to trying new things is what sets it apart from the established competition in rural Calgary, Alberta, Canada. "Most of the competition has just done the same things for so long," he says. "We're trying new things and doing things that no one else is doing out here."
Simons says he is often on the phone talking techniques with sports flooring innovators in the U.S., such as Chattanooga, Tenn.-based Praters Athletic Floors. He also looks for ways to make the work easier on the body, using machines to tackle game lines and other jobs typically done by hand. "The key is innovation," Simons says.
Fritzel agrees, and says he makes a point to educate clients about environmentally friendly, low-VOC products, which a lot of his older competition have been slower to embrace.
"The more education the market has, the higher the quality is," he says.
Marion says he has dealt first-hand with the older generation's reluctance to change—he's had former bosses reluctant to even stain with a buffer. "So a lot of my time has been spent trying to convince my bosses about new techniques," Marion says, adding that he has also turned older pros on to social media as an advertising opportunity.
"I'd say the biggest way to appeal to people in my generation would definitely be open-mindedness," he says.
Simons views embracing collaboration and new ideas as not only a benefit for current pros, but also a way of attracting younger pros to the trade.
"That's where I'd want to work," he says.
'It's a community'
A little over a year into running his own company, Abrudeanu doesn't see his business as completely in the groove yet. "I'll be over a hurdle when I can sleep," he laughs.
Despite the stress of starting a new business, he views his first year as a business owner positively, particularly when it came to making connections and friendships with other pros in the industry.
"After my incident, I sort of detached connection from a lot of people, just because they weren't quality people," he says. "The fact that now I've got people telling me to work, who are pushing me to be good from a craftsman standpoint … it's a community that's developed."
One of his proudest moments came when he received an invitation from his grandparents, who'd been skeptical of his choice of profession, to come to Dallas to install a wood floor in their new retirement home. "I did a little something extra for them in the living room, and my grandma and grandpa were just in love with it," Abrudeanu says. "It was their way of coming to terms with my career choice."
Abrudeanu says the trade has given him a renewed sense of purpose, and he plans on making the best of it. "I don't consider myself anything special," he says. "Do I want to be one of the best in the industry? Yes. Time will tell."
The Previous Generation
Along with the "next generation," WFB also wanted to use this issue to honor some of the oldest wood floor pros. Our readers told us about these wood flooring professionals who are still active in the trade: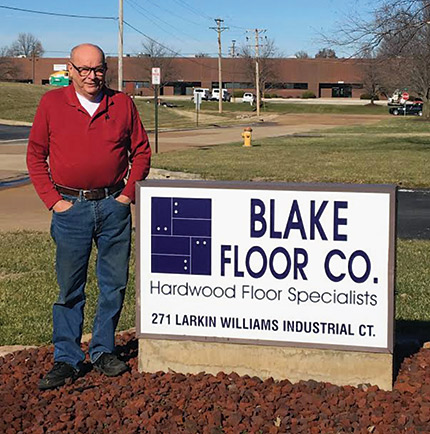 Emil Blake, 74
Blake Floor Company
Fenton, Mo.
Years in business: 60
Submitted by: Kathy Temple, Blake Floor Company
Blake started in the wood flooring industry as a young boy working with his father. After getting out of the Air Force he started his own hardwood flooring business working out of his home. He now has a 25,000-square-foot warehouse with an office staff and crew totaling more than 25 employees. He lives and breathes hardwood flooring, still working seven days a week. Blake does estimating and oversees the business. It is a family-run business with his son, Michael, managing the crews and Blake's brother, Joe, managing the warehouse, while Blake's wife, Anne, works in the office.
While Blake may have not run a sander in a while, he still goes out on jobs to do repairs, and he has no plans to retire any time soon.
---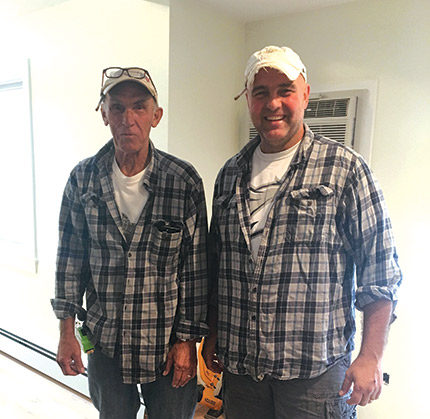 Fred Hayes, 76
Hayes Wood Flooring
Newton, N.H.
Years in business: 30
Submitted by: John Roche (his grandson)
When Hayes was laid off from a major electronics company, he started refinishing floors with his son, Rob Hayes, eventually beginning Hayes Wood Flooring.
"I found it very satisfying taking old floors and making them look new, especially seeing the customers' reaction afterward," Hayes says. "I never returned to the electronics industry. I enjoy showing up to work every day."
Three of Hayes' grandkids are now part of Hayes Wood Flooring.
"Fred loves to work and works hard, there is no slowing him down," says grandson John Roche, who notes Hayes has taught him everything there is to know about flooring. "Everybody loves him. His favorite saying at the end of a job is, 'Another happy customer!'"
---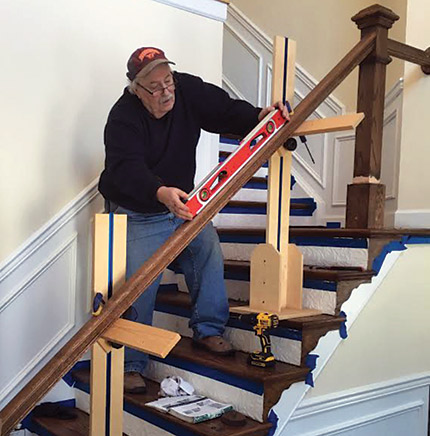 Vance Hough, 73
Annandale Floors
Annandale, Va.
Years in business: 63
Submitted by Ben Suer, Diamond Wood Floors
Hough began his lengthy hardwood flooring career at the age of nine working for Annandale Floors, a family business founded by his father in 1934. "I guess I have sawdust in my veins," Hough says. "I can't wait to get up in the morning and to go to work."
He shares that enthusiasm with other younger craftsmen as well. "He is generous with his advice and experience," Ben Suer says.
---
Raymond Hallman, 87
Columbia Flooring Inc.
Columbia, S.C.
Years in business: 77
Raymond Hallman was handed the reins of his first big machine when he was just 10 years old.
"I felt I was King Kong," he recalls. The year was 1941.
Growing up in Leesville, S.C., Hallman, began in the wood flooring industry when a local floor sander started paying him 10 cents to clean houses he was sanding (Hallman used the money to go see westerns at the movie theater).
"I was big for my age," Hallman says, and it wasn't long before he had a scraper in his hands.
A pivotal moment came when, at age 14, he spotted a notice in the paper that Fort Jackson had opened bidding to sand the floors of the officers' homes on the base. He bid 7 cents a foot and got the job. He and some of his childhood friends used Hallman's mother's car to travel to and from the army base in Columbia, S.C.
"The machine was heavier than me," Hallman says.
The young crew completed three of the 12 houses before they encountered any officers on base. When they did encounter one, he was skeptical of the kids and went to check the homes they'd completed. His comments afterward helped spark a long wood flooring career.
"He came back and he said, 'Mr. Hallman, you're doing a wonderful job. You keep up the work,'" Hallman recalls.
Hallman founded Columbia Flooring Inc. in West Columbia, S.C., when he returned home from the Korean War in 1953, purchasing all the sanding equipment from his former boss.
The business is now run by Hallman's youngest daughter, Cheryl Phillips, and his grandson, Christopher Phillips, and nearly 75 years after Hallman's first big job at Fort Jackson, the company is still refinishing the floors of army bases in South Carolina.
"It's hard work, floor sanding," Hallman says, looking back at his career. "You need to be dedicated."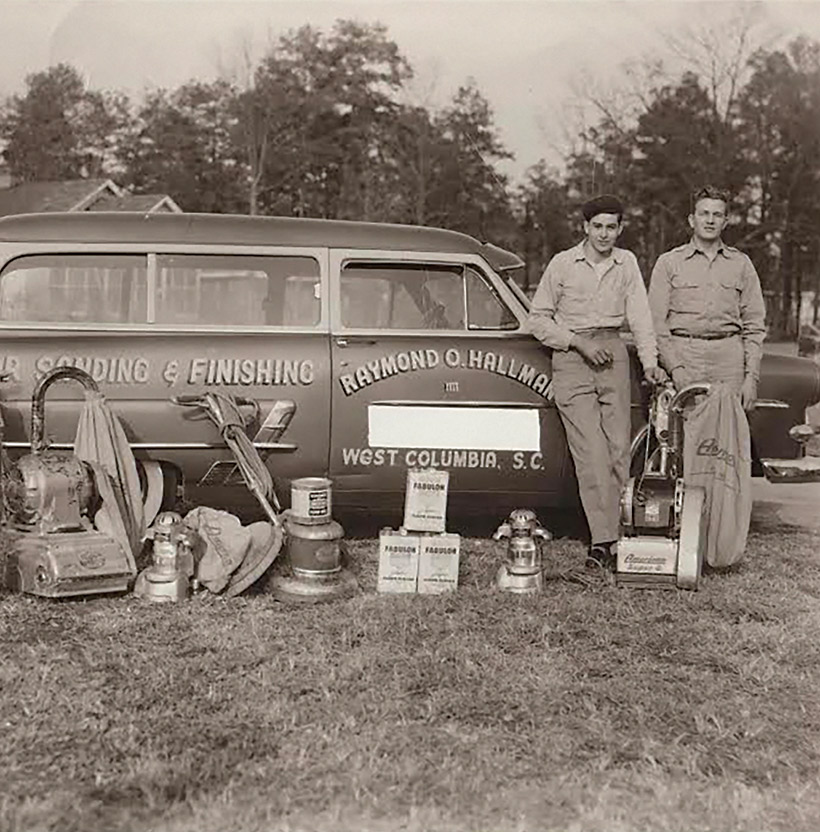 Raymond Hallman (right) started working on wood floors when he was 10 years old. He founded Columbia Flooring Inc. in West Columbia, S.C., in 1953.
---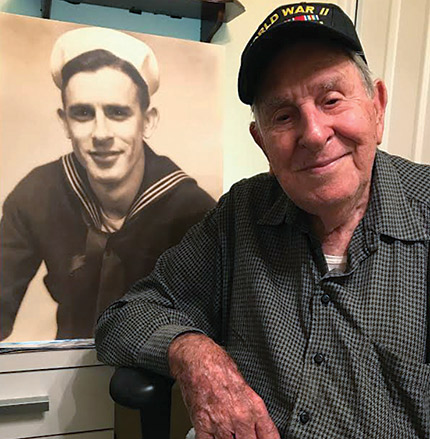 Chester Hollingsworth, 101
Dallas Flooring Warehouse
Dallas
Years in business: 80
Chester Hollingsworth has been working in the flooring industry on and off (but mostly on) since 1939.
And at the age of 101, he continues to work Tuesdays and Thursdays at Dallas Flooring, making national headlines recently for being 'The Oldest Working Man in America.'
"Well, it's kind of like drinking alcohol," Hollingsworth says of working in the flooring industry. "It gets in your blood. Next thing you know, it's been 20 years and you've started another company or something."
Hollingsworth has started a couple of flooring companies in his long career, including the parent company of Dallas Flooring Warehouse, S&H Distributing (he is the "H" in "S&H.").
Raised on a farm 50 miles outside of Dallas, Hollingsworth came to Dallas when he was 22 to work alongside his brother at the Peaslee Gaulbert Corporation, a wholesale flooring company, where he did office work and managed the company's showroom.
He worked there until Dec. 8, 1941, when he signed up for the Navy following the attack on Pearl Harbor.
He moved back to Dallas after the war and came back to work at Peaslee Gaulbert until starting his own wholesale flooring distributor, Vickery and Company, in 1948. The business took off, adding branches in San Antonio, Houston, Oklahoma City and Shreveport, La.
When his partner in the business passed away, Hollingsworth says he left the company and considered retirement.
"I tried to retire and couldn't," he says. "I've been working all my life, born and raised on a farm, and just retiring was not any good."
He formed S&H Distributing with partner John Stacey in the 1980s. After selling his portion of the company in 1990, he flirted with retiring again. But it didn't stick, and he's been working two days a week since 1993.
Hollingsworth says when he first started out he didn't expect to be in the industry until he was 101.
"I didn't have any clue that I'd even live this long, much less still be working," he laughs. "But I've just worked all my life and that's all I know to do and I just like to do it. And I'm still hanging around."
In 2018, he announced he would retire on Oct. 18, his 101st birthday, again drawing national media attention.
But at the eleventh hour, he changed his mind again.
"Well, mostly the people didn't want me to quit," he says of his coworkers. "And I wasn't anxious to be sitting in some room somewhere all the rest of my life. And the people where I work are so great."
Regarding his long career, Hollingsworth says there's no great secret to finding success in the flooring industry.
"Hard work has got to be the main part of it," he says. "Do your job and do a good job of it. Be honest in what you do and give your employer a good day's work, and you'll be successful."
My Perspective as a Young Pro Two Years Later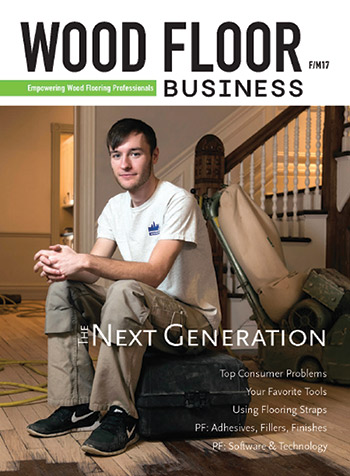 Patrick Dymora, owner of Glenview, Ill.-based Plus Hardwood Flooring, was 23 when he appeared on the cover of the first 'Next Generation' issue of Wood Floor Business. The Next Generation theme is now featured annually in the WFB February/March issue.
Things have changed quite a bit since my last interview with Wood Floor Business two years ago. Some have been for the better, some have been for the worse, but all have made me grow quite a bit as not only a business owner, but a person as well. I'd love to touch on a few of those key points with all who have found interest in the younger generation of craftsmen today. And I am beyond grateful for, yet again, having an opportunity to do so.
The first point is one of the biggest issues I've talked about: landing leads. This wasn't just an issue for me but also, I assumed, many other craftsmen at my younger age. I was a firm believer that I'd lose a lot of work to older company owners strictly because of age. Even at the time of my last interview, things were starting to turn around as I was beginning to land higher quality work and sell myself better. Being younger, I was able to prove to the homeowner that, because of my younger age, I was much more confident trying and testing new products and new machines\methods—all of which would only improve the look and outcome of their floors.
After my feature on the cover of the magazine, things went in my favor even more. I made a choice to feature the article and that issue on my own website making it one of the first things you can see when logging onto our site. My thought process was simple. I was recognized and put on the cover of this incredible industry magazine; whether someone follows the magazine or not, I think the fact that if a professional you are about to hire has been credited by an industry magazine and featured on the cover, that would reassure anyone thinking of doing a flooring project with that professional's company, no matter their age. Luckily, I was correct in my assumption. The fact that I have the issue on my website as well as making mentions about it in my actual quote has helped me tremendously. When I can tell a customer is a little bit more reserved and not certain about my age or experience, sending them the quote with my featured WFB issue almost always reassures them and lands me the quote. So as far as landing leads, it has definitely improved with time and thanks to my last feature, which I am still incredibly grateful for.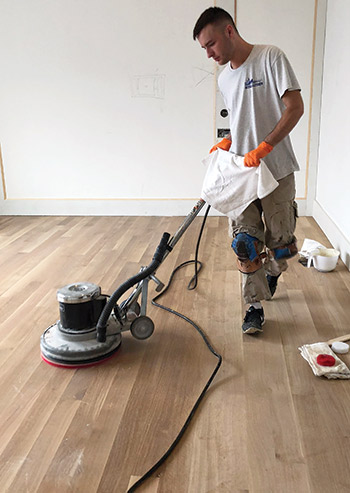 Dymora, now 25 with a thriving business, on a recent job.
My second key point I touched on in my interview was employees and the overall employment workforce of our industry. I'm sad to report that I find this has only gotten worse with time. Unfortunately, as you may remember, my right-hand man, Michael, was the best employee I had at the time of the first article. Due to family reasons Michael needed to return to Poland a few months after that article was put together. This was a huge blow to my business, but there was nothing I could do. I felt a bit helpless, though I have been extremely lucky with finding new help. Currently I employ two full-time hourly employees, Colin and Victor, as well as run a sub crew for installs whenever necessary.
Although I've gotten tremendously lucky with my employee situation, others have not been as lucky. If there is one complaint I hear from fellow business owners day in and day out, it is finding new help. Simply put, it seems like anyone knowledgeable enough to start their own company usually attempts to. Sadly, most guys don't realize that the current hiring market for flooring employees is just such an easier path to go down. Most companies, even in my cutthroat area, will gladly pay $25–30 or more per hour for a solid, dependable employee. The rates are shooting through the roof, but finding help is just becoming harder and harder. I totally understand wanting to own your own company and work for yourself (obviously). But, a clever craftsman would realize in this current economy with so many new companies and such an insanely high demand for employees, he'd be much better off working for someone else and making a great paycheck without dealing with the daily hassles and stresses of running a company. I say this realizing that, of course, I did the same exact thing and opened my own company.
It's difficult to suggest this, but we all need to come together as wood floor business owners and start demanding more licensing requirements for our trade like plumbing and electrical. Nothing is going to stop the growing dilution of our trade market without proper permitting starting to go into place.
The last point I wanted to touch on was actual technical knowledge and help when things go wrong on the job site. I feel this is something many of us used to struggle with greatly—many issues can arise with wood flooring that we can't always figure out. But this has been an absolute breeze to deal with. With the astounding growth of many flooring Facebook groups bringing us all together, an industry magazine as incredible as this one, and constant conventions\events for all of us fellow passionate entrepreneurs to meet at and brainstorm, it has been insanely easy to problem-solve and deal with issues that arise daily. Whether it is business issues, job-site problems, or simply needing someone to talk to after a long day of sanding, you all have absolutely been like a family to me.
When my first article and feature came out, I received a tremendous amount of loving messages supporting my company and myself on Facebook. I'd like to take the time to thank each and every one of you for the incredible love and help I've received from you all over the months. I look forward to seeing many of you at Surfaces and the NWFA Expo this year!