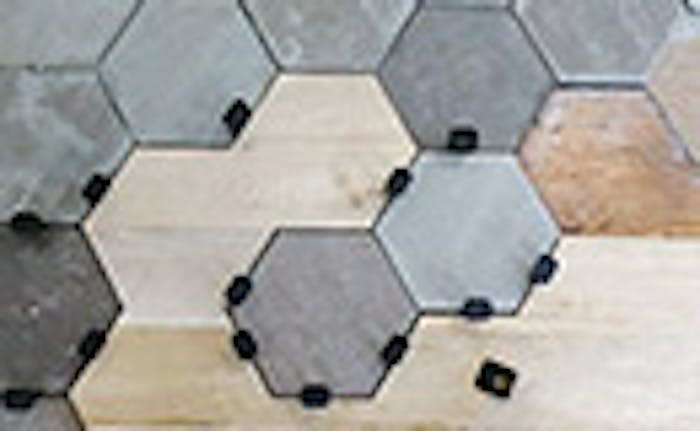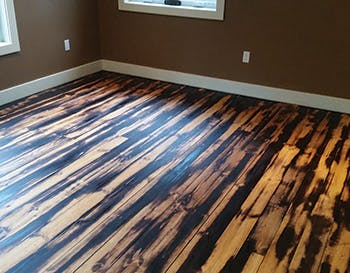 Jon Hunter
Hit-and-miss sanding on 5-inch white pine with Bona Indoor Wood Oil for the top coat.
---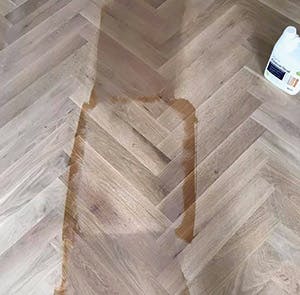 Andrew Ogden
We had a customer who wanted this white oak herringbone to look like raw wood. Every type of finish we tried changed the color of the wood too much. I eventually came up with this stain sample in the middle: ten parts Bona Natural, one part Bona White. Applying the stain was a nightmare, it was like applying invisible ink—you literally couldn't see a difference between stained and unstained wood.
---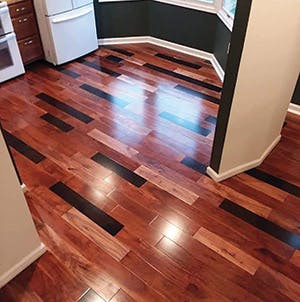 Sarah Ruckert Fangmeyer
Three different colors of prefinished acacia.
---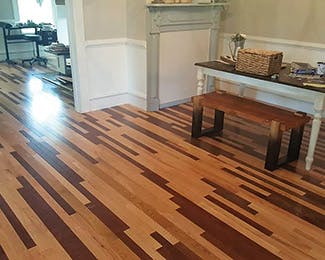 Wesley Goetz
I did my floors with leftover prefinished. Everyone seems to like it.
---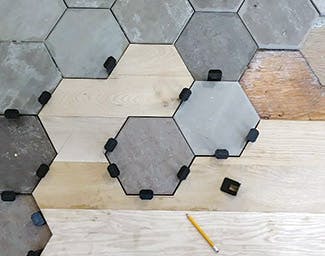 Brian Shourds
5-inch livesawn white oak in a dining room that we are weaving into hexagonal tiles in the kitchen.
---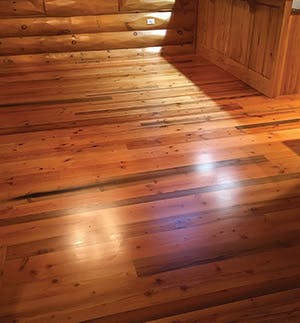 Nate Sitz
Fir recovered from a train trestle in Great Salt Lake. It was 20% salt by weight. My equipment needed to be thoroughly cleaned/oiled after this job because of rust. (Editor's Note: See the full story about that floor here.)
---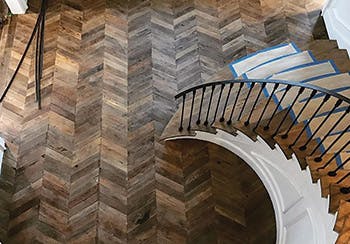 Caleb Hall
150-plus-year-old European oak pulled out of an old church in France and re-milled in Connecticut. It was around 3,600 feet in widths ranging from 3 to 41/2 inches.
---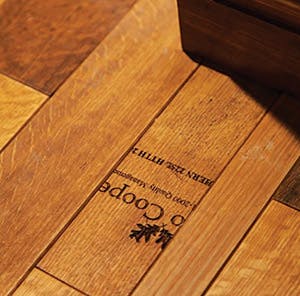 Rick Merwin
Playing with old wine wood.
---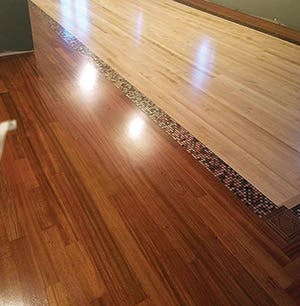 Mike Hanning
Recycled maple for the field, with a border of 9,600 pennies and Brazilian cherry. (Editor's Note: See the full story about that floor.)
---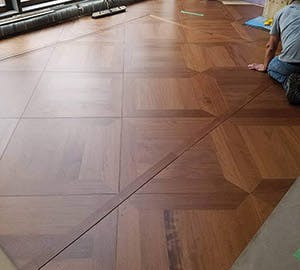 James Mulhern
A stage that goes up for a piano; I wrapped the sides with iroko also. By the window the floor also has hidden storage where 2-by-10-foot sections lift straight up and the pattern continues across.
Tell Us What You Think! Follow WFB on Facebook and Instagram to see the next chance to be in the Talking Shop column.
---
RELATED: Elements of Wood Flooring Design
---