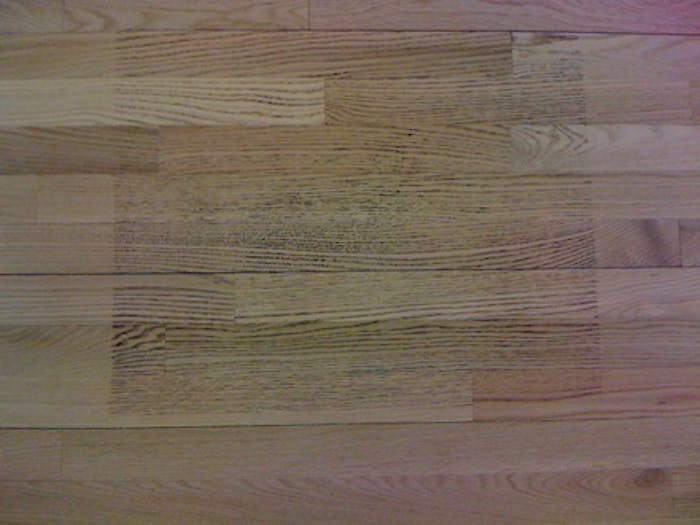 As a wood floor inspector, I was called out to do an inspection regarding possible mold in the wood floor. Upon visual inspection of a light-medium stained wood floor, I could see a definite pattern to the area. Using a floor edger to remove the existing stain and finish, I could clearly see darkening of the grain. However, the area of concern was patterned into a square and confined only to the springwood after edging: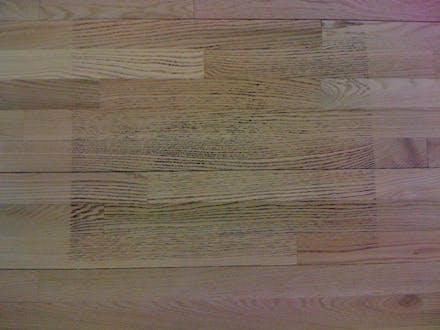 Mold in wood is not confined to springwood alone, and I had suspicion of another source causing this appearance. Upon interviewing the floor sander, I disclosed my floor sanding experience. I explained that either I could do further destructive testing to confirm my findings or he could cooperate with me and disclose what stain color he started with for color samples. He disclosed he had done a sample with Antique Brown, although the floor we were inspecting was a Medium Golden Oak color (about half as dark as Antique Brown). The area where he had done the darker sample on the floor was showing through on the finished floor. The floor had to be fully re-sanded.
This is a common problem many floor sanders run into and are not prepared for. Yet there is a simple answer: building sample panels for stain approval: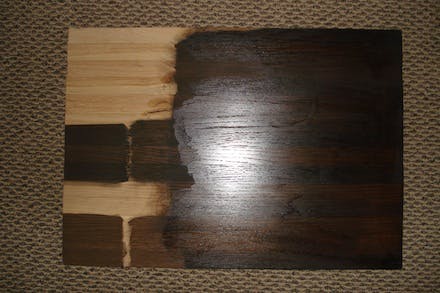 Once stain color is approved on the panel, make a final sample on the actual wood floor for acceptance. A second purpose in using the panel is testing the dry time of the stain-coat the panel and try to move the color around; that will tell you if you should proceed on the wood floor or wait another day for the stain to thoroughly dry.