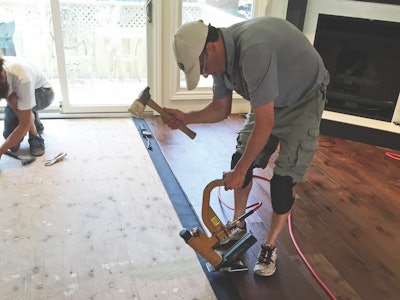 Wagner Meters
My moisture meter readings seem off for my area at this time of year. How do I know if it's accurate?
Jason Wright, business development specialist at Wagner Meters, answers:
A moisture meter is your best insurance for knowing if a wood floor is ready for installation, but only if you're using it correctly and its results are accurate. If you're getting erroneous readings from your moisture meter, your wood flooring and your reputation will suffer.
One of the most important things to consider is the specific species settings. Why do the different settings matter? Each wood species has its own meter settings that affect the reading you'll see on your moisture meter. For example, let's say you have two pieces of wood—a piece of cedar and a piece of oak—and both have the same moisture content. Because of the different densities for each wood species, your moisture meter—without being adjusted—will give a different reading for each one. This means you might be testing your wood flooring for moisture but getting inaccurate results. Thus, you need a way to account for the different woods when measuring moisture. Some moisture meters come with a species correction chart that you can use to adjust the reading. Others have a function to input the proper species correction for your specific type of wood and automatically adjust the readings according to that setting. Note that the standard default setting on moisture meters is for Doug fir.
Know that your moisture meter should be calibrated. Calibration on a good quality moisture meter should last for years, but when in doubt, check it. First, if you have an identical meter available, you can compare their results. Depending on your moisture meter, there may be devices you can purchase to check calibration yourself, or you may need to send your moisture meter in for calibration.
---
RELATED: Understand the Science of Water and Wood Floors
---