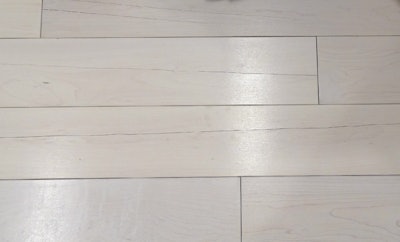 Do I really need to moisture-test and use a moisture barrier with engineered wood flooring?
Sean Connolly, vice president at Mansfield, Mass.-based The Belknap White Group, answers:
Any wood flooring, solid or engineered, must be thoroughly tested for moisture content. We advise using the most state-of-the-art moisture meters (meeting ASTM F2170 or ASTM F2659 standards) to measure this key metric. Make sure you document your findings so you have evidence of doing your due diligence.There is no reason whatsoever not to do this for any wood flooring installation, large or small. For most installations and products, 6–9% MC is ideal.
Some people erroneously believe that engineered hardwood is bulletproof—that it always stays intact, with its top layer of wood veneer being immovable. That is not necessarily true, as when some sawn veneers become too dry after installation, they can dry-cup or split. Moisture can also come from the substrate underneath the engineered flooring planks, causing cupping, buckling and lifting of the planks after installation.
Whether a moisture barrier is needed depends on the specific installation, but adding a moisture barrier underneath is always a good insurance policy, as moisture levels can change at any moment. Know that wood flooring adhesives are getting better all the time, with many offering more than just strong adhesion to the substrate. Some now include crack suppression, sound deadening and moisture mitigation properties in addition to bonding stronger than ever.
Finally, remember that having relative humidity outside the manufacturer's recommended range (usually 35–55%) can have an adverse effect on any wood flooring.
---
RELATED: Engineered 101: Understand the Fundamentals of Engineered Wood Flooring
---