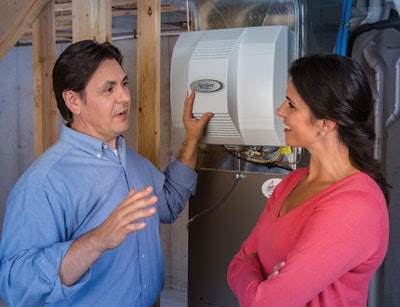 We all know the problems associated with a lack of humidity control with wood flooring, and we all know consumers don't know! That's why it's important we make sure wood flooring customers understand the proper way to maintain their investment.
If consumers don't understand the problems associated with water and wood before installation, then callbacks and dissatisfaction with the job are more likely. Tony Da Rosa, owner of Antique Hardwood Flooring in Oakville, Ontario, says having a conversation about moisture should start early on in the buying cycle.
"If you don't do it up front, you tend to forget about it when you're talking to the customer," De Rosa says. "Talk to consumers about the proper tools they should have in the house before you install that flooring."
The National Wood Flooring Association agrees that Da Rosa is onto something. Brett Miller, NWFA vice president of education and certification, says 90 percent of failures are related to moisture problems, and a home's relative humidity is the most significant factor. And it all starts on the showroom floor.
"That '90 percent of failed floors' figure—that same percentage can be traced back to the point of sale. Our consumers are typically not educated when they make their purchase. And that education is key," Miller says.
What should consumers know?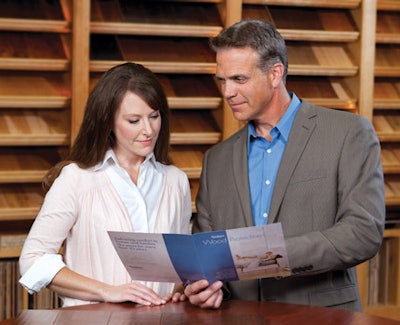 Wood floors prefer humidity levels similar to those people do—typically between 30–50 percent RH. If a hardwood floor is damaged and inspectors determine that RH was not within the manufacturer's recommended levels (which is the case 98 percent of the time), the consumer will have to pay.
Depending on where in the country your business is located, customers might experience indoor RH levels that are too high or low, or swings in RH throughout the year. Use of an air conditioner and whole-home dehumidifier can help reduce excess humidity levels and prevent cupping. A whole-home humidifier protects wood floors from dry air that causes gapping and dry-cupping, which is common where homes are heated and in arid western states.
Let consumers know whole-home options are best because they have the higher capacities needed for removal or addition of moisture to the air to preserve wood floors. Whole-home options are also easier to control, so consumers won't struggle to manage climate.
What should a wood floor sales rep do?
There are many things you can do in the showroom and at the point of sale to reduce callbacks and help consumers protect their wood floor from inadequate climate conditions. You should provide all customers educational literature on the impact of humidity and the need for whole-home solutions.
"The key thing in this industry is education—once you educate the customer well and proper, you won't have any more headaches," Da Rosa says.
The best whole-home solution varies depending on the customer, so it can be helpful to connect the homeowner with a local HVAC contractor you partner with. If you don't know a contractor willing to work with you and get referrals, find one! It'll pay dividends for your business down the road, with fewer callbacks and more satisfied customers.
Wood floor retailers can also quote Aprilaire whole-home solutions on every floor they sell and reduce callbacks while improving customer satisfaction by ensuring the investment is properly cared for.
This article was paid for by Madison, Wis.-based Aprilaire, where Randy Lenz is humidification product specialist. For more information, visit www.aprilaire.com.