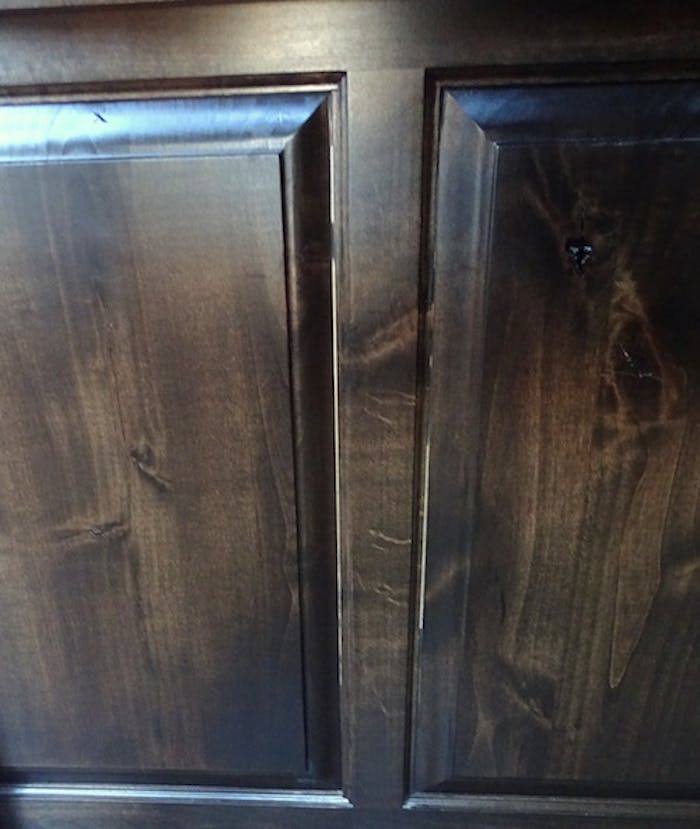 After building a new home, you go through the punch list of all the things that need to be fixed, such as nail pops, dinged up walls and doors, missing stain on cabinets, etc. It's a common practice in the construction industry to have a punch list before closing, then at 60 days and, finally. at the one-year walk-through.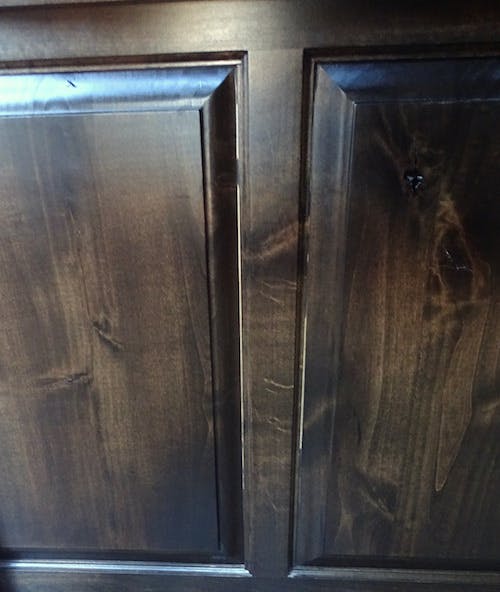 During the 60-day walk-through on this job site, the concern was non-stained areas on the cabinets edges. The customer of this new home was unhappy with the perceived quality of the cabinets and wanted them fixed. Any of us in the construction trades have dealt with similar situations, and we feel for our clients, even though many times these things are out of our control. What do I mean by that? Keep reading about the complaint:
The reported concern came in just before their 60-day warranty walk-through, not at closing, therefore this condition became apparent after occupancy. Was it from the cabinet company using green wood to build the cabinets? Or did the buyer fail to see it at the time of closing? Was this a painter's problem with not staining correctly? Or did the environment dry out? The answer was that the wood dried out due to the lack of proper environmental control during the late fall/early winter season. So, whose responsibility is it? The cabinet maker, cabinet installer or painter? Or does it fall back on the new home buyer?
Is this complaint so different from similar ones in the wood flooring industry? The difference is simple: volume of wood surface. It's easy to dye a few edges of cabinets and educate the buyer on environmental control going forward. With a wood floor, though, how many unstained tongues do you see in the floor? It could be hundreds—and now it's a defect in the buyer's eyes. That's why it's vitally important to provide environmental instructions to the buyer at the time of completion to ensure you won't be dragged into a dogfight.
When I was contracting, our photo portfolio we used during the sales process had photos such as the one of this cabinet, along with cracked white enamel woodwork, gaps along tile/stone floors and baseboards, etc., etc. This shows the importance of proper environmental control for ALL wood finishes within the home, not just the wood floors!