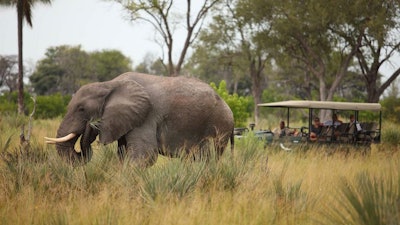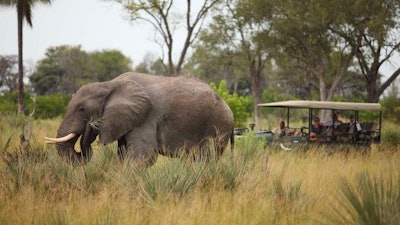 The story starts out with my son, Brent Reichow, giving my wife and I a trip to South Africa and a safari expedition in the Okavango Delta of northern Botswana. I was so excited to see all the animals in their natural habitat that we could not experience here it in the United States. However, I was not prepared for the 22-hour flight to Johannesburg, South Africa, then waking up the next morning to board a plane by 8 a.m. to Moan, Botswana, for another flight, this time on a small bush plane to the airstrip for Xaranna Okavango Delta Camp. When we arrived at the camp we were greeted by the lodge manager Ammie Taljaard with a big welcome, along with a team of staff grabbing our gear and hauling it to the guest common area.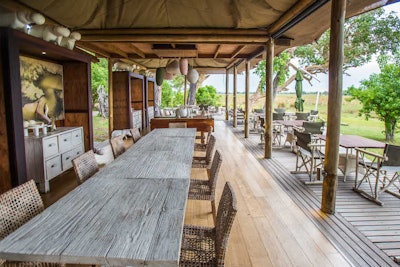 When I arrived to the common area, I saw it was merely a tent with exotic wood decking wrapping the exposed perimeter and a 7-inch white oak engineered wood floor supplied by Bosco Flooring and Design inside the tent area. Of course, as a wood floor installer/inspector, my attention was immediately drawn to the wood floor! I was surprised to find the wood floor was a couple years old and basically in perfect condition. There was no cupping, no end-lifting, no weather checking and no discoloration on the flooring material. So, for the next four days, between the safari expeditions, I was on a mission to find out why this wood floor was performing so well in the middle of the Delta. As you can see in the photograph, there are no walls, no windows—just drop-down curtains in case it rains.
So the question is: Why are we experiencing so many problems with our wood floors here in the U.S.? We always hear we need to acclimate our wood flooring to perform best to "normal living conditions," and let's try to define normal? Or the instructions state wood floors must be kept between 35% to 55% relative humidity. As you can see, here in the Delta, open air would be considered normal living conditions. What about the Palace of Versailles, built in the late 1600s with a beautiful parquet wood floor and no humidity control?
Log in to view the full article