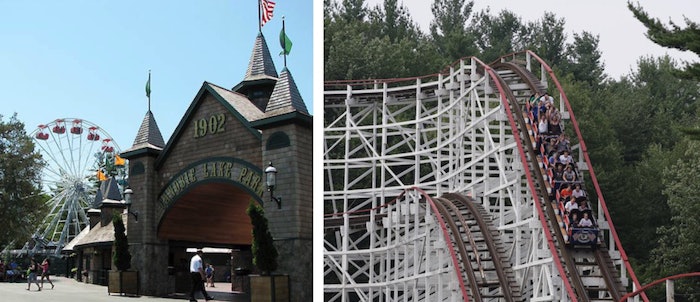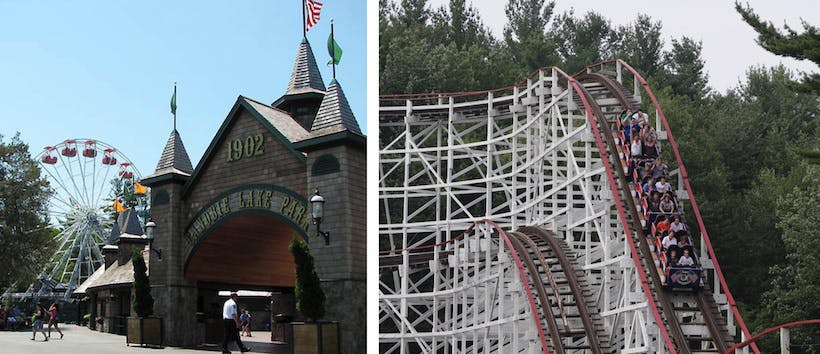 Continuing our blog on the wood flooring projects at historic amusement park Canobie Lake Park (see Part 1, "Historic Wood Floor vs. Lake: Why the Buckling After Almost 100 Years?") …
Today, the circa-1902 park has expanded with loop coasters, tower drops, water rides, wave pools, outdoor lounges and much more. Earlier this summer I was contacted for even more hardwood flooring adventures and challenges at the park: It was time to address the outdoor flooring.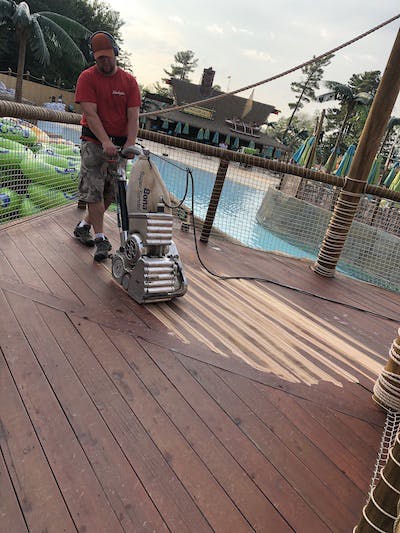 Canobie's new water park comes with thousands of feet of mahogany decking, and thousands of gallons of water, as well. In decking, the term "mahogany" is used loosely since most deck material is either ipé or Phillipine mahogany (Shorea, a tropical hardwood of which there are numerous subspecies). Exactly which species of decking material we were working with was not determined, but also not critical to the situation at hand. Most wood floor professionals know that with current VOC laws, finding exterior stains and deck preservatives can be a risky business, and most do not dry quickly. Some never seem to dry, and almost none seem to cure. As diligently as the Canobie Lake Park maintenance staff tried to maintain the aesthetic and slip-resistance qualities of their beautiful, rich hardwood, the water, weather, and constant usage necessitated changes to both form and function. The decking had been coated with a product recommended for the purpose of sealing the wood, providing a slip-resistant surface, and adding to the overall aesthetic of the exotic material. Upon application, the results were not favorable to park officials, and it was imperative to park officials that the decking be made safe, as well as attractive, immediately. Canobie Lake Park is widely known for their impeccable attention to cleanliness, safety and brilliant architectural design—the evaluation was done immediately and a flooring crew was assembled that same day. Work would start that evening.
Darren Hudgins of Hudgins Hardwood Flooring, who is a longtime patron and frequent online floor guy, took the challenge of refinishing as much decking as possible from 10 p.m. to 7 a.m. each day until the decking was acceptable. Prior efforts by the CLP staff to sand and renovate the areas themselves proved satisfactory, but tedious—using palm sanders and scrapers produced some decent results but were not productive. Hudgins brought in their big machines, edgers, Epoch planetary equipment, and even rotary blade power planers to remove material sanders could not.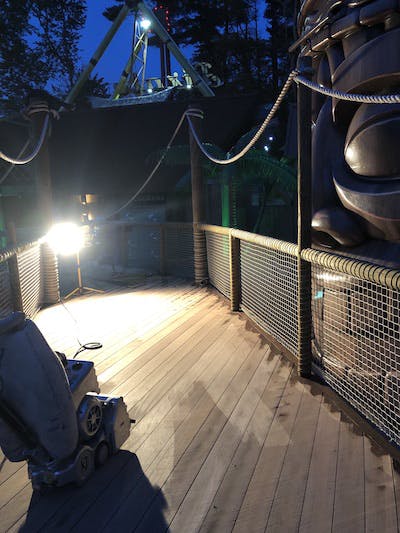 The flooring crews wrestled gnats, mosquitoes, bee nests, darkness, floodlights, rain, cupped decking, deck screws ... there were plenty of obstacles. The deck screws, in most cases, had to be removed, the wood sanded or planed, and new weather-tight screws added to replace the old. Eleven-hundred square feet of decking consumed 44 man hours, of which a great deal of time was spent setting up and breaking down lights, power, and equipment.
It was agreed, for now, to leave the mahogany raw and untreated, as its natural properties would protect it for now, and this added much-needed slip resistance for safety until the park closes for the season and other options can be tested.
The interior and exterior hardwood flooring at Canobie Lake Park is as important visually and structurally as it is historically. The flooring is as important to their maintenance team as the roller coasters and Ferris wheel. The park is an incredibly fun, clean, joyous place to spend an entire day. If you are so inclined … from one floor guy to the others, make the pilgrimage. You will be glad you did. Check out the flooring, too! You know you want to …