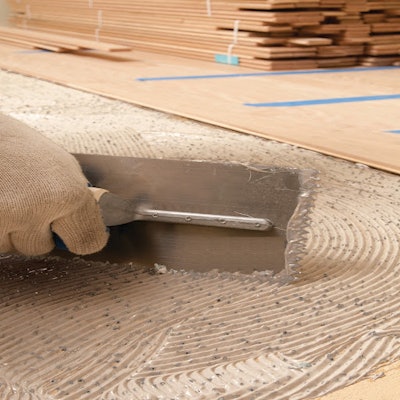 When it comes to ensuring a beautiful hardwood floor installation is protected against moisture vapor issues, an installer is faced with a variety of options that fall into two categories: two-step applications and single-step applications.
Two-step applications
Two-step applications relate to installing a moisture vapor barrier that protects the floor against moisture vapor emissions originating from the concrete substrate, followed by the second step of bonding the floor to that barrier. These products are usually epoxy- or polyurethane-based and have extremely low moisture vapor permeability. As a result, installers can skip the costly and time-consuming concrete moisture testing steps and know that their floors will not be adversely affected by moisture vapor from concrete.
The benefits of a two-step applications are that they are tried-and-true methods used for a number of years, and installers can apply the moisture vapor barrier, come back, and review proper coverage prior to installing the hardwood floor with a bond-only adhesive.
Disadvantages of these systems are:
Added cure times—in most cases the moisture vapor barrier will need to cure overnight before installing finished flooring.

Epoxy barriers require proper mixing of two components.

Polyurethanes are applied with a trowel, forcing installers to be on their hands and knees.
The newest type of two-step products to the market feature single-component hybrid formulations that are durable, low-odor, red-list-free, and act as a moisture-vapor-barrier coating, alkalinity blocker, and primer. These hybrid products are applied using a ⅜-inch nap roller, are able to be resealed and used at a later date, are black in color to easily see coverage, and generally require only two hours of cure time before installing flooring, offering significant time savings to the installer.
Single-step applications
Single-step application products combine the step of applying a moisture-vapor-barrier within the hardwood adhesive. These adhesives are generally polyurethane-based or modified-silane-polymer-based and can have up to unlimited moisture-vapor protection that may provide the installer significant time, labor and material savings by combining multiple steps into one.
The disadvantages to single-step products are:
They are generally more expensive compared to bond-only adhesives.

They require that more adhesive be applied to get the proper membrane thickness to block moisture vapor.

Boards must be lifted throughout the one-step installation process to confirm proper coverage is achieved.
With the products available today, picking a single-step or two-step solution to moisture vapor comes down to conditions on your specific job and installer preference. There really isn't a wrong choice when it comes to protecting beautiful hardwood flooring from subfloor moisture vapor damage issues and claims.