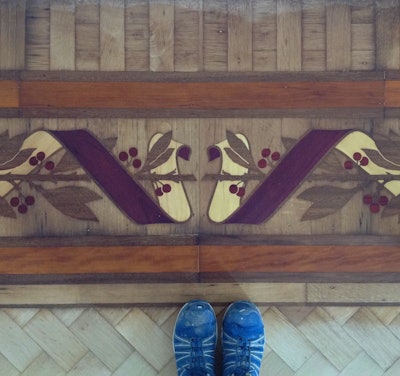 The floor was all but forgotten.
Built in 1928, it sat in an empty building in Ronse, Belgium, for two years before Che Polfliet of Lauwe, Belgium-based C-Parket was brought in to renovate it.
In the two years it sat abandoned, the floor had no maintenance and no heating.
"Part of the floor was even used to dump the rubble from the demolition work in the house," Polfliet says. But under the rubble and dust and damage, Polfliet knew he was looking at a gem.
"I had to convince the client and the architect that they really have a very beautiful floor and should treat it with the necessary respect," Polfliet says.
It worked, and Polfliet began bringing the historic floor back to life. The flooring featured quartersawn French oak blocks in herringbone patterns and elaborate borders incorporating amaranth, American walnut, black sucupira, bilinga, ebony, hornbeam, oak and wenge.
---
RELATED: Duplicating a Bomb-Damaged 19th Century Parquet
---
The first step was having the owner of the building begin gradually turning on the heat.. From there, Polfliet began mapping the missing and damaged pieces of flooring. He removed loose pieces and numbered them, cleaning and repairing the wooden subfloor before gluing repaired pieces back into place.
"I tried to reuse the existing wood as much as possible," Polfliet says. "On the top floor, a zone had to be completely demolished, so I was able to reuse a part of the original oak."
As the flooring began to look like its stunning original self, Polfliet got the chance to add his own contribution to the masterful floor in a hallway.
"I designed a pattern in this hallway to make it fit in with the whole style of the house," he says. "For this, I used new wood—oak, American walnut and wenge—and treated it afterwards with a homemade reactive stain to make it match the original colors."
Polfliet carefully sanded the flooring before adding a filler mixed with wood dust. He completed the restoration with two coats of oil finish.
The original floors were clearly made with a passion for the craft—and it was an ingredient required to save them, too.
"I would advise to keep the existing floors as much as possible," Polfliet says. "Sometimes it takes patience, but if you do it with passion, you will come a long way."
Finish: Rubio Monocoat | Filler: Blanchon | Sanding machines: Bona, Kunzle & Tasin, Festool