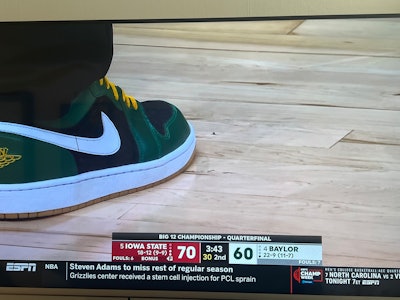 A nail sticking up from the court became an unwelcome point guard at a Big 12 Tournament Game March 9.
The game between Baylor and Iowa State was briefly paused late in the second half as a nail protruding from the basketball court at the T-Mobile Center in Kansas City, Mo., was hammered back down, Fox News reported.
"That's a first," ESPN analyst Fran Fraschilla said during the broadcast as both teams took a free timeout.
With the court fixed, the rest of the game was fortunately able to involve more nail-biting than nail-hammering as Iowa State defeated Baylor 78-72.
Totally normal stoppage of play in Iowa State-Baylor. The smallest nail to ever exist protrudes from the court. Naturally, both teams get a free timeout, while a guy with a pink mohawk takes a hammer to the nail and fixes it. pic.twitter.com/HDLVK5OpDS

— Simon Gibbs (@SimonGibbs26) March 9, 2023