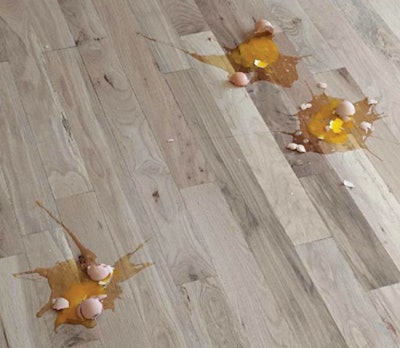 Pro Charlie Downs, owner/ operator of Downs Hardwood Flooring in Tulsa, Okla., has seen a lot during his 35 years in the wood flooring business, but he says there's still a first time for everything:
"I was hired to sand and finish this white oak floor, plus add on about 1,000 square feet. Once we had it ready for stain, the homeowner ducked my signs about staying off of the floor so he could go out back to collect eggs from his chickens before vacating. He came through the back door as I came through the kitchen with my bucket of stain and a box of rags. He had seven or eight eggs in his hands and arms. Our eyes met just as I was thinking, 'That looks like a bad idea.' Just then, he lost his grip and started juggling them. It was like slow motion—time almost stopped. He saved all but three or four, and I was laughing too hard to be upset. He was a nice guy, and 20 minutes of cleanup was worth the visual. I've run into him a few times since then, and he's still embarrassed, but I'm pretty sure he'll call me the next time he needs floor work."
PHOTO: OOA (NO CAPTION)

See a collection of wood flooring job-site stories on the WFB Pinterest Tales From the Front board. Do you have a funny or bizarre job-site story? Email it to WFB. If we use it, we'll send you a WFB T-shirt.