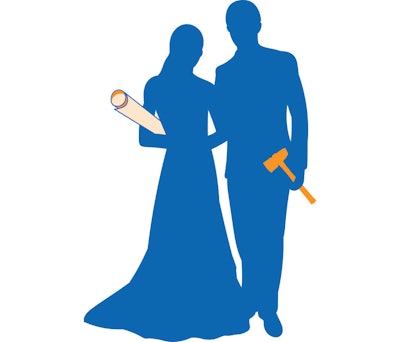 This issue's Tale comes from Gregory Brown at Wilder, Vt.-based Brown's Floormasters:
"I was born with a scraper in my hand, so I don't remember the first job that I worked on, but I do distinctly remember the first major job that I took from quote to completion myself. It was 1992 and I was in college at UVM. The project was Collis Hall at Dartmouth College; there was around 20,000 square feet of strip oak that needed to be installed and a bunch of refinishing on the existing part of the building. I had a full set of plans that I had to run a quote off of, and I had them spread over a common room table in my dorm at UVM. My neighbor was watching me do the takeoff, and I explained to her what we had to do on the plans. Her reaction was, "You can make a living doing that?!" Anyway, I did get the job, and with the help of my father and uncles, brought it to completion. I did get the girl, too—I ended up marrying the cute blonde who was my neighbor at UVM in 1997! Two kids and nearly 25 years later, we are still married.

See a collection of wood flooring job-site stories on the WFB Pinterest Tales From the Front board. Do you have a funny or bizarre job-site story? Email it to WFB. If we use it, we'll send you a WFB T-shirt.