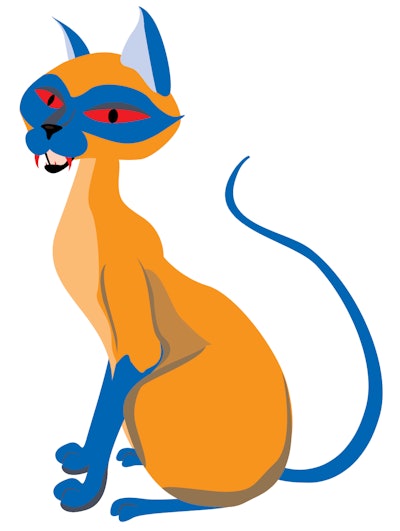 Norwegian wood floor pro Jason Harral, owner of Hønefoss, Norway-based Din Gulvsliper AS, had a job he now calls the "Oslo House of Horrors." As he tells it:
"The house was like something you'd see in a movie that gives you nightmares: run-down, dirty, covered with dead vines, surrounded by piles of garbage. There was a nasty pool partially filled with green slimy liquid and only half-covered by a tattered tarp. I don't know what had happened inside that house just before we got there, but I suspect it was an animal sacrifice. There were drops of fresh blood on the floor in the hallway and on the stairs, and more blood in a square in a dingy living room. The artwork was dark and disturbing, but worst of all was the larger of the two floors we were going to sand: There was drying blood smeared around the walls and on the floor, and there were piles that looked like cat poop all over the floor. It didn't stink, though, so I thought it might have been something from an animal the cat had killed. Oh, I didn't mention the most evil-looking Siamese cat I've ever seen. It looked at me like it wouldn't mind having me for its next victim. They had some rabbits in a hutch outside, so I wondered if they'd thrown a rabbit to the cat for breakfast where we sanded. I had the most fear-filled day on any job—I've never prayed so much on any job as I did there. I was jumpy the whole day, making sure I had some tool handy I could use as a weapon if attacked by a crazy customer or psycho cat … I felt oppressed every time I was in that neighborhood for months afterwards. Next time I'll turn down any job in a freak show."

See a collection of wood flooring job-site stories on the WFB Pinterest Tales From the Front board. Do you have a funny or bizarre job-site story? Email it to WFB. If we use it, we'll send you a WFB T-shirt.