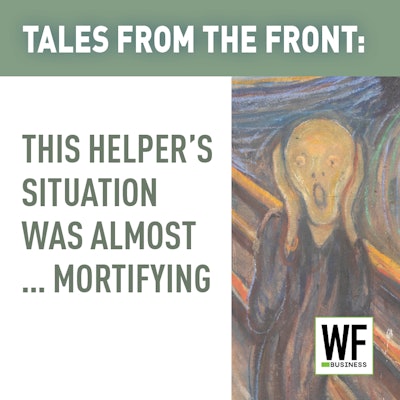 Brad Rich, the owner/president of Rich Hardwood Floors Inc. in Healdsburg, Calif., once had an almost-mortifying fright on a job with a helper. As he tells it:
"I asked a helper (this was a big guy, 300-pounds-plus) to go sand underneath the stairs where there was a cubbyhole while I was going to be on the big machine. So he got down underneath the stairs with his feet hanging out and started sanding. I went on the big machine, and an hour later, wondering where he went, I checked back where I left him. I turned the corner to see his feet were sticking out the cubbyhole—just as when I left him. My heart jumped, thinking the guy died on me. I went and kicked his foot … nothing. My heart started racing. I got down and looked in, and he was fast asleep, snoring! The guy didn't last a day after that. It was a funny-scary sight to see."

See a collection of wood flooring job-site stories on the WFB Pinterest Tales From the Front board. Do you have a funny or bizarre job-site story? Email it to WFB. If we use it, we'll send you a WFB T-shirt.