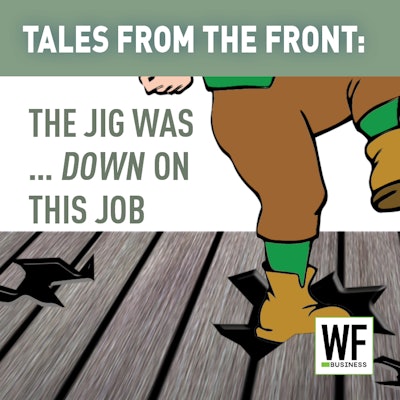 Troy Stanfield of Plankd Flooring in Mt. Barker, Australia, had a surprise from above when he went to do a job-site visit where plasterers were working above. As he tells it:
"I went to meet a client on site about converting a heritage bank in Port Adelaide into her residence and discuss her flooring options. Downstairs there was new European oak herringbone to be fitted after the strong room was removed. Upstairs was an old Baltic pine to be sanded and recoated. When I arrived, there was a crew of Irish plasterers upstairs working away. When they heard the client leave (and I was still packing up my samples and getting ready to measure up), they cranked their music up so loud and started foot stomping to an Irish jig. It wasn't until I came back to follow up on the selections that I learned I would also have additional repairs to the upstairs floor, as they'd stomped through it in several places."

See a collection of wood flooring job-site stories on the WFB Pinterest Tales From the Front board. Do you have a funny or bizarre job-site story? Email it to WFB. If we use it, we'll send you a WFB T-shirt.