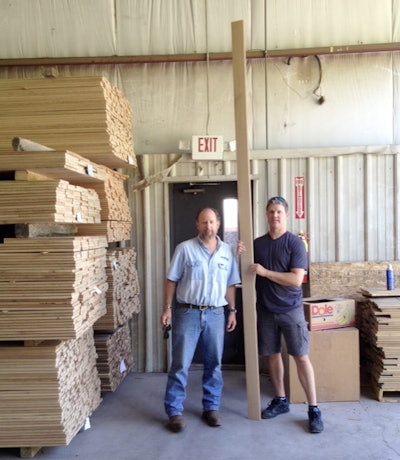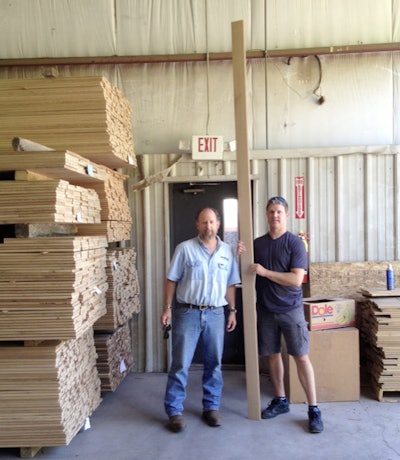 This past week I ended up traveling back to the East Coast into Pittsburgh, Pa., and had the chance to meet one of my industry friends, Jessica Hickman.
Their company operates a smaller high-quality sawmill, Allegheny Mountain Hardwood Flooring, that makes flooring not far north of Pittsburgh. I made the time to go up there and they were kind enough to show me around.
Let me confess something: I'm a crackhead for high-quality quartersawn white oak with lots of fleck. I knew that was one of the major specialties of their company, so besides seeking additional learning, I was also interested in seeing their flooring. I also had the opportunity to talk at length with Denny Hickman (that's him on the left in the photo at the top) about milling while I toured the flooring side of things. He's a really bright person and taught me a lot about the history of the forests through the region and explained how tree sourcing impacts product quality and consistency.
As flooring contractors we often are educationally out of the loop regarding the milling process in a lot of ways. Typically I just order wood from a distributor and know how good it is secondhand from the inside reps or firsthand once I start nailing it all together. Needless to say, touring a mill and learning a little about their operations from Denny was another big part of the never-ending education a flooring professional needs. In fact, if contractors really want to install lots of flooring and avoid being subject to the inspection process, I suggest this is a major gap they should fill in their knowledge bank.
Let's think for a second about milling and the steps to getting the stuff we're all installing. A log gets debarked, sawn down to dimensional lumber, air-dried, and then kiln dried. After that the lumber is milled into flooring and starts the journey into our hands. Typically we think only about milling quality in the sense of how well boards go together and how easy it is to sand regarding overwood/underwood. When the wood arrives we can measure flooring MC, subfloor, humidity levels, temperature, etc… and control the project accordingly. What about the measurements beforehand that we don't know about?
The biggest part that I figure we neglect to understand enough about in the contracting business is how lumber is dried (air and kiln) and the science of how that impacts the material pre-install and post-install. I have a whole lot more to learn, but I do know that mills that inaccurately measure moisture content after the kiln and prior to milling can be putting us all in great danger.
There is a lot that goes into the process of making the flooring we install, and it gets really crazy once we discuss engineered flooring. I encourage you all to talk with some of the mill owners and manufacturers at the Expo. It may help you avoid a problem or an inspection even if you install everything right on your end.