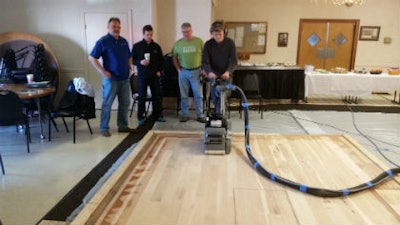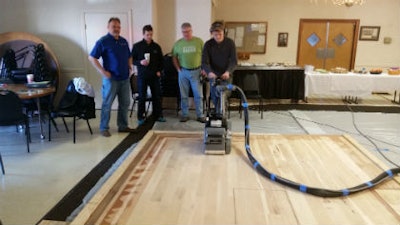 Talk about out and about—two weeks of install and sand and finish classes. The first week was with the NWFA in Chesterfield, Mo., and the second week was with Panel Town & Floors in Columbus, Ohio.
Both classes could not have been more fun. Working with the NWFA is always a joy, but this was my first time working with Panel Town & Floors. I have a few photos from the class in Columbus and you can read the Hardwood E-News to see the photos from the NWFA training.
A few facts stand out for me from both classes:
1. Not everyone understands the basics of wood flooring.
As we have talked about for the last few weeks, getting the wood ready for a house goes far beyond simply nailing it down. Many ask the same question: How long should the wood sit on the job before installation? Doing the right thing is not a matter of time; it's about the numbers, job site and wood flooring. I have looked through a few instruction guidelines from different manufactures of unfinished and factory-finished flooring, and they all say after so many days on the job it's OK to install. Now we all know that is not right—time is not the correct way to handle the flooring. I bet we hit on that four or five times during the NWFA classes.
Equilibrium moisture content was a big topic on our training panel during the first few days. How do you know when wood is ready to install? When the job site is at living conditions and the flooring is no longer taking on or releasing moisture.

2. I assume everyone can run the tools.
My bad, thinking that everyone can grab a nail gun and load it up. The nail guns have rollers and run so smooth that, in the hands of a skilled floor tech, they can fly, but in the hands of a new person it can be a hard task to keep it under control. The nail pattern with a 16-gauge cleat is every 6–8 inches and with an 18-gauge cleat it's every 4–6 inches. The quick response of the guns and the recoil speed seem to make it easy to open the nail pattern. When it came to the sanding tools, I enjoyed working with the folks that never ran a big machine before. Teaching a new person brought back my own first-timer fears and concerns. When Daniel Boone (Daniel Boone WFT Inc.) cut me loose with the 12-inch drum sander … I was uneasy! To see that same look in the youngin's eye was nice. Remember when you were asked to grip it and rip it flat? Big eye and weak knees, over-gripping and trying to be as smooth as a 20-year master. Well, after my heart kicked in, I wanted to slow down and share, not just play show and tell. Everyone started walking smooth and the floors looked good for so many of the new folks running the units.
3. What we do in a class can lead to better jobs.
Okay, I got an earful when we moved to the edger. The way that Daniel trained me years ago still is odd to many. The term "clocking" just does not click with some. During the class talk and PowerPoint, we see that blank look. As soon as we get to the panel, it rings a bell. Getting the floor flat and hiding the scratch is all it is, but getting there is the key. In Ohio, with Panel Town & Floors, they got it and one of the guys had me set the edgers up my way to get a flatter floor. The center layout, gluing the last rows over pin nails and the location of any pin nails were all topics of conversation. The things we have done for years are all new to them.
The point is we need to keep the NWFA classes going. Distributors need to be more involved with the training. Panel Town & Flooring has made that move with the NWFA training class held at their location. If we can help get folks past some of the pains on the job site we will make it a better trade.

4. We need to give more than our time and knowledge; we need to give our heart.
More than anything we can do for our trade and the friends and new folks starting out is to be open with them. Now when I say open, I mean give them your heart. They think we never have troubles and our job flow is like water and we must not hurt at the end of the day. In Ohio, I sat down with one guy and he asked how we do it with no troubles. Well, I gave him a heartful—jobs that went South because of the other trades, homeowners that are unrealistic, builders that withhold funds for weeks, dealers that miss deadlines, trucks that break down, sick workers, sick owners, tools that break, bodies that hurt, all that stuff.
Bottom line? Let the new folks know how we handle those tasks, the pain and stress. Don't paint a picture that is all a bed of roses. Share your heart and give them words of wisdom. They can learn so much more from us, far past how I sand or install. Looking back it was my friends that helped me get past the pains of working for myself and being the best floor man I could be. Share all you can, teach all they ask and give them a little of who you are deep in your heart.
Well the next week I am not out and about but working from home. I am helping a couple of guys with machine repairs. Right now we have six units to work on.
Be safe.