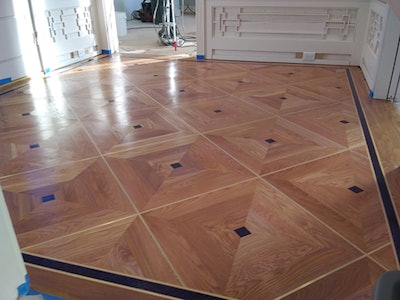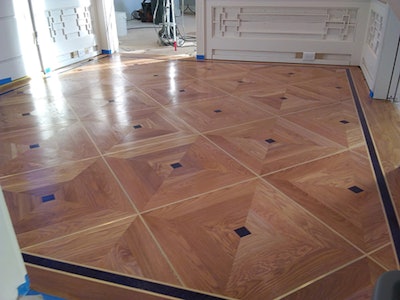 I recently sat down with James Harbour of Harbour Precision Floors to talk about a project that won James the 2018 Wood Floor Business Readers' Choice award. The project was to install and finish a custom hardwood floor that included two species of wood along with a brass metal inlay. James faced some interesting challenges that required him to pay closer-than-usual attention to the techniques we commonly use on most installation, sand, and finish jobs. We talked about a couple of these techniques while he was working on the project. James is a previous student of mine at the NOFMA/NWFA school, so I was interested to see how this project turned out. I have to agree with the readers of Wood Floor Business on the outcome.
According to James, a project like this begins with a customer who wants to do something really special. A lot of thought goes into the design process, which in this case was managed by an interior designer contracted by the customer. Once a design is agreed on, then it's up to the wood floor craftsman to be on his or her game to get it right. "This floor had to be perfect, with no flaws, or it was going to have to be ripped up and started over," James said. "And I didn't want to do that. Either way, I just wanted it to look right when I was finished."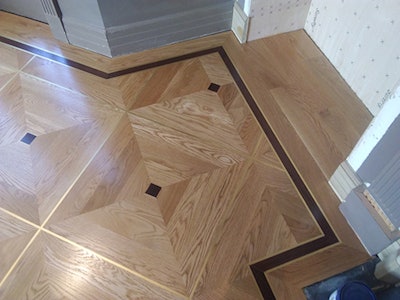 The floor was part of an Art Deco remodeling project on a 1940s home in North Carolina. The interior designer set to seek out a flooring contractor with advanced skills and experience installing a floor with intricate design details. James was recommended to have the necessary skills and talent, and after waiting five months for a decision, he was awarded the job. The diamond field design was specified with white oak and wenge and incorporates a brass metal inlay throughout. It wasn't just the pattern that presented a challenge—the brass inlay takes things to another level. The challenges to achieving a truly beautiful floor included careful installation of the brass inlay, and then being particularly careful throughout the sanding process to avoid dish-out on either side of the brass and to keep the brass intact.
Since we already mentioned that the project was in a home that is almost 80 years old, wood floor craftsmen know that James had to work with rooms that are likely to be out of square and have uneven subfloors. "I knew I had to get the subfloor as even as possible so the finished floor would be flat, and the joints would be tight with no gaps," James told me, explaining that one of the rooms was a new addition and was close enough to square and flat to not pose much of a problem. The featured room, however, "was old, wavy, out-of-square, and had lots of angles," he said. James knew he would not attempt to make adjustments for the out-of-square room in the field, but had to plan it into the border design. "Measure 10 times and cut once" was James' approach to the layout of the floor.
With confident preparation of the subfloor and meticulous layout of the design, James started the installation of the pattern in the middle of the room and worked his way out to the border. For each square pattern that he glued in place, ¼-inch shims were set in to establish the right finished height of the brass inlay. The brass was set 1/16 inch below the wood surface so he could work down to the level of the brass sanding with the big machine. Each piece of brass was hand-trimmed to fit and epoxied in place. As you can imagine, this was a tedious process that needed a consistent hand to get all of the materials to lay even and flat.
The sanding process was what caused James the most concern. He had to sand precisely down to the brass inlay and no further. If he tried to work around the metal he risked dishing out the wood, "and that wouldn't be acceptable" James said. He was also concerned about causing the brass to pop out. He had heard horror stories of this happening. Brass and wood heat up during the sanding process, but at drastically different rates, so if the brass inlay heated up too much, it could expand enough to explode out of the floor. This was a topic James and I talked about during the project. We discussed a couple of strategies for sanding both the wood and the inlay, and James continued on with a plan.

For his first cut with the FloorCrafter, James set the machine on light pressure with 80-grit paper. He followed this with additional passes using 100- and then 120-grit paper. A CE-7 Pro managed the edging duties using 100-grit, then 120-grit paper. To get the wood smooth and free of any marks and ready for finishing, he used a 16-inch buffer with a HydraSand head working from 80-grit, 100-grit, 120-grit, then to 150-grit paper. "This Epoch buffer just feels right," said James, also explaining how the HydraSand is a great tool for getting a smooth finish without swirl marks on a mixed-wood, angular-design floor. This sanding process gave him the confidence at this point in the project that he would be able to lay down a smooth finish. But he wasn't done yet—the brass inlay now had to be sanded, as well. This step required a three-step process beginning with hand-scraping the brass to get it smooth and even, going over it with a palm sander, then finishing with hand-sanding. Now the floor was finally ready for a sealer and a clear waterborne satin finish.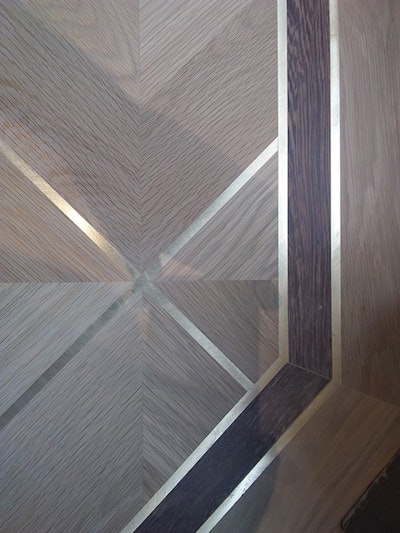 It was three weeks to prep, install, and finish 325 square feet. "It's tough to stay focused on just one job for that long, but that's what it took to get it right," James told me. "I didn't expect the floor to get this kind of attention, really. I was happy with how it turned out, and the homeowner was thrilled with it. I was finished and ready to move on to the next job."
The quality of craftsmanship seen in this wood floor speaks to more than the apparent skills of the craftsman, but also to the years of hard work and dedication to develop those skills. James has been working at these skills for over 20 years. I recall when he was a student at one of my NOFMA/NWFA schools. He was one of four students in a class of 70 that scored 100% on his proficiency test. He was paying attention to the details then and continues that mindset today. James tells me that he always enjoys doing custom floor installations. Each job gives him an opportunity to apply what he has learned over the years and to take risks, which in turn allows him to develop his skills even further. When asked for any advice or insight to share with other floor craftsmen, he gave a not-so-obvious but genuine response. "Stay healthy and take care of your back." Aside from that, he went on to emphasize how valuable it is to learn from others. The tools and techniques for wood floor installation, sanding and finishing are constantly evolving, and it's important "to get as much training as you can from the experts."
As for developing a reputation for doing quality custom wood floors, James said, "You have to be willing to take risks, and you have to be on your game." And according to James, that includes being willing to tear a floor out and start over if it's not what you or your customer expect it to be. Having to redo the work can be an expensive lesson. But if faced with that circumstance, it can also be a valuable lesson for the craftsman that strives to perfect his skills, push boundaries, and produce award-winning floors.
About Daniel Boone:
Daniel Boone has been in the wood flooring business for all of his life. A second-generation wood floor installer, Daniel started working at an early age with his father and led his own crews by the age of 16. Establishing his own business in 1982, Daniel built a reputation for quality installations in prestigious homes and commercial projects throughout the Southeast. 

From 1996–2000 Daniel was technical director for the National Wood Flooring Association, where he created a national curriculum for wood floor education. Daniel has served on various committees and taught over 12,000 students over 20 years. Since 1996, he has traveled extensively leading and teaching wood floor installation and finishing schools for industry associations and private businesses in the United States, Canada, Australia, China, Thailand, Indonesia, New Zealand and Mexico. 

In early 2017 Daniel went to work with American Sanders to create the curriculum and lead day-to-day operation of the American Sanders Wood Floor Sand & Finish School. Daniel is currently managing and teaching the American Sanders schools while also providing instruction at some NWFA and other commercial sanding and finishing schools.
Daniel is passionate about raising the level of professionalism in the wood flooring industry. He volunteers several weeks each year as a lead instructor at the NWFA Sand & Finish Schools.