We just opened our Chicago Training Center, and it's exciting to have a centrally located training facility for wood flooring pros to come to one of our three-day schools. At the schools we go through all the steps of a sand, stain and finish job, from rough sanding all the way to staining/finishing techniques like water-popping, using iron acetate and cerusing. When I was a contractor, I was one of the guys who was always the first to try to jump in and try a new product or technique they were demonstrating, and it's fun now that the tables are turned and I get to help pros learn ways they can improve their job-site skills. Here are some of the topics pros are most interested in at our schools:
Our burnishing system: You can use our Quick Coat 2-Hour Penetrating Finish as part of a semi-transparent stain/finish system, or you can use it without a topcoat as a stand-alone finish. As its own finish, it isn't slippery like wax is, so it's ideal for commercial applications. It requires regular maintenance, but that maintenance is easy to do. This is an old-school finishing technique that students have been really interested in recently.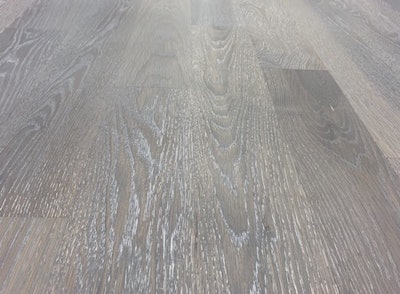 Cerusing: This finishing effect, where you highlight the grain with white on a darker background, is trending right now. Many wood flooring contractors are using European oils to get this effect, but you can actually get the same effect easily using the same Quick Coat stain I referenced above. At the school, we show you how.
Rolling finish: You'd be surprised how many pros haven't tried rolling finish, and of course they don't want to experiment with it on a real job. At the school they can practice their technique without risk of an unhappy homeowner.
Stain application: We get a lot of questions about applying stain and how to do it most efficiently. Should you do it by hand (with a rag, lambswool or pad)? With a buffer? Or a hybrid technique of using one way to apply it and another to wipe it up? We go over all the techniques and try them during the schools.
DuraClear Max Flat: This two-component commercial-grade waterborne finish is the flattest finish on the market, and pros always want to see it for themselves. With the continued trend towards low-sheen finishes, this product is perfect.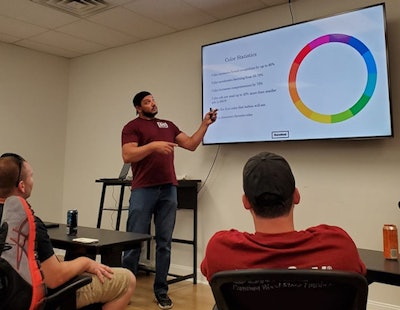 Here's what some of the pros who have attended our recent training had to say:
"The class was exactly what I'd hoped it would be. Getting to try new techniques for stain and finish application on large panels was perfect. We mostly refinish, so being able to do more of the bold colors on a site-finished floor will give us a huge advantage. One of the best parts was talking to other contractors and learning some of the things they have picked up over the years." — Alex Frey, CNM Floor Restoration, Dixon, Ill.
"The DuraSeal training was really valuable. Toby shared with us some of the extra steps he would take (that a lot of other guys don't) that make the floors turn out that much better. Now that I have put to use what I have learned in the class, I've already seen results with my own staining and finishing. I am able to exceed my customers' expectations, and it is helping my word-of-mouth advertising." — Spencer Hulbert, Algonquin Hardwood Flooring, Algonquin, Ill.
"I loved the class, especially the part where Toby talked about the color wheel and how we can use it to cancel out certain color tones in wood and stains. But I must say by far the best part was the cerused technique and other stain application tips and tricks. The class has helped step up my skill set to another level for sure." — Angel Olalde, Angel's Wood Floor Restoration, Sterling, Ill.
"I've been in the trade a long while, but I'm also pretty isolated in the sticks of northern Illinois. To have the opportunity to learn more about the DuraSeal brand was awesome. Toby was very informative about the products and processes, and his hands-on background is a huge bonus for us as contractors. As a contractor for 25 years, I learned a lot and met some great guys as a bonus!" — Casey Ditsworth, Woodshed Flooring Inc., Freeport, Ill.
If you're interested in signing up for the next DuraSeal school, you can go to sherwinacademy.com/duraseal.