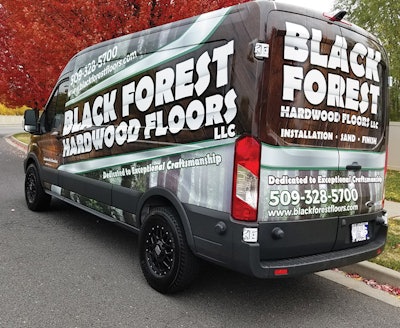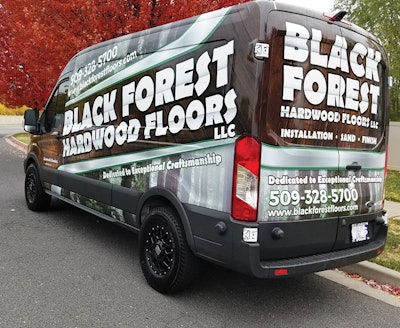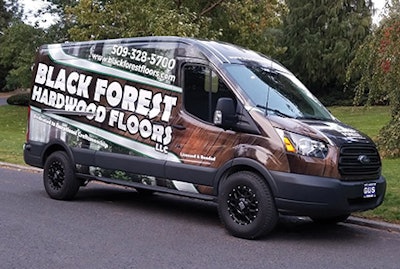 Best Exterior Graphics
Black Forest Hardwood Floors LLC
Spokane Valley, Wash.
When it comes to advertising his business, Black Forest Hardwood Floors owner Steve Osborn says his new Ford van wrap is one of the best investments he's ever made.
"I get a lot of head turns, that's for sure," he says. "People see me coming."
It'd be hard not to. The 2017 Ford Transit Van brings a forest wherever it goes, flashing the company info like a beacon in big, bold letters on the front, back and sides, making sure no one misses it.
Black Forest has been around for 18 years and has gone through several van wraps and logos. For the latest design, Osborn said he wanted to really shake things up. "We were trying to find something that would be bold but simple, and then still have our branding," he says. "We wanted something that really represents who we are."
Osborn and his team approached a graphic design company for the piece last year and took about 10 days to choose between 48 options. The design they settled on wraps around the entire van and emboldens the company's name, services, phone number and website. "Usually the van's on the job throughout the day, so people walking by or driving by, they can stop real quick and jot [the info] down," Osborn says.
The roomy 2017 Ford Transit Van itself was an upgrade for the crew. "All of our other work vans have been like the Chevy Express vans or the GMC Savanas, so this was kind of a trade up," says Osborn of the new ride. "We wanted something we could walk around in."
Black Forest specializes in refinishes, so Osborn likes to highlight the company's dust collection services to clients. Having a slick, professional exterior on its van helps reinforce that message, Osborn says. "We wanted them thinking, 'What a cool van! I want these guys to do our floor.'"
---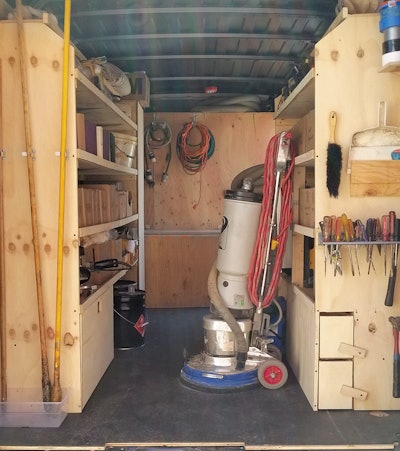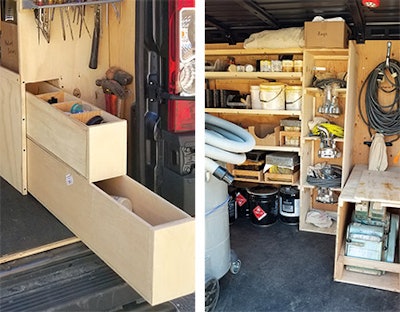 Most Organized Interior
Patrick Daigle Hardwood Flooring
Manchester, Conn.
Alex Daigle, co-owner of Patrick Daigle Hardwood Flooring, chuckles when asked whether he's always been an ultra-organized person. "…I guess you could say I like things to be in their place," he says.
Suffice it to say that when a tool is not in its correct spot, Daigle notices. Luckily, in his 2017 Ram ProMaster 2500's tricked-out interior, each tool's designated spot is clear.
The fourth-generation family wood flooring business had been operating out of an older Chevy van before they decided to spring for the new van last December, and Daigle and his father saw an opportunity to improve their efficiency with an organizational makeover.
"Everything in the entire van was custom-made by myself and my father," Daigle says.
They spent a couple of months installing the plywood shelves, drawers, walls and floors in the van, making a concerted effort to ensure there was no wasted space. "It was a lot of planning, a lot of sitting there in silence, thinking about it," Daigle says.
Their patience paid off. Previously, their edgers were hung on a bar, "swinging" whenever they drove to a job, Daigle says. Now the tools are secured in their own shelf. Likewise, the big machine has its own walled corner to hold it in place while traversing icy New England roads. "It's nice and secure," says Daigle. "You don't have to worry about it when you're driving." The father-and-son team also took weight distribution into consideration during construction, making sure the two shelves were able to be loaded evenly.
The company, which just surpassed 90 years in the industry this year, has two vans in its fleet, one dedicated to sanding and one for installing. Anywhere small businesses can increase efficiency makes a big difference, Daigle says. "It's a lot less stressful working out of this van," he adds. "I don't have to worry about where to put something at the end of the day. Everything has its place."
Watch Alex Daigle give a video tour of his winning van here:
---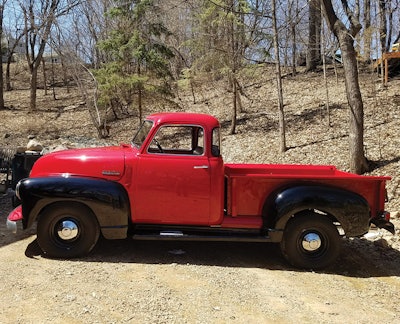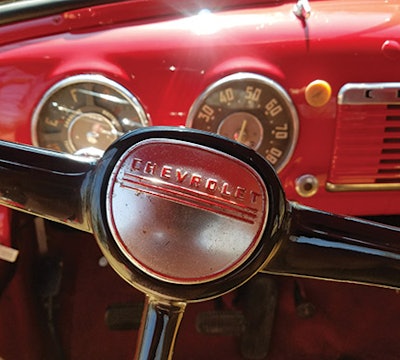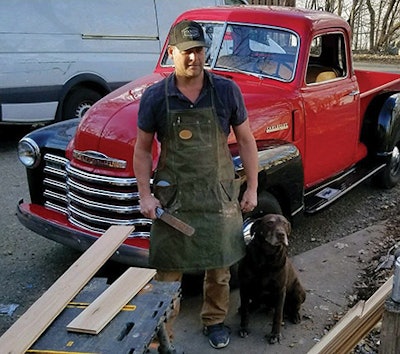 Most Unique Vehicle
Starita Hardwood Floors
Chanhassen, Minn.
When Starita Hardwood Floors Owner Jonas Starita pulls up to a potential client's house in his 1948 Chevy Pickup, he usually gets one of two reactions. The first is intrigue. "It's definitely a conversation piece right off the bat," he says of the truck. The second reaction is one of uncertainty, as in, "'Oh, I don't know if I can afford you…' That's usually a joke, though," Starita says.
The truck has been in Starita's family for almost 35 years, first purchased and remodeled by his father, a cabinet maker, when Starita was about seven years old. Using it every day for work, Starita's father installed red oak panels with chrome inlays in the bed of the truck, which still has its original engine and all its original rounded windows.
And despite having enough miles on it to be "on its way back from the moon," the Chevy's maintenance has never been an issue for Starita. "You could fix it with some red oak filler," he jokes. "It's really easy to fix." Still, at 70 years old, it doesn't have the muscle it once did. "I can't haul a trailer with something like that," says Starita. "But we have some Sprinters for the dirty work." He uses the Chevy for strategic treks to give estimates or provide final touch-ups on jobs. It tends to strike a chord in Starita's upscale Minnetonka, Minn., area.
"There's a lot of money floating around here in the lake community, so it's kind of a cool piece when you have a competitive business for these high-end jobs," Starita says. "You're pulling into these gated homes, and it really makes an impression."
With a small company of seven employees and no advertising, the truck has been an eye-catching business generator for Starita.
"People kind of know me around town from that truck that I'm the floor guy," he says. "If anything, it really puts my foot in the door."
---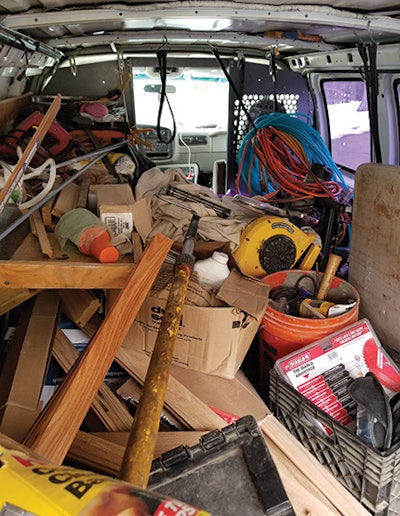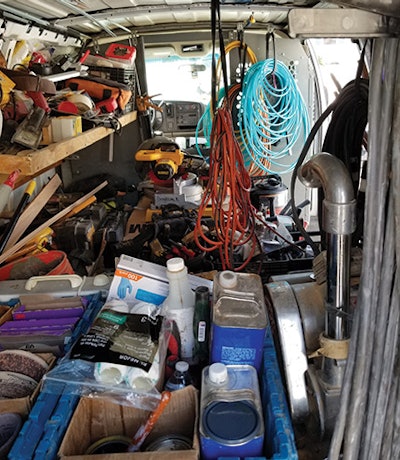 Biggest Disaster
Brookvale Flooring
North Haven, Conn.
Brookvale Flooring Co-Owner Adoni Lefkimiatis boils down his van's state of cleanliness (or lack thereof) in a single phrase: "If my van is clean, it means I'm not working." If it weren't already apparent, at the time he snapped his "Biggest Disaster" picture, Lefkimiatis was working—a lot.
"At that time frame, I think we had like three wood floor refinish jobs going, plus two tile jobs and I want to say a trim job as well," Lefkimiatis says.
He runs the company with his brother, installing wood floors and tile and doing carpentry. "We're the only guys doing the work, so when we have quite a few jobs going, things get a little hectic," he chuckles. They've been in the business for 16 years, and in that time have accumulated quite a few tools, Lefkimiatis says. "To cram them all into the van … it's messy."
So, toward the end of the chaotic two weeks of six ongoing jobs, supplies were getting wearily tossed into the van at the end of the day. "It was just like, 'I'm too tired to try and organize anything, let's just chuck it in and get off the job.'" When things finally simmered down for Brookvale, however, they gave the messy van a cleaning … or at least what Lefkimiatis viewed as a cleaning. "Everybody I've shown the 'after' pictures are like, 'That still looks like a mess,'" he laughs.
---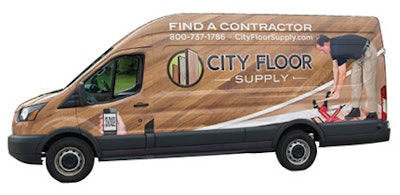 Best Distributor Rig
City Floor Supply
King of Prussia, Pa.
The three siblings who own City Floor Supply held a lottery to see who would end up as the "model" for the company's new Sprinter van wrap's "action shots." The youngest brother, Joe Glavin, lost, so he's now (begrudgingly) featured prominently installing a floor on the side of the van.
Aside from the business calls the new wrap has generated, the distribution company says it also receives a number of "fun" calls from former neighbors, classmates and teachers of the Glavins who've spotted the image of Joe driving by.
"Just saw Joe Glavin on the side of the van," some callers will inform them. "Haven't seen him in 20 years." One of their favorite calls so far came from a former teacher: "We worried about Joe in grade school. Good to see he is still alive."
The company's trucks and vans are often driving around populated areas and crowded highways, Marketing Director Caran Baxter says, and the wraps were designed to maximize the opportunity, promoting their vendors' products and using "call to action" language such as, "Carpet today, hardwood floor tomorrow."
"We get hundreds of thousands of impressions per day," Baxter says, ensuring the company both catches the eye of potential customers and reassures folks who used to know Joe.
---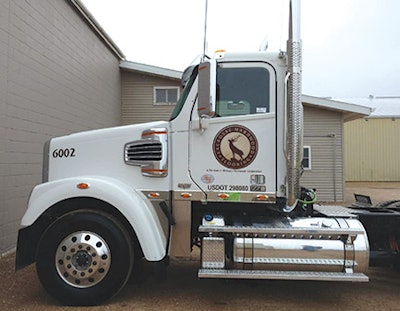 Best Manufacturer Rig
LaCrosse Hardwood Flooring
Westby, Wis.
Many guys like to go big for their rigs. Paul Ostlund of LaCrosse Hardwood Flooring went really big. The company's honkin' new truck boasts a 505 horsepower engine and "18 gears of hardwood hauling power," Ostlund says. If you're on the same road as this beast, chances are you'll notice.
---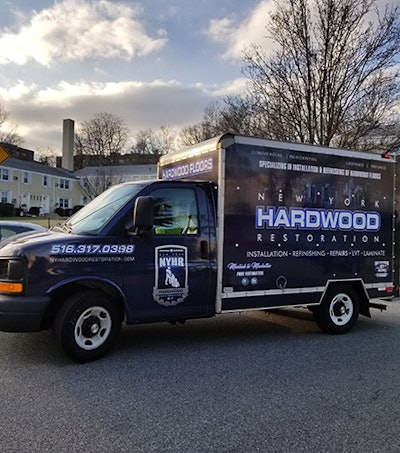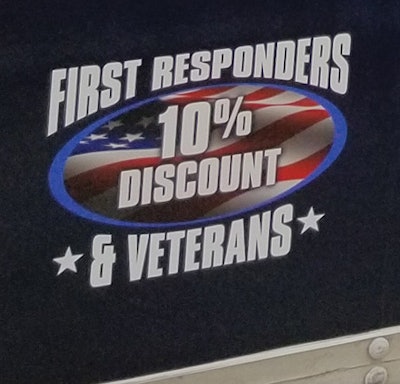 Best Discount Offer
N.Y. Hardwood Restoration
Lynbrook, N.Y.
N.Y. Hardwood Restoration Owner Dominick Anastasio knew early on that he wanted to find a way to give back to veterans and first responders with his business, which he started just last year.
"My grandfather was a cop, and I also have friends still on active duty," Anastasio says. So he began offering a 10 percent discount to all first responders and veterans, advertising it on the side of his 2008 GMC 10-foot box truck. "Our customers seem to love it," Anastasio says. "We just had a job last week with an active-duty female who asked us to do a job, and she was very appreciative of the discount … I thought it was a good way to give back what we can to those who risk it all on a daily basis."
---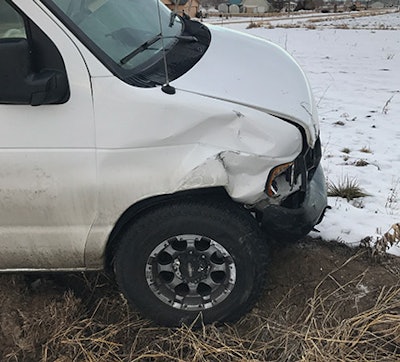 Worst Run-In with a Mail Truck
DeGrange Hardwood Floors
Nampa, Idaho
Everyone likes getting the occasional letter, but not everyone enjoys being hit with a ton of mail at once. Unfortunately, the DeGrange Hardwood Floors team got to experience the latter—literally.
It was in early January and two of the crew were headed down the country road when suddenly, about 15–20 feet ahead of them, a mail truck pulled off the side of the road and veered into traffic with its flashers on, headed toward the other side of the street.
"Then disaster struck," says Owner Ryan DeGrange. Despite efforts to swerve, the two vehicles collided in the middle of the street, the forward inertia pushing them both into an adjacent field. Thankfully no one was seriously injured, but it took almost four months to finally sort out a resolution for the van's damages, says DeGrange, because all correspondence about the accident had to be sent through—you guessed it—the mail.
"I have been required to send all the forms and van value through the mail—no email other than to check on the status of the claim," says DeGrange, who says he can't help but chuckle at the situation. He says he tries to look at the bright side of the unfortunate start to the year. "On a positive note, we hadn't gotten this van wrapped yet!"
---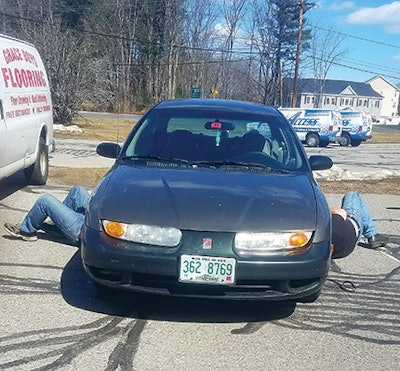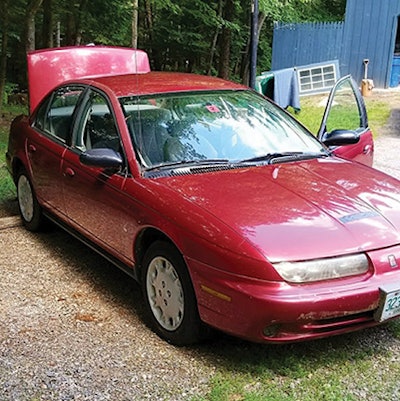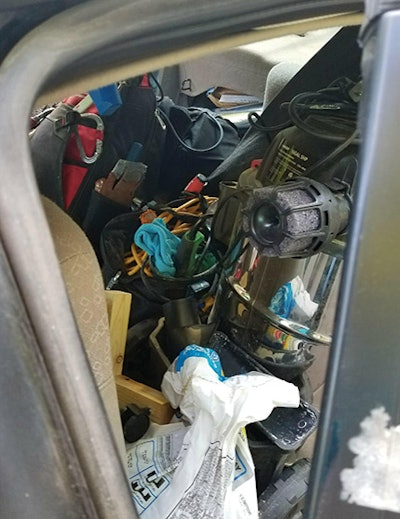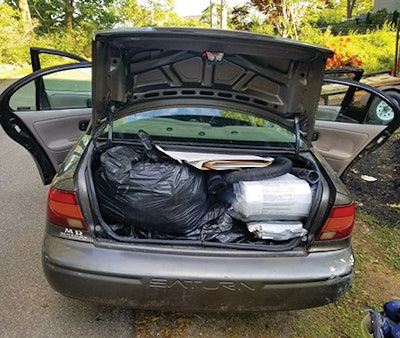 Most Unexpected Fleet
Flawless Floorz
Epping, N.H.
Flooring pros are always on the hunt for a ride that will get the job done without burning up the budget. Flawless Floorz found that ride in … the Saturn S-Series Sedan. Yes, you read that right.
Flawless Floorz Operating Partner Tracey Guile says she bought her first 1999 Sedan for $400, figuring she would "just use it as a beater for a little bit." However, she quickly discovered that it was reliable and cheap to maintain, even for do-it-yourselfers.
So when she and Owner Kyle Gaudet launched the company two years ago, people began to ask her what type of vehicle they would be using for jobs; Guile had one answer: The Saturn.
"People cannot believe we drive the two Saturns daily, filled with tools some days," she says, noting that they fit the big machine in the back seat and trunk. As the business grew, she bought three more Saturns, creating a quirky, cost-saving fleet of five.
They get the job done, she says of the cars, and it beats having to deal with hefty monthly car payments.
---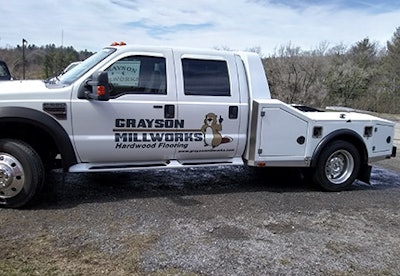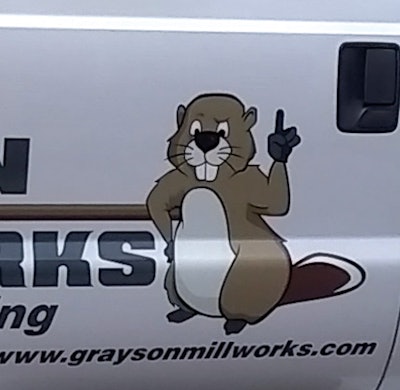 Best Cartoon Mascot
Grayson Millworks Co. Inc.
Independence, Va.
Sometimes the best way to grab a potential customer's attention is with a quirky cartoon character.
With "Chuck," Grayson Millworks Hardwood Flooring's mascot for the past three years, attention is certainly grabbed, but it's not always the right kind. "Everyone thinks 'Chuck' the beaver is flipping them off, when actually he's saying we're #1," says Owner Richard Hill. But Hill seems to take those reactions with a grain of salt. "It's funny," he says, "and it attracts a lot of attention."
---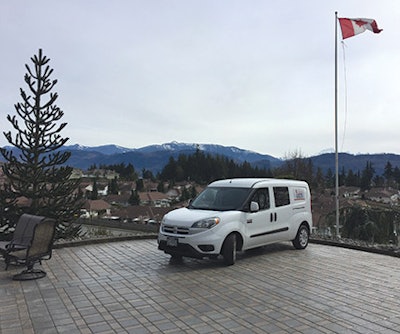 Most Scenic Backdrop
Atlanta Flooring
Mission, British Columbia, Canada
Does the van make the scene or does the scene make the van? For Atlanta Flooring, it might well be a mixture of both.
Service Manager Ryan Cooper was walking back to his van after a meeting with a wealthy client in Abbotsford, British Columbia, when he "just stopped for a moment."
"I thought, 'Wow,'" he recalls of the sight of his van, which had the Coast Mountains in the background. "This is kind of picturesque." The Canadian flag flying nearby was the icing on the cake. "It's patriotic," Cooper laughs, adding that the awesome shot earned a spot as his computer desktop background.
---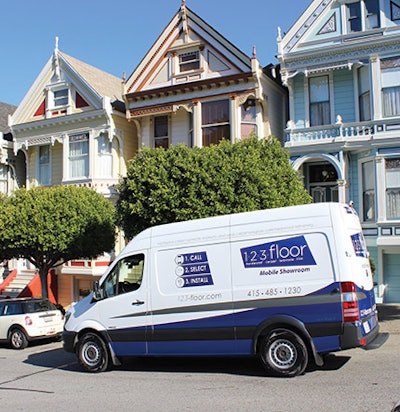 Best Showroom in a Van
123-Floor Inc.
San Rafael, Calif.
When Bill Powell started San Rafael, Calif.-based 123-Floor Inc., he had no intention of staying put in a showroom.
"I didn't want to sit in a showroom every day and have a bunch of salespeople," he says. So instead, he decided to carry his showroom with him. Powell's impressive 2014 Mercedes Benz Sprinter holds about 1,000 flooring samples of all types and can carry 3,000 pounds of supplies. "Our customers love the convenience," he says. He wasn't exactly sure at first how the mobile showroom would be received in the high-end area he lives in, however. "They think of that as being less stable," he says. "I feel like sometimes I've really got to over-sell myself." That he did, going all-out when he tricked out his ride, installing wood floors and upholstered shelves that carry an extensive library, illuminated by sunroof skylights he had specially installed.
"I do not want a big flooring business empire," he says. "I want to be small and concentrate on providing excellent service."
---
Looking for more inspiration on wheels? We sought out other cool ways wood floor pros have modified their vehicles to make their lives a little easier. See that article here.
You can also scroll through 2017's WFB Truck and Van Contest winners here.