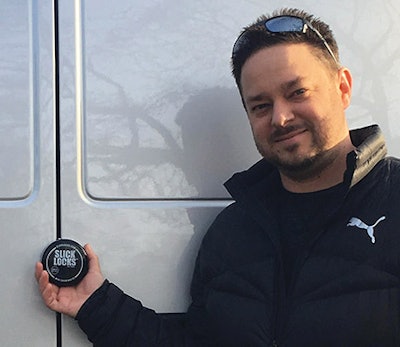 In addition to the entries in this year's Truck and Van contest, we sought out cool ways pros have outfitted their vehicles to make their lives a little easier in transport and while at a job. Buckle up and take note of these slick "why-didn't-I-think-of-that?" innovations and additions that have made a big difference for these wood flooring pros.
---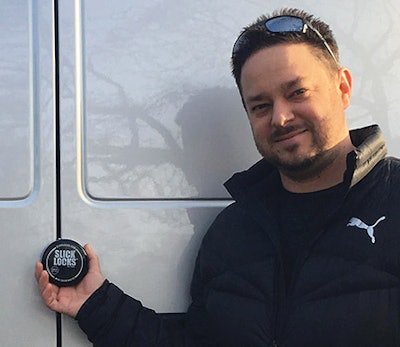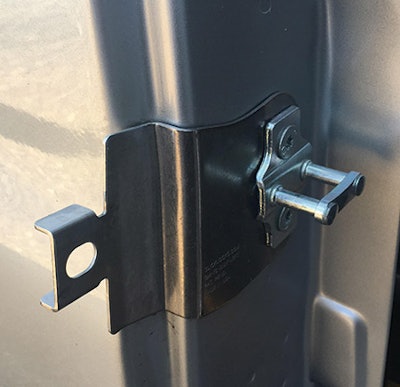 Locking for some peace of mind
R.J. Cunningham of Beverly Hills, Mich.-based FineCraft Hardwood wanted a modification to his van that would give him peace of mind. He'd just purchased a 2017 GMC Savana for his business and wanted to keep it secure. That security came in the form of the Slick Lock.
"I knew there were easy ways for criminals to defeat the standard locks on vans, and have heard stories of tools stolen," he says. "I did not want to be a statistic."
The puck-style Slick Lock, which ranges between $185 to $300 depending on your type of van, can be bolted in place using the same bolts for the locks already on a van's doors, Cunningham says—no welding required.
A major selling point for Cunningham was that the lock could be removed in the event that he wanted to sell the van and use it on another vehicle.
While nothing is "defeat-proof," Cunningham says anything that slows down criminals is a benefit in the long run. "They will move on to the easy target," he says. "Hopefully that target is not my van."
(For more tips on how to protect your vehicle against a break-in, read "How to Protect Your Wood Floor Vehicle Against a Break-In" from the June/July 2017 issue of WFB.)
---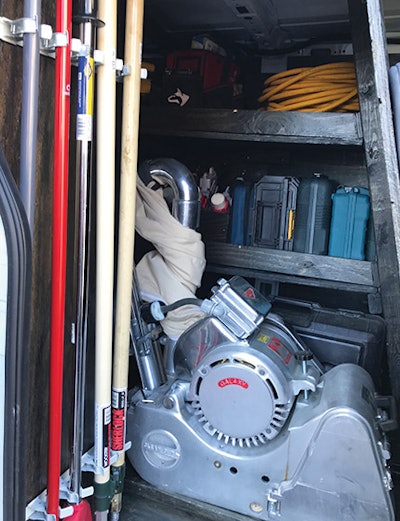 Clamping up the clutter
Tiago Gontijo of Kearny, N.J.-based Victoria Flooring says he doesn't have the biggest van on the block, so keeping it organized is key. He was able to carve out a spot for most tools and stains in the van, but for a long time his broom and applicator handles kept getting in the way.
"I used to keep the brooms on the shelves," he says. Then, as he was shopping in Home Depot, he spotted the metal clamp hooks and bought two of them. He installed them in the side of the van (which he outfitted with plywood), with clamps on the top and the bottom to keep the broom handles in place. The results so far have been sweepingly positive.
"They are very good to keep the van organized," Gontijo says.
---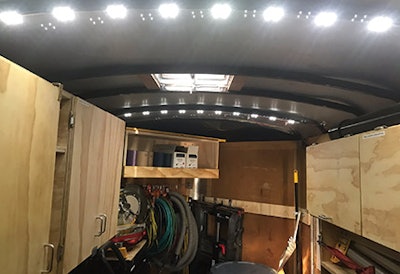 Working on sunshine
Ashland, Va.-based COTU Hardwood Flooring Services Owner Joseph Signorelli's clever solution to brightening his trailer's interior came to him from above—that is, from the sun.
Signorelli installed a solar panel on top of his 6x12 V-Nose trailer last year so it could be powered independently of his truck. That comes in handy when he has to leave a job to do estimates while his crew are still using the trailer on-site.
The panel powers the 20 overhead lights. "The installation was rather simple. I purchased the lights and ran the wire myself," Signorelli says. The light strips were purchased online and the solar panel, transformer and battery all came from Tractor Supply. All told, it cost him $200.
---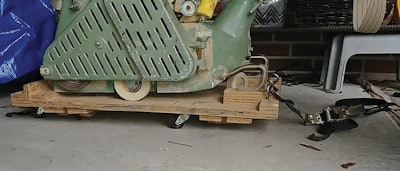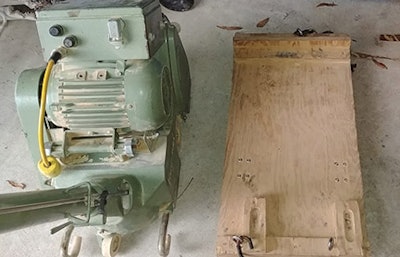 A do-it-yourself dolly
Where some see trash, others see a way to transport their big machine safely. Jason Daniel Davis of River City Flooring LLC in Memphis, Tenn., fashioned what he calls his "big machine dolly" out of scrap plywood that was left over after an install job. "I had to make something, as we were working out of a GMC Safari," he says, and finding a secure spot for the big machine was proving tricky.
The sturdy, wheeled contraption he bolted together has mounts that keep the big machine's wheels from touching the base. He straps the machine onto the dolly with an adjustable belt and then straps the dolly into his van to keep it from rolling around. "We just pull it from the big machine handle," he explains. The River City Flooring team has since upgraded from the GMC to a roomier 2017 Ford Transit, Davis says, but they haven't given up the big machine dolly. Their reason? It works.
---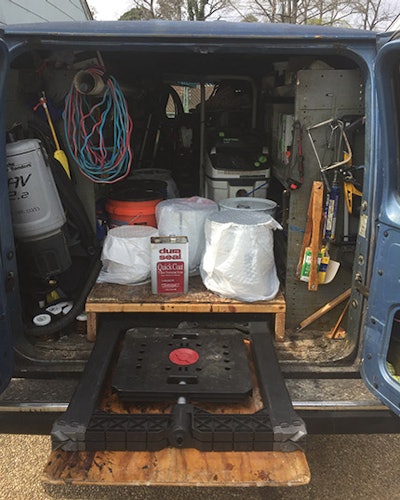 Fitting a mega-workbench in the van
Bill Etheridge of Virginia Beach, Va.-based Apple Floor Solutions needed a heavy-duty workbench to use on his jobs, so when he caught wind of the Husky X-Horse 2½-foot workbench that holds up to 750 pounds being sold at Home Depot, he bought two of them.
"We use two of these workbenches with plywood on top to make one large workbench," he explains. Armed with the beefy benches, the next question was how to store them in the van and still have room for everything else.
Etheridge devised a wide, low-to-the-ground table-like structure to fit on the floor of the van, with room enough underneath to slide both collapsible Husky X-Horses, as well as the plywood Etheridge sets overtop of them to create his mega-workbench. All he has to do is slide them out and set them up, and they're ready to go.
"It allows my guys to continue working during limited light situations and provides a safer environment for them overall," Signorelli says.
---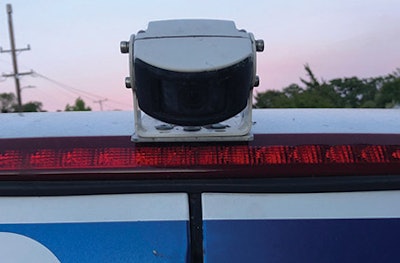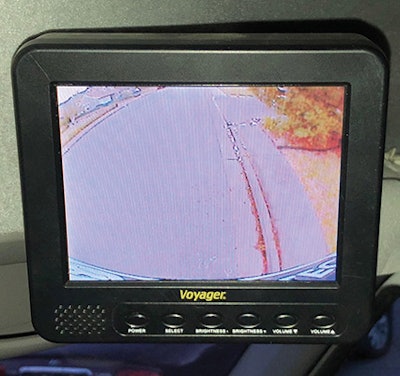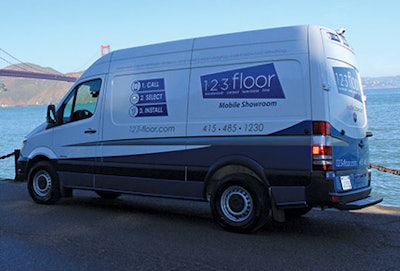 Eyes on the back of the van
A retrofitted backup camera can come in handy in any situation, but it's particularly helpful when you're driving an 8,200-pound van on the narrow, winding streets of San Francisco.
"It's so high and tall," San Rafael, Calif.-based 123-Floor Inc. Owner Bill Powell says of his 2014 Mercedes Benz Sprinter. "And I'm in a lot of neighborhoods with sketchy little streets on the sides of mountains."
When he was getting his van tricked out, he knew he was going to need eyes on the back of his head. The Voyager-brand camera, which ranges in price from $200–$500, has an angle that displays "bumper to horizon" on a screen by the driver's seat, Powell says. Powell had his camera professionally installed. "I need that to be able to get into parking spots in San Francisco to avoid backing into trees," he says. "I love it."