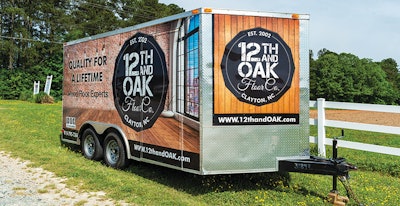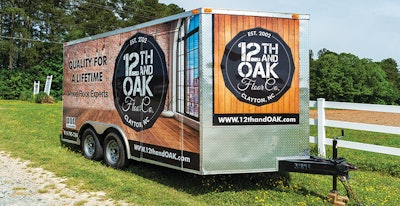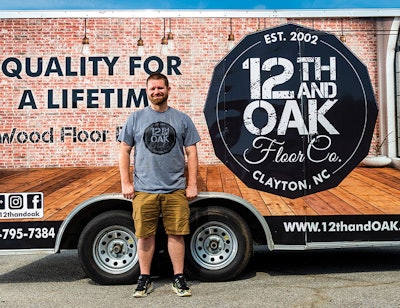 Best Exterior Graphics
12th & Oak Floor Co.
Clayton, N.C.
Simple, clean and elegant; that's how 12th & Oak Floor Co. Owner Izral Daniels likes his hardwood flooring. So when it came time to pick a custom wrap for his 8.5-by-14-foot V-Nose trailer last year, he wanted to make sure its style synced with his own.
"I just like that it's simple," Daniels says of the design. "We wanted it to be pretty easy to read and recognize from a distance."
Indeed, the black background and gritty white font of the logo, prominent on both sides of the trailer, is instantly recognizable.
"You're not having to read 1,000 words driving down the road," Daniels adds. "If they want to see everything, they can go to the website. So it kind of gives them a reason to check us out a little further."
Daniels worked with a local wrap installer to have the design coordinate with the graphics on his company's website, the logo for which was modeled after a stamp. "Nothing too fancy, just something clean and easy to see," Daniels says.
But effective simplicity can take time to achieve, and Daniels and the wrap installer went through thousands of stock photos before finally settling on one for the background image of the trailer's wrap. "It just reminds me of something kind of timeless," Daniels says of the design.
While the exterior design aesthetic may be minimal, the amount of storage space in the sizeable rig is not. "We try to carry everything we would need install-wise and sand-and-finish-wise in one spot," says Daniels. And as is often the case, "It doesn't matter how big it is, you'll fill it up," he chuckles.
Ultimately, Daniels views the wrap and every other visual aspect of his business as a cohesive way to make a good impression.
"We want it to look luxurious, elegant," he says. "I want everything we do to be representing ourselves to our clients."
WFB Art Director Justin Eccles weighs in on the winning design:
"Everything is consistent in this wrap. The whole feel of the design has this industrial quality, and then it's paired with a photograph that also is like a warehouse. And then the warehouse, of course, has a wood floor, which is very fitting. Consistency is really important in a design. The black and white logo also has a really strong contrast, the biggest contrast of any two color treatments, so it's very noticeable. They put a lot of thought into it, and it works on so many levels."
---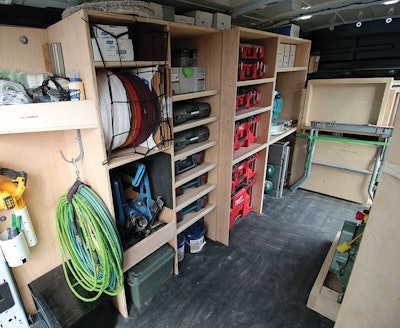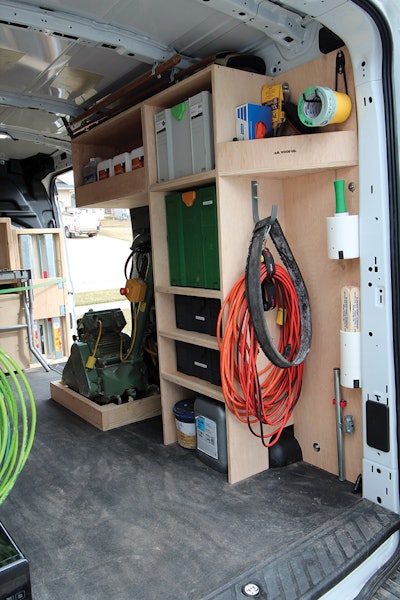 Most Organized Interior
Wildwood Floors of Eastern Iowa Inc.
Robins, Iowa
When Wildwood Floors of Eastern Iowa Inc. Owner Andy Eicher started tricking out his 2019 Ford Transit's interior, he had one goal in mind: "That I could go into the van and get any tool that I need without having to move something else," he says.
Such a task was easier said than done in his previous van, where Eicher and his crew developed a loading process they called "Tetris."
"In the old van, it was like you had to Tetris all your equipment in so that it all fit," Eicher laughs.
Vowing to step up his game in his new ride, Eicher purchased Milwaukee Packout cases to organize his tools and decided to build a shelving system in the van with ¾-inch maple plywood he found on sale at Menards. Fitting the shelves turned out to be tricky, however, as the spacious van's walls are curved.
"I had to cut and scribe all the panels to the contour of the van," Eicher says. "It took forever."
He built the cabinets in sections so he can remove different parts if he wants to rearrange them. The shelving took two weeks to install, during which Eicher addressed many of the storage issues he'd always experienced, including what to do with his cleat guns.
"I built a custom little cubby that I actually lined with a really dense, high-impact foam," he says.
Eicher also installed a convenient shelf for his abrasives (secured by a net), built a removable travel stand for his big machine, and mounted PVC pipes to the walls to store miscellaneous tools and holster his mini leaf blower.
One of the handiest features is overhead, where Eicher installed clips to hold his applicator poles on the ceiling.
Eicher estimates he invested $600 organizing the vehicle. While he may have conquered the old "Tetris" game, the new tricked-out interior has created a slight hiccup in unloading the van quickly while at a job site: "I'll pull up in my other truck and it'll be my guy, plus the trim guy, the electrician and some other guy all standing in the driveway staring at the van," Eicher says. "All the guys are just drooling all over it."
Watch Eicher give a tour of his van's interior:
---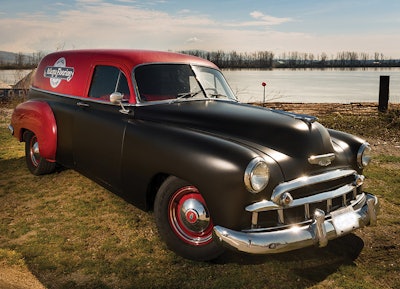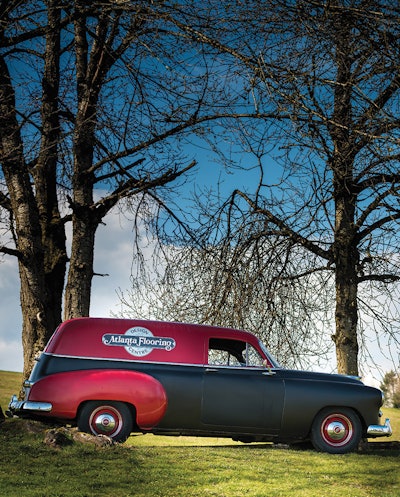 Most Unique Vehicle
Atlanta Flooring Centre
Mission, B.C., Canada
For all practical driving purposes, Atlanta Flooring Centre's 1950 Chevrolet Sedan Delivery can be a little tough to get around in—and not just because it has poor visibility and less-than-stellar gas mileage. It's also because adoring fans tend to get a little enthusiastic when they spot it on the road.
"I've had people pull me over in traffic," Atlanta Flooring Service Manager Ryan Cooper laughs. "They wave, they honk, they get so excited."
The vintage vehicle has become a staple at local community events, generating plenty of attention for the company and sparking countless conversations, Cooper says.
Atlanta Flooring bought the Sedan in 2013, and Cooper says it's only rarely that it has been associated with a hearse, although that was one of the model's original uses. The company had the vehicle painted to match the store's red and black colors and developed a vintage-seeming vinyl logo for the side. They also had the interior reupholstered and installed engineered acacia hardwood flooring in the trunk to give it that extra dazzle.
"It definitely helps keep awareness," Cooper says of the vehicle, which is stationed in front of the company's store when not in use. "There's a lot of different ways to spend your advertising budget, and finding creative ones other than just throwing in a newspaper ad sometimes is good."
When it isn't serving as eye-candy at town parades, Cooper likes to take the car down to the local dragstrip, where it can still turn ¼ mile in 16.1 seconds. "Don't tell my boss," Cooper jokes.
Cruising in the old car feels almost like time travel some days, Cooper says: "You're stepping back 60 or 70 years in time and just thinking, what was it like back then?"
One aspect from going back in time that Cooper doesn't care for, though, is the terrible visibility.
"Changing lanes, backing up, you don't know where the car is and you can't see anything," Cooper laughs. Perhaps it's best to admire it from the outside, where the slick ride rarely goes unnoticed.
WFB Art Director Justin Eccles weighs in on the winning design:
"The thing that works the best is that it's such a well-built vehicle. It's almost like translating this well-built car into 'I'm going to do a good job on your floor.' Very classy. And wood floors are classy. And black and red are the best colors to pair together—it's dynamic."
---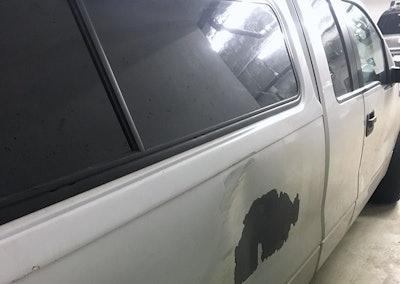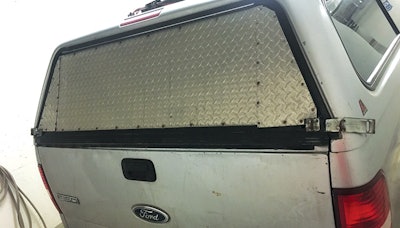 Biggest Disaster
Conrad's Hardwood and Interior Finishing
Coquitlam, B.C., Canada
When Conrad's Hardwood and Interior Finishing Owner Conrad Mark refers to his work truck as "the gnarliest, nastiest F-150 the streets of Vancouver have ever seen," he does so with affection—sort of.
"There's been so many things with that truck," he sighs. "Mechanically, it's barely keeping up with how much work I've got to do."
The battle-scarred truck, known as "Bertha," has a reputation for flaking out on busy days, and its dinged-up state has become a running joke between Mark and other contractors.
Many of the truck's blemishes came from an underground parking lot, where a new employee got into a bit of a pinball situation with Bertha and some concrete pillars. The black patch on the side door came from an unfortunate encounter with a previous employer's magnetized logo—which Mark had placed there in hopes of covering up a smaller scratch. "That thing would not come off," Mark says. It eventually curled off but took the paint with it.
Those who don't notice the black patch or scuffs are probably distracted by the diamond-plate steel covering the smashed-out back windshield, the result of a box of hardwood flooring shifting backward as Mark traveled up a busy street.
"That was a bit of a show," he says of the incident. "Everyone's honking at me, there's glass on the road, there's all the boards everywhere ... Yeah, not good."
But for all its rough spots (did we mention the roof has a leak?), Mark also has a soft spot for old Bertha, which was a wedding gift from his wife in 2012; he used the truck to help start his business the following year.
"I owe that truck kind of everything," Mark says. "The amount of driving … I knew I was overworking the thing … But I always just made it work."
But perhaps love between man and work truck means never having to say you're sorry, as Mark says he has no plans to retire his "trusty rusty ol' bucket" until it gives out completely.
"Basically I'm thinking three or four more years," he chuckles. "I think it's going to be run into the ground by that point."
WFB Art Director Justin Eccles weighs in on the winning design:
"What the heck? It's almost like a Millennium Falcon. Is it really fast? Or bulletproof?"
---
Although we only had four "winners" we had to give these other submissions their rightful accolades, too …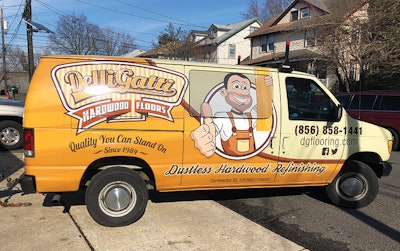 Best Mascot
DelliGatti Hardwood Floors LLC
Westmont, N.J.
The enthusiastic character on the side of Frank DelliGatti's work van is based on himself, only "about 30 years younger and 50 pounds lighter," he says.
Because DelliGatti used his own name as the name of his company, the designers he worked with on the wrap suggested he have a character to go with his logo—and the DelliGatti character was born. The dynamic wrap gets plenty of attention in the neighborhood, says DelliGatti (the real one, not the character). "I've had people stop me on the road and tell me how great the van looks," he says. And while it may capture the eyes of potential clients, cartoon DelliGatti has also turned out to be a big hit with a younger demographic. "The best is the little kids in strollers giving me a thumbs up," DelliGatti says.
WFB Art Director Justin Eccles weighs in on the winning design:
"It makes me feel that these guys might come into my house and make me smile just because of their presence. If you want to communicate that besides being hard workers, you're an uplifting crew, this has done it."
---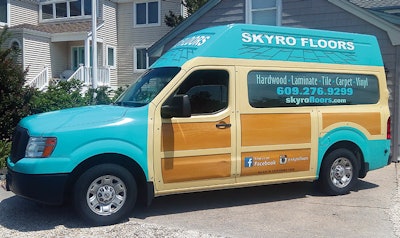 Best Throwback Beach Bum Design
Skyro Floors
West Creek, N.J.
Skyro Floors Owner Ken Ballin, a Jersey Shore local, is a longtime surfer and fan of all things beach-related. Working in the touristy beach community of West Creek, N.J., Ballin says he wanted to incorporate his love for the surf into the graphic design on his flooring truck. "I took my idea to the local graphics guys, and they loved it," he says. The designers went all-out on the wrap, crafting a beachy, vintage-looking rig that would give the Beach Boys a run for their good vibrations.
Although Ballin was able to successfully combine his passion for sandy shores with his vehicle's graphic design, he likely wouldn't get away with pulling a Hang Ten out on the road.
"It's very well known in the area and gets a lot of attention, so I have to make sure I'm on my best behavior while driving," he says.
WFB Art Director Justin Eccles weighs in on the winning design:
"I think it's a great idea. The blue is a great, great contrast to that pale orange. Any time you go with opposites like that, you get the best contrast."
---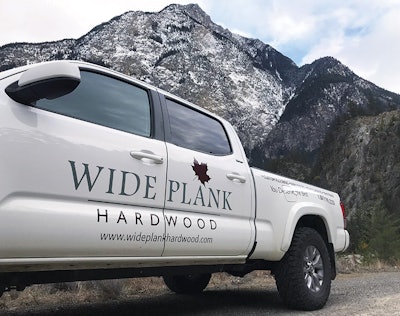 Most Scenic Backdrop
Wide Plank Hardwood
Chilliwack, B.C., Canada
The hills are alive with more than just the sound of music by the Sea to Sky Highway in Vancouver—there's also the rumbling of Wide Plank Hardwood's Toyota Tacoma. The scenic route to Whistler, B.C., is one frequently traveled by Wide Plank Salesman Paul Thompson, who snapped this stunning pic of his rig.
"I was taken aback by the beauty of the mountains and used the opportunity to snap a picture of my ride," Thompson says. "I love what I do and count it as a blessing that I get to travel and see these beautiful mountains year-round."
The Tacoma truck is built to handle the rocky terrain the company traverses, says Wide Plank Customer Care Specialist Jayden Nerling. "It's tons of fun to drive and goes wherever it needs to with no issues," Nerling adds.
---
Best Truck in a Field of Daisies
Treadline Construction
Tualatin, Ore.
One might not immediately associate Treadline Construction's self-described "monster" of a work truck with an enchanting field of daisies—but the combination is a cherished memory for Owner Ovi Ragalie.
The picture of the truck encompassed by daisies was snapped at Ragalie's family farm in Corbett, Ore., while Ragalie was visiting his aunt, who was ill with cancer. During the visit, his aunt wanted to see the field of daisies, which were in full bloom at the time, but she had a difficult time walking. So, Ragalie helped her into his work truck and drove her right into the middle of the beautiful field so she wouldn't miss a thing.
"It is an extra special picture because my aunt passed away a few months later, and now every time I look at this picture, it reminds me of one of my last days with her," Ragalie says. "So glad we were able to share that beauty with her."
---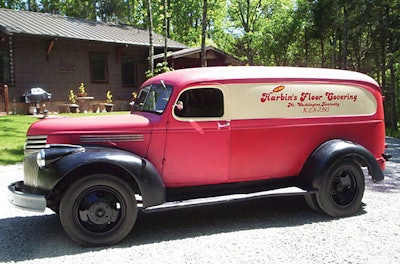 Best Vintage Truck
Harbin's Floor Covering
Mount Washington, Ky.
Time almost seems to slow when gazing at Harbin's Floor Covering's 1947 Chevrolet—particularly for those driving behind it. Its max speed is about 45 mph. "Makes for a few angry people passing me," Owner Chris Harbin laughs.
But those angry drivers don't know what they're missing, as the Model 4105 Upan Dual Wheel Panel Truck is a rare sight to behold. Only 2,888 were manufactured between 1941–1947, according to Harbin, who scooped it up on eBay in 2003. "It was so unique when I saw it that I couldn't pass it up," says Harbin, who developed a vintage-looking company logo to go with it. The truck still has its original motor and body, and what it lacks in speed it makes up for in size. "This is a huge truck," says Harbin, noting it is 6 feet 11 inches tall and weighs 1.5 ton. "It's a real eye-catcher and conversation starter."
So Harbin doesn't let the occasional honk from behind get to him as he cruises along in the vintage gem.
"It's old, but it's cool!" he says.
---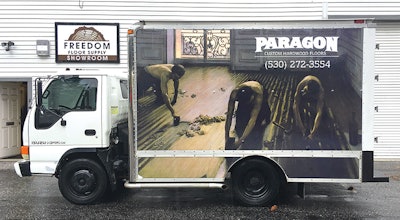 Best Tribute to Late 19th Century French Art
Paragon Hardwood Floors
Grass Valley, Calif.
Paragon Hardwood Floors Owner Eric Rose didn't start out aiming to become known in his area for hand-scraping wood floors; it just kind of happened—and now he and his crew hand-scrape nine out of every 10 jobs.
"It's kind of grown on us over the years," he says of the challenging craft.
So it was only fitting that he and his crew decided to go with Gustave Caillebotte's 1875 "Les raboteurs de parquet" ("The Floor Scrapers") for their company's box truck. The painting, beloved by many in the industry, was a longtime favorite of Rose's as well. "I wouldn't do it if we didn't scrape, though," he says of choosing the wrap. The wrap gets the company a lot of attention, but many aren't familiar with the painting itself, so Rose often finds himself teaching a quick art history lesson (a task that—like hand-scraping—has grown on him).
But some people take the art enthusiasm to extremes, including one woman who followed the truck all the way back to their shop and jumped out of her car.
"She's like, 'Do you guys work like that?'" Rose recalls. "And I'm like, 'Yeah, we scrape floors.' And she's like, 'No, do you do it with your shirts off like that?'"
For a craftsman who takes French art as seriously as Rose, the answer to that is clear: "Hey, if the price is right," he laughs.
---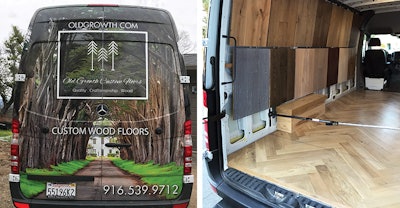 Best Showroom in a Van
Old Growth Custom Floors
Sacramento, Calif.
If you thought the back .doors of Old Growth Custom Floors' van were cool, just wait until they open. The company turned the van's spacious interior into a mobile showroom complete with herringbone wood flooring. The classy setup is sure to impress potential clients right in their own driveway.
---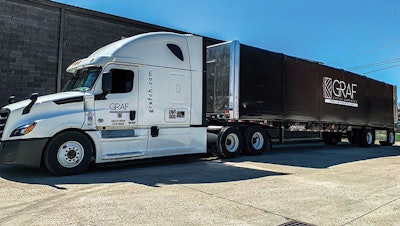 Best Big Rig
Graf Custom Hardwood
Portsmouth, Ohio
There's the king of the road, and then there's Graf Custom's 2020 Freightliner Cascadia truck. And with a gross weight of 80,000 pounds, the big honkin' rig wasn't built for sharing the throne. The beast is accompanied by a Fontaine trailer with an Aero Conestoga XP tarp system with a Graf Custom logo emblazoned on its side that, like the rest of the rig, is hard to miss.
---
Can't get enough cool hardwood flooring trucks and vans? Scroll through previous contest winners here:
2017 Wood Floor Business Truck and Van Contest Winners