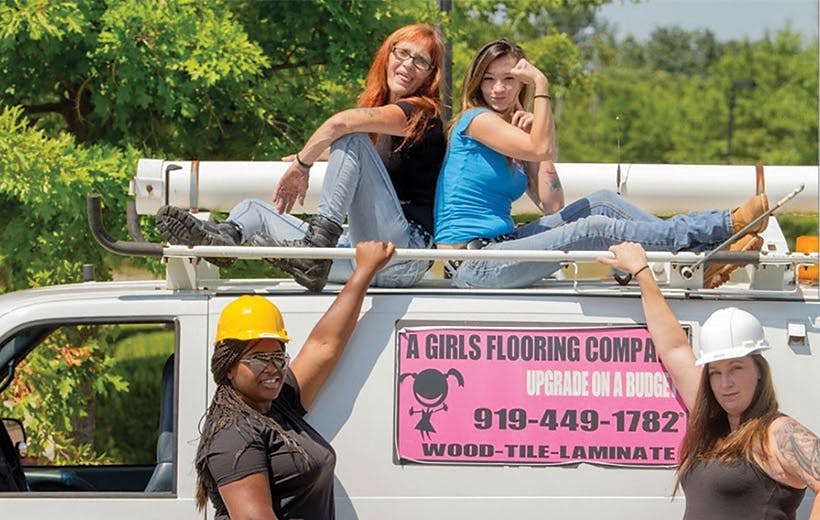 I started installing floors when I was 38. I was a single mom with four teenage kids and no clear way to make a foundational living at the time. I had once dated a carpet guy, though, and I remembered thinking that if he could do it, anyone could do it. And when I learned more about the work, I realized, "Wow, that's a way out." And it definitely was.
There were no contractors in my family, and I had no experience installing floors. It was tough. Back then, in 2001, we didn't have YouTube tutorials (we barely had internet), so I went to Home Depot, bought the book and started teaching myself.
Jumping into a male-dominated trade
I did tile and later hardwood flooring, I guess because they're more creative. I started as a subcontractor by finding a local flooring store and sitting on its steps for six days. Every morning, when the owner came to work, I was there. And finally he was like, "OK, I've got to hire you!" My first tile job I replaced three times. It was definitely hands-on, learning the trade as I went. But I found I was a natural in the sense of understanding that straight lines are straight lines, rules are rules.
I named my subcontracting company Joe Floors. As a woman in construction, with anything we do, it's looked at 10 times harder than anything else, because it's just not "normal." So Joe, who didn't exist, was a way for me to be able to sell jobs. Contractors and clients thought the owner was a man and I was just doing the estimate … until I showed up to do the job. By then it was fine, but I had to manipulate the system for it to work at first.
I kept working at it and getting better, however, and after a few years, I was running five crews at Joe Floors, but there were still issues. I was passed over a lot. There was one contractor who would only speak to my male helper, convinced that my helper was the boss. But I'm a little smartass; say something wrong to me and I'm going to lock you in the Porta-Potty. You have to hold your own weight and realize that at the end of the day, you're there to do a job. It's definitely been a journey.
Embracing what made me unique
That journey took a turn in 2007 when I took a business class called "Your Purple Cow." It forced you to ask yourself what makes you distinctly different from everybody else. For me, looking around at all the male flooring contractors, that was easy. The class then advised you to embrace that difference to stand out. So I did. At that point, I was good enough. I knew everything I needed to know. I could walk into a job and if you talked to me, you could tell I knew what I was talking about. It was time to be me—the real me—and stop hiding behind "Joe." So, I went all the way: I named my business A Girl's Flooring Company. That's got a ring to it, doesn't it? Soon I was getting recognized more in my market and loving running my business even more.
Discovering another passion: teaching
Embracing my uniqueness strengthened my brand, and it also helped me realize another passion: helping other women enter the trade. There still aren't that many women in labor trades; that door is not all the way open yet. Since I started subcontracting, my crews have always been 70% women. Many of them have been single moms, like me. That's who I want to help. There's this thing about the first time they take a hammer to a plywood floor ... it is awesome to watch them realize that they can do this stuff. It's almost like freedom when they start doing it.
I recently came up with a program called "The Reliable Helper." I looked at men who are in construction, and a lot of them started by pushing a broom. I realized that if we don't start women there, we're never going to get to the next step. So I teach women the very basics: to be good helpers. This way they can go on to a good job, because any installer wants a good helper. And women have a knack for it. So, I built a hot pink training shed to teach women how to break down saws and tools and perform maintenance. I'm aiming for it to be up and running by next year.
I know I'm going to fail a couple times at this new venture, as well, but I'm not afraid of that. My advice is always to love what you do. And be yourself. Wood flooring is a whole different lifestyle, but I think women are naturally creative; when we come into the installation/design aspect of flooring, it's a great fit. My lines are always straight, because it's part of who I am. So be you.
---
RELATED: The Next Generation: Women Become a Force in the Wood Flooring Industry
---