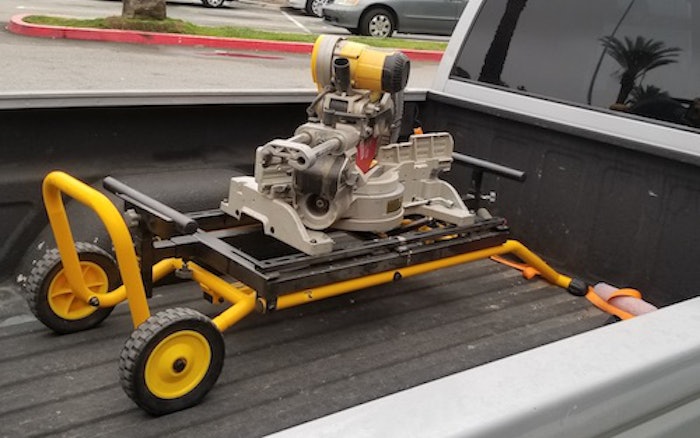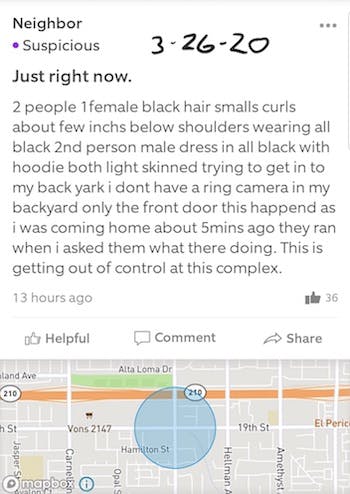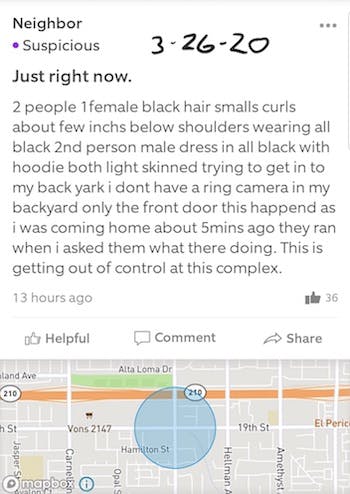 If you are reading this, we are now in the thick of the virus pandemic, and life is very different. We are all learning new etiquette regarding social gatherings (as in, not having them), handshakes are a thing of the past and each of us has a story to tell. For those of us still working during the day, we come home and stay there and hang with our families till the next day. Not much socialization is going on in person with the malls closed, restaurants closed, NWFA Expo cancelled, etc. If it weren't for social media, I'd take up knitting. We are individually handling our lives the best we can right now. Luckily for us, we are invested in a trade that is highly skilled and will always be in demand.
However, I have noticed a disturbance in the Force with regard to the way other people with no such skills are managing their lives, and it makes me sad. There are those resorting to the Dark Side as a way of making ends meet, and we all need to be aware of it.
I have the Ring doorbell, and with it comes the Ring app. In the app you can see the battery level and view what the camera is seeing if you are in the next room—or the next city. Inside the app is also the "Neighbors" tab, and this allows other Ring users to post their video and write a note about it. Sometimes it's about a funny squirrel that hops onto the shoulder of the UPS delivery person, or a caller wearing a funny hat. But lately the app on my phone has been detailing what appears to be a rising toll of packages taken from porches and whatnot. This morning I had an alert of a man and a lady trying to break into a neighbor's yard. They were challenged by the homeowner and ran away. The comments at right are from another neighbor about the same pair at another house minutes later.
People are out of work and seeking out dark ways to make money, and although thievery is not new, this virus pandemic is.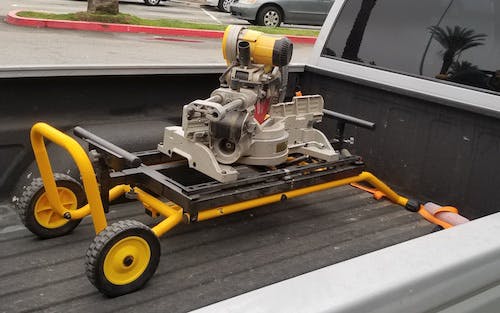 I have a folder on my PC entitled "Trucks with tools left alone @ Home Depot – unattended." Every single time I go to Home Depot I marvel at the lonely pickup trucks in the parking lot with tools or valuables in the bed just waiting for a shady character to walk by. The contents range from brand new LED TV's to expensive tools you just wouldn't think would be left alone like that. It's hard for me to believe that some tradesmen complain about being victimized when this is the way some of them leave their vehicles. Since the early '90s, I have known that thieves routinely hunt for tools and whatnot in these parking lots, yet after all these years it seems to a secret or something.
It's not just careless contractors, it's passionate, devoted thieves. Some friends of mine are roof nailers, and they had their van parked below them with a gas-powered air compressor running inside feeding two air hoses that ran out and up to the roofs they were working on. One day all of their nailers went dead and they found that the air hoses were empty. They thought the air compressor stalled, so they went down to get it running and found the hoses cut at the compressor. They went back to the roof and found all their guns were gone. Then they went back down and found their truck compressor gone! This really happened and shows how much we must be aware of what's going on today. They were set up and played like a tune.
But these recollections are regular life, albeit hard to believe. Today we have a virus that I feel is influencing even more desperate people to do desperate things, like steal.
This blog is about protecting our way of life by protecting our tools, trucks and trailers from thieves, and I feel this is a growing concern.
I am not exempt; I had a loss of my own in 2005 when my work truck was parked in front of my house. Thieves damaged my truck to defeat the door locks and gain admission to my stuff. They loaded up six items, one of which was a brand-new Clarke DCS buffer, before they got interrupted. I have suspicions that the thief was a previous employee but can't prove it.
Today strangers are widening their "hunt" from big box parking lots to any commercial-looking truck of any kind. I must believe plumbers, electricians and so on are feeling the same losses as we are.
---
RELATED: How to Protect Your Wood Floor Vehicle Against a Break-In
---
Here are the steps I take to prevent theft:
1) Take for granted you are being hunted for your tools. They may follow you from a big box store to your job site or your home – who knows, but chance favors the prepared. This isn't about being paranoid, it's knowing the reality.
2) If possible, park your work truck in an enclosed place like your garage, fenced yard, commercial building or storage yard. I park my work truck on the side of my house next to the garage and leave my bedroom window open to be able to hear any loud noises that may signal a theft in progress. I also have four dogs that hear better than I do, and I respond quite well to their alerts.
3) Don't park on the street in front of your house. This reason is from my own loss experience. I filed a claim with my insurance and was told that since I parked my work truck "off-site" I was ineligible for protection and my claim was swiftly denied. At the minimum, park in the driveway with your back doors butted up to your garage door or a wall. This eliminates two doors from entry and decreases a thief's chances.
4) If you have an alarm on your car/truck/trailer, use it. If you do not, consider getting one.
5) Consider getting a GPS locator for your car/truck/trailer. In the event of a loss, you can have the police find your truck—hopefully before they've had a chance to melt into the countryside.
6) Don't leave you vehicle unattended off-site anywhere—if possible.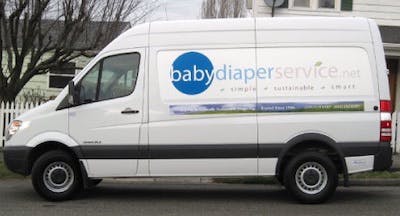 7) Cover the logo or wrap on your vehicle when parked at home, or where you deem appropriate to avoid giving a thief an idea of what you have on the inside. As a joke, I once considered wrapping my work truck to say "Lou's dirty diaper pick up service." Today it's not so funny anymore. I can't imagine a thief breaking into a vehicle to steal soiled diapers, but maybe I'm wrong about that, ha ha.
8) Consider getting a motion-activated yard light and install it over your work vehicle when parked at night.
9) Consider getting not one but two or more video cameras to keep an eye on your vehicle at night. Amazon has some secret spy wifi units that are cheap and capable of being left on all night. Most have apps that let you dial in and take a look. Some look like clocks, others look like picture frames, etc., and a thief won't notice them.
10) Check your insurance and get to know "what's in there" so you can have peace about that.
11) If you can, park your work truck close to the entry of the home or building and lock it when you go inside. Personally, I get upset when an employee leaves my work truck open and unattended.
12) If possible, take a friend, employee of caring person that you trust when you go to a big box store, supply yard, distributor, etc., so your vehicle is not left unattended for a moment.
13) Somehow, some way, set time aside and inventory all your tools. Take pictures of each tool and focus on the serial number for each tool. Write down the serial numbers for each tool, and back up your list a minimum of three ways, preferably with one of them off-site, like in the cloud. Google Cloud, Amazon Cloud, Apple Cloud, iDrive, Carbonite, whatever, just back up your inventory. If possible, scan and attach receipts that show where you bought each tool to prove to insurance that you actually had the tool and how much you paid in the event of a loss. Whichever way you can inventory your tools, do it.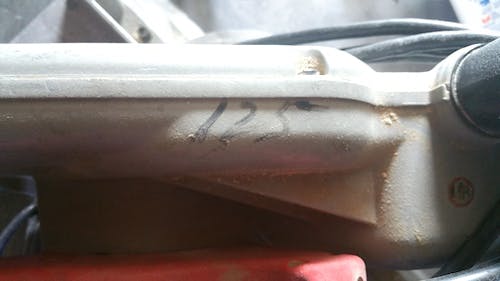 14) In the event of a loss, send out a list to all the likely places, like pawn shops and tool repair businesses. We may suffer a loss, but that doesn't mean we can't try to get our stuff back. As for my loss, one of my employees went to the local swap meet four days later and found my Milwaukee miter saw for sale by a swap meet tool seller guy. I got my saw back (with the help of police, of course)!. The vendor was selling it for $125!
That's my list; feel free to add to it in the comments below. I'm reflecting off my own experiences and surely there are more tips we can share to keep us working right through the crazy time we are in.
See all of Angelo DeSanto's popular blog posts and magazine articles here.
---
RELATED: When Disaster Strikes: Dealing With Wood Floor Vehicle and Equipment Insurance Claims
---